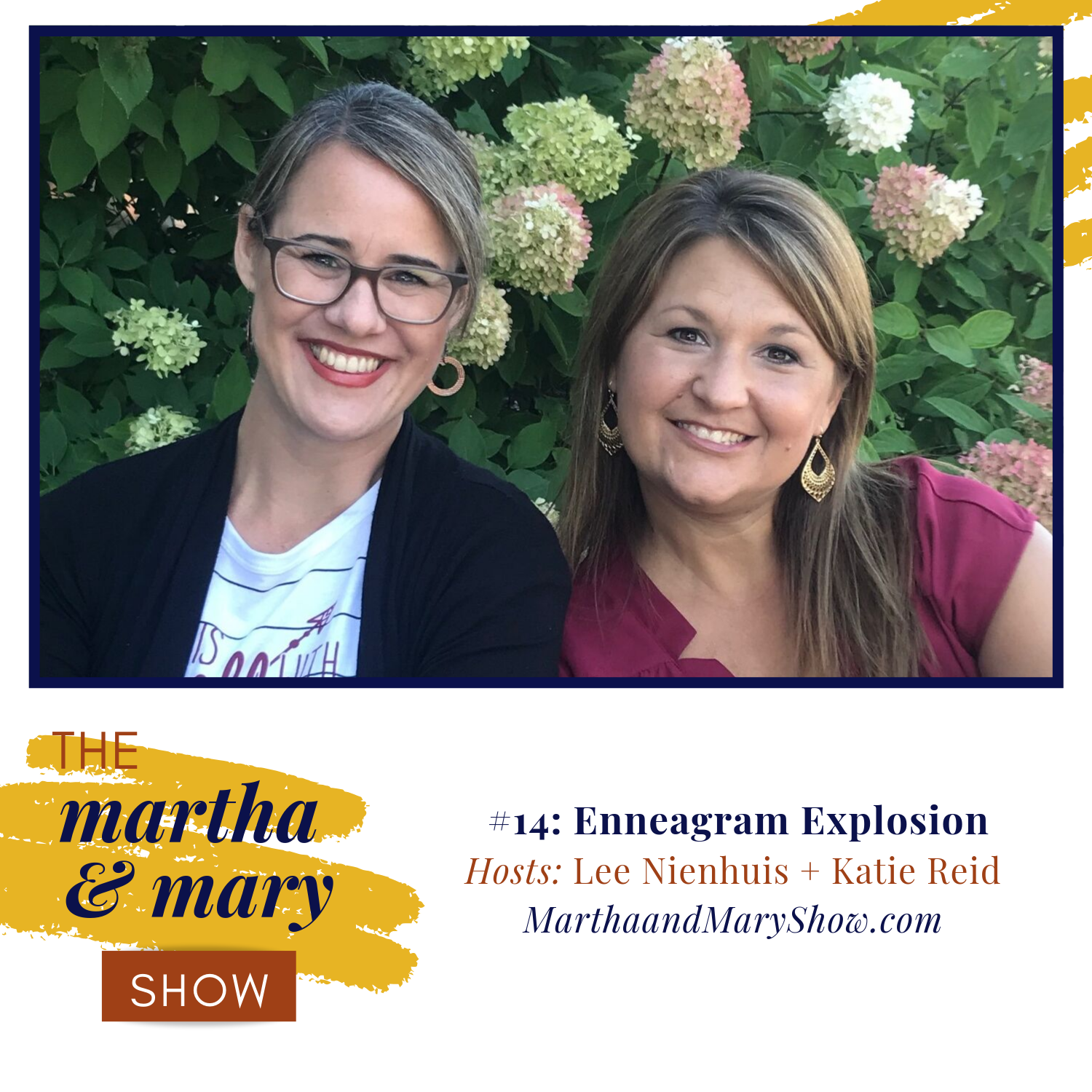 Season 2 of the podcast continues with a conversation all about the Enneagram. Katie and Lee discuss how this tool has helped them understand themselves, each other, and their loved ones better. They offer some warning labels when it comes to personality typing, as well as insights about the strengths and weaknesses of various temperaments.
Listen to the latest episode over here, on our podcast webpage, or access Episode #14 on your favorite podcast app.
Be sure to subscribe to the show and leave a rating and review via your podcast listening app: iTunes, Stitcher, Libsyn, or Spotify.
Disclosure: Affiliate links are used in this post. If you choose to purchase through the links, I may be compensated at no additional cost to you. See full disclosure policy.
All people have a function and a role in the Kingdom of God. @leenienhuis #marthamaryshow #Enneagram
Click To Tweet
Show Notes for Episode #14: Enneagram Explosion
Theme music: "The Feast" from Katie Reid's "Echoes of My Heart" album. https://www.katiemreid.com/singer/
Things We Talk About:
I've spent my whole life searching desperately to find out that grace requires nothing of me. @sleepingatlast #Enneagram1
Click To Tweet
Warning Labels
Don't put people in boxes.
Stop using weapon language, like "you always" and/or "you never."
Don't use your Enneagram number as an excuse to stay stuck or to sin.
Today's Verse: Philippians 2:3
Do nothing from selfish ambition or conceit, but in humility count others more significant than yourselves".
Featured Resource: Daughter song (written by Katie Reid and Niki Homan), available on Amazon, iTunes, CD Baby, and Spotify.
Today's Sponsor: Big thanks to Baker Publishing Group and authors, Amy Carroll and Cheri Gregory, for sponsoring this episode. Be sure to pick up a copy (or ten) of Exhale: Lose Who You're Not, Love Who You Are, Live Your One Life Well. 
I had the honor of endorsing this wonderful book::
Carroll and Gregory pour out hard-won wisdom like a balm for dependable women. Through candid stories, pivotal observations, and ah-ha moments, Exhale delivers clarity and assurance. Breathe deeply of God's love and walk confidently, with purpose, as you interact with this gold-mine of goodness."
Connect with Us:
Don't use your Enneagram number as an excuse to stay stuck or to sin. #marthamaryshow #Enneagram
Click To Tweet
More Episodes:
Episode 1: Together On Purpose
Episode 2: Our Worth + God's Worthiness
Episode 3: Our Party Planning Styles
Episode 4: Managing Our Various Roles
Episode 5: Facing Fears + Overcoming Obstacles
Episode 6: Time to Get It Done + Time to Have Fun
Episode 7: The Power of Prayer
Episode 10: Back-to-School Tips
Episode 11: Strategic Friendships (Interview with Abby Banfield)
Episode 13: The Heart of Martha + Mary (Interview with Joanna Weaver)