The Open Hearts series continues with a new friend from the West Coast. If you have missed any of the previous posts or want to revisit your favorites, head on over here.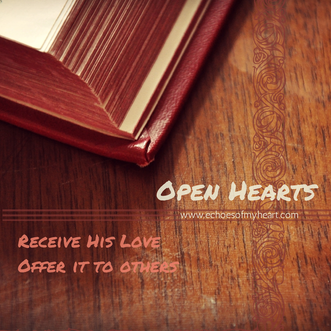 In a sea of faces, around 800 or so, God connected today's guest and me at She Speaks as we shared our similar book proposal ideas. We are from different parts of the country yet our hearts both struggle with a common theme…control. What a joy to meet Gina and to share her heart with you today. Praying that we all will walk away in freedom as we #unwind with the truth shared here.
Gina is a story teller, dream chaser, coffee drinker, kid chauffeur, and book lover. She longs to find God in the ordinary moments and embrace the story he meant for her to live. She lives out life's adventures in sunny Central Oregon with her very patient husband, and three loud children. Come hang out with Gina over her on her blog.
A New Freedom
We can call it a family thing. It's one of those traits that you don't really want passed down. It's not desirable like Auntie's beautiful curly hair or Grandpa's stellar sense of humor. It's more along the lines of Uncle Joe's big nose or Cousin Faye's loud mouth.
It is control.
We'd like to think of control as a good thing, and in some ways it is. But it has a sinister side, one that ruins families and for a long time kept me bound up in fear.
Control has a firm grasp on my family, on my mom and on me. It's different for each one of us, but at our core we both struggle to gain freedom in areas of control. We want to hold the reigns and we don't even know why.
Looking back I can honestly say that I thought control had no place in my life. I wasn't that nagging wife you hear about. I wasn't a helicopter mom. I wasn't manipulative or any of those other things you might automatically think of when you think of a controlling woman.However,
I was bent on perfection.
When my kids were little I agonized over the appearance of the house, even during those ever messy baby years when you always have at least four and a half piles of laundry waiting to be sorted, a mountain of sippy cups in the sink, and a little bit of spit up on your shoulder.
My standard line was, I just prefer things to be clean and neat. But really, I was terrified of what people might think, that someone would come over unannounced and see that there was a mess. What if they saw my messy house and realized that inside it was one messed up girl who held the reigns so tightly out of fear, she had finger nail imprints on her palms?
For each one of us control can settle in differently.
Maybe you're a neat freak. There's nothing wrong with a clean house. Maybe you like things your way, so you do everything yourself. Maybe you watch what you eat to the point of being unhealthy. Maybe you withhold sex from your husband because he annoyed you that day. Maybe you justify the way you nag your kids because they never get it right anyway. Maybe it's all of that and more.
The thing is, control can slowly take over your life. And once there it invades more than just you, it affects families and generations. Where do we go from here?
Thankfully, Jesus offers us freedom. He offers the hope that I don't have to be bound to my broken down ways of doing things. And he offers help through the Holy Spirit who directs me towards his truth.
Through Jesus, we have a promise of freedom. The heritage of the servants of the Lord is not one of controlling tendencies, it is one of safety and security.
Isaiah 54 provides a picture of life on the other side of freedom. It gives me great hope to read this passage. Because on my own, I'm good about building up walls. The enemy whispers his lies, I listen to them, and allow the lies to become my truth. He tells me I'm afraid, he tells me I need to be in control, he tells me that is up to me to accomplish everything on my own.
But Christ's word to me is one of freedom. It's the same glorious truth that he gives you. We don't have to be held captive to what the enemy says about us anymore.
In Christ our heritage is one of security. "But no weapon formed against you shall prosper, and every tongue that shall rise against you in judgement shall show to be in the wrong. This [peace, righteousness, security, triumph over opposition] is the heritage of the servants of the Lord; this is the righteousness or the vindication which they obtain from me [this is that which I impart to them as their justification], says the Lord." (Isaiah 54:17, The Message).
Learning to Live Free,
Gina
Save