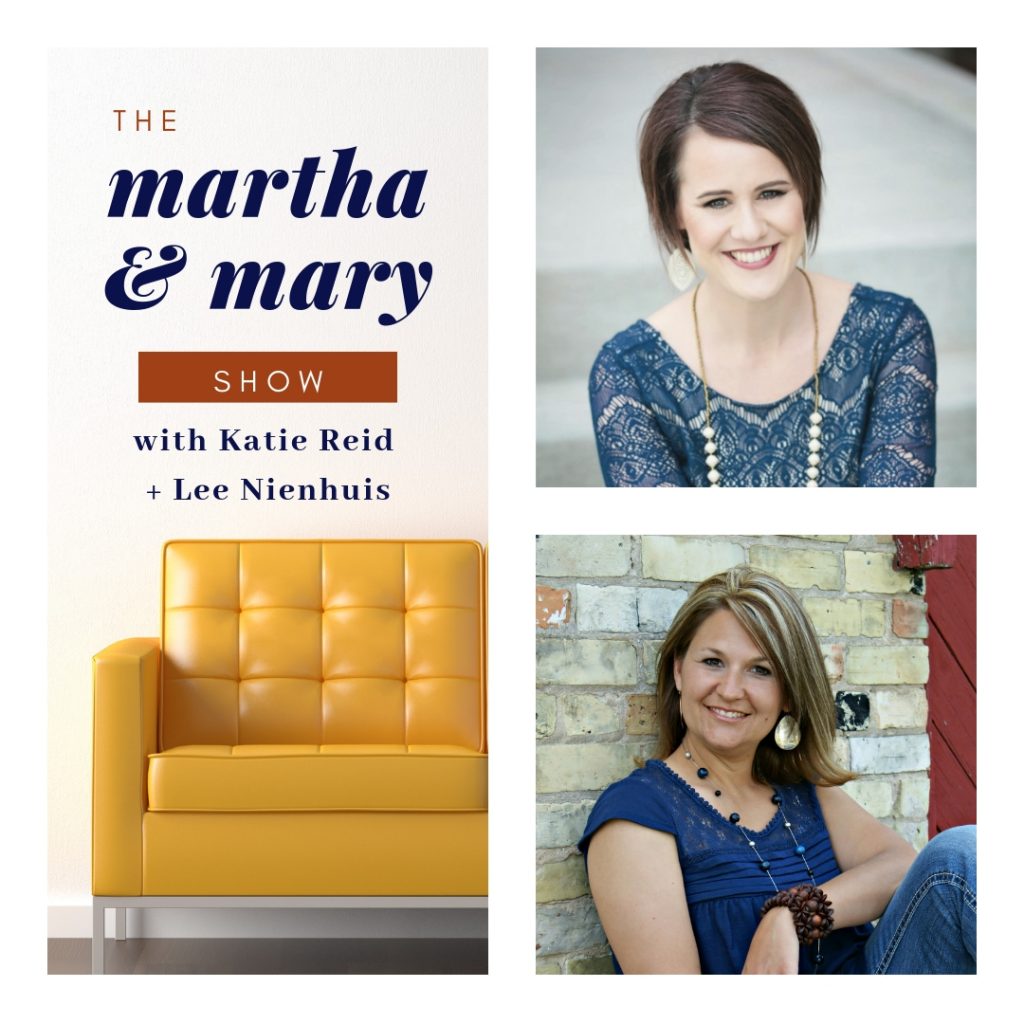 Two friends, two totally different lenses, and one great big God who loves us, just as we are." 
Welcome to the Martha + Mary Show!
Whether you are made more like Martha or more like Mary—the sisters from Bethany, in Luke 10—or a mix of both, you are welcome here. On this podcast, we discuss various topics, from the silly to the serious, through our different lenses. We've discovered that we are better together, and have more fun while getting things done, when we combine our strengths for a common purpose.
So come on in, just as you are.
Disclosure: Affiliate links are used in this post. If you choose to purchase through the links, I may be compensated at no additional cost to you. See full disclosure policy.
Listen to the Most Recent Episode:
Note: If you click on "MENU" (located above), you can access all the shows under the "Episode" tab, or if you click "Info" you can access the show notes for each episode. Happy Listening!
ACCESS THE HOLIDAY GIFT GUIDE, HERE!
Be sure to subscribe to the show and leave a rating and review via your podcast listening app: iTunes, Stitcher, Libsyn, or Spotify.


Meet Katie:
Katie Reid is made like Martha. Checking items off her to-do list gives her life. She'd rather work and then relax. Katie enjoys musicals and cut-to-the-chase conversation over iced tea.
Katie is the author of Made Like Martha: Good News for the Woman Who Gets Things Done. She encourages others to walk out the wisdom found in God's Word, through her articles, songs, and messages. She is a dynamic speaker, who inspires and exhorts others to grow closer to the Lord and take the next steps in walking out their God-given purpose. Katie and her pastor-husband, Adam, have five (loud and wonderful) kids and live on four acres in Central Michigan.
Connect with Katie on her website, in the Made Like Martha Sisterhood Facebook Group, and on Instagram.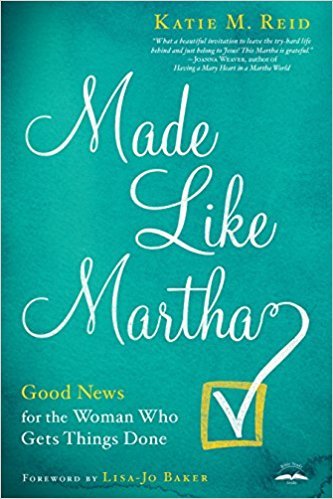 Meet Lee:
Lee Nienhuis is made like Mary. She likes reading good books, hanging out with her people, and having a whole lot of fun. Lee likes to relax, and then work—if she has to. She loves deep conversation over steaming cups of coffee and laughing till her sides ache.
Lee is the author of Brave Moms, Brave Kids: A Battle Plan or Raising Heroes. She is a passionate Bible teacher whose love for the Lord and the Word is contagious. She is an area coordinator for Moms in Prayer International and a sought-after speaker who shares a dynamic vision for the next generation of Christ followers. Lee and her farmer-husband, Mike, have four kids and live on four acres of grass in West Michigan.
Connect with Lee on her website, in the Everyday Brave Facebook Group, and on Instagram.

Listen to The Martha + Mary Show and be inspired to love God and others better. #marthamaryshow Click To Tweet

Visit Our Sponsors:
Interested in partnering with us, as a podcast sponsor?
Big Thanks to Season 4 Sponsors:
Ep. 35: Every Mourning by Donna Fagerstrom and Made Like Martha: Good News for the Woman Who Gets Things Done by author, speaker, and podcast host, Katie M. Reid.
Ep. 36: Coming Alive Ministries with Jenn Hand: Author of Confessions of a Coffee Cup Collector and 31 Days to Coming Alive
Ep. 37 + 38 Whispers and Wildflowers: 30 Days to Slow Your Pace, Savor Scripture, and Draw Closer to God by author, Sarah Beth Marr
Ep. 39: Coming Alive Ministries' BLOOM Conference
Ep. 40 – 46: Spiritual Circle Journal by Liz Lassa
Ep. 40: The Inspiration Doula, helping you take the next step in your God-given purpose.
Ep 47-48: Tracy Steel of tracymsteel.com and The Ministry to Business Guide.
Ep. 52: Stories and Songs of Faith, 52-week devotional by author, Alexis A. Goring
Big Thanks to Season 3 Sponsors:
Episode 24 + 27: Made Like Martha: Good News for the Woman Who Gets Things Done by author, speaker, and podcast host, Katie M. Reid.
Episode 25: Real Victory Radio with Amy Elaine Martinez and LaTan Roland Murphy.
Episode 26 + 28: Brave Moms, Brave Kids: A Battle Plan for Raising Heroes by author, speaker, and podcast host, Lee Nienhuis
Episode 29: Shift: Changing Our Focus to See the Presence of God by Abby McDonald
Episode 30: GEMS Girls' Clubs: Equipping Girls with God's Love (Shine Brightly + Sparkle Magazine)
Episode 31 + 32: Carol Kent's Speak Up Conference (for writers and speakers)
Episode 33 + 34: The CSB Legacy Notetaking Bible* (Christian Standard Bible) from LifeWay
*Order your copy today at Lifeway.com and use code MARTHAMARY50 to receive 50% off your purchase (discount available 3/1/20 – 4/30/20). 
Big Thanks to Season 2 Sponsors:
Episode 13: GEMS Girls' Clubs: Loved. Curriculum
Episode 14 + 15: Exhale: Lose Who You're Not, Love Who You Are, Live Your One Life Well by Amy Carroll + Cheri Gregory (published by Bethany House).
Episode 16: Blythe Daniel and Helen McIntosh: Authors of Mended: Restoring the Hearts of Mothers and Daughters 
Episode 17 + 18: Dr. Saundra Dalton-Smith, author of Sacred Rest: Recover Your Life, Renew Your Energy, Restore Your Sanity.
Episode 19 + 20: The Faithful Life Planner via Erika Dawson of Faithful Moms
Episode 21: Live Full, Walk Free Bible Study by Cindy Bultema
Episode 22: Holiday Gift Guide Sponsors
Episode 23: Michelle Nietert: Counselor, Speaker, and Podcast Host of Counselor Thoughts

Grateful for Season 1 Sponsors:
Episode 1 + 8: Brenda Yoder: Speaker, Counselor, Author of Fledge: Launching Your Kids Without Losing Your Mind
Episode 2 + 9: Darlene Larson: Speaker, Life Purpose Coach at Hearts with a Purpose and Author of Enable Me, Lord, to Shift Series
Episode 3: Amelia Rhodes: Speaker and Author of Isn't It Time for a Coffee Break? and Pray A to Z.
Episode 4: GEMS Girls' Clubs: Equipping Girls with God's Love (Shine Brightly + Sparkle Magazine)
Episode 5 + 6: Coming Alive Ministries with Jenn Hand: Author of Confessions of a Coffee Cup Collector and 31 Days to Coming Alive
Episode 7: Crickett Keeth: Author of On Bended Knee: Praying Like Prophets, Warriors, and Kings (Bible Study)
Episode 10: Kristin Funston: Speaker and Author of More for Mom: Living Your Whole and Holy Life
Episode 11: The Prayerful Planner
Episode 12: The Prayerful Planner