Productive and meaningful conversations–whether you are more task-oriented like Martha or more people-oriented like Mary." 
Welcome to the Martha + Mary Show!
Whether you are made like Martha or more like Mary—the sisters from Bethany, in Luke 10—or a mix of both, you are welcome here. On this podcast, we have productive and meaningful conversations with each other and our fascinating guests. We've discovered that we are better together, and have more fun while getting things done, when we combine our strengths for a common purpose.
So come on in, just as you are.
Disclosure: Affiliate links are used in this post. If you choose to purchase through the links, I may be compensated at no additional cost to you. See full disclosure policy.
Listen to the Most Recent Episode:
Note: If you click on "MENU" (located above), you can access all the shows under the "Episode" tab, or if you click "Info" you can access the show notes for each episode. Happy Listening!
Be sure to subscribe to the show and leave a rating and review via your podcast listening app: iTunes, Stitcher, Libsyn, or Spotify.


Meet Katie:
Katie Reid is made like Martha. Checking items off her to-do list gives her life. She'd rather work and then relax. Katie enjoys musicals and cut-to-the-chase conversation over iced tea.
Katie is the author of Made Like Martha: Good News for the Woman Who Gets Things Done and the novel, A Very Bavarian Christmas. She encourages others to walk out the wisdom found in God's Word, through her articles, songs, and messages. She is a dynamic speaker, who inspires and exhorts others to grow closer to the Lord and take the next steps in walking out their God-given purpose. Katie and her pastor-husband, Adam, have five (loud and wonderful) kids and live on four acres in the middle of Michigan.
Connect with Katie on her website, in the Made Like Martha Sisterhood Facebook Group, and on Instagram.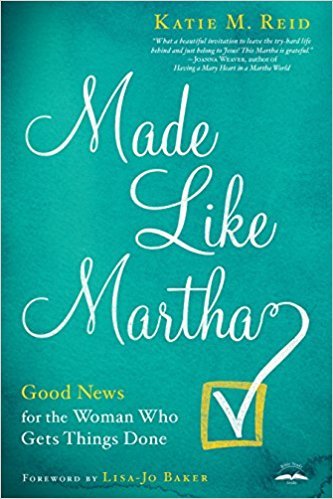 Meet Lee:
Lee Nienhuis is made like Mary. She likes reading good books, hanging out with her people, and having a whole lot of fun. Lee likes to relax, and then work—if she has to. She loves deep conversation over steaming cups of coffee and laughing till her sides ache.
Lee is the author of Brave Moms, Brave Kids: A Battle Plan or Raising Heroes and Countercultural Parenting: Building Character in a World of Compromise. She is a passionate Bible teacher whose love for the Lord and the Word is contagious. She is a sought-after speaker who shares a dynamic vision for the next generation of Christ followers. Lee and her husband, Mike, have four kids and live on the grounds of a Christian Camp in West Michigan.
Connect with Lee on her website, in the Everyday Brave Facebook Group, and on Instagram.

Listen to The Martha + Mary Show and be inspired to love God and others better. #marthamaryshow Click To Tweet

Want to sponsor the show?
Interested in partnering with us, as a podcast sponsor?
Big Thanks to all our sponsors! See our show notes to access information about them.