Welcome to Day #8 in the Isaiah 40 Series!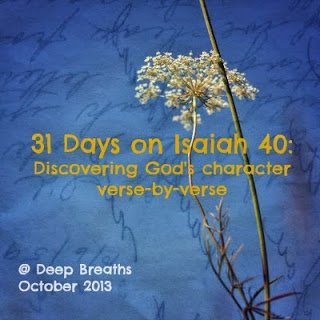 Isaiah 40:8 "The grass withers, the flower fades, but the Word of our God stands forever."
I have been waiting to get to this verse- what I consider the key verse in Isaiah 40; and a key verse in the whole Bible for that matter. The Word of God stands; it lasts- forever. I have heard it said that there are two things on this earth that will last forever- people and God's Word. So shouldn't we invest the majority of our time in these these two things?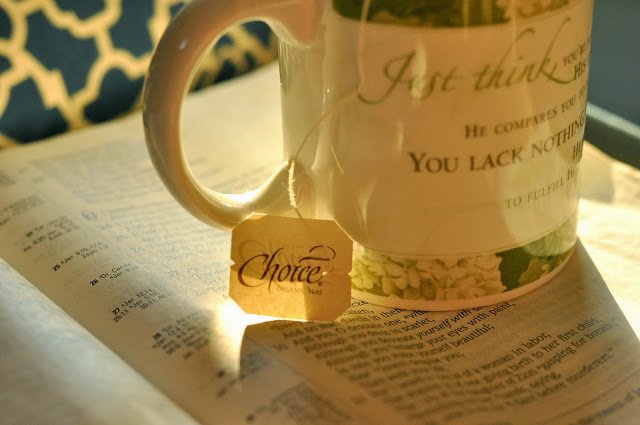 I hope the day doesn't come, but it might, when it is illegal to openly carry our bible, or read it in public, or post online about it. It is essential that we memorize scripture, and
hide it in our hearts
– for many reasons, but also, so that in case we do not have access to a Bible, it is inside of us. I remember my friend, and Bible Study leader, Sarae, saying something like this, "What if one day you are imprisoned for being a Christian, but there in the next jail cell is someone who has memorized a chapter of the Bible, and you know another chapter, and so you recite it to one another- and that is all you have, the verses that you have memorized."
What a sobering thought; one that should not cause us to fear, but should exhort us to take this seriously- because things may change and change drastically; BUT, "the Word of our God stands forever."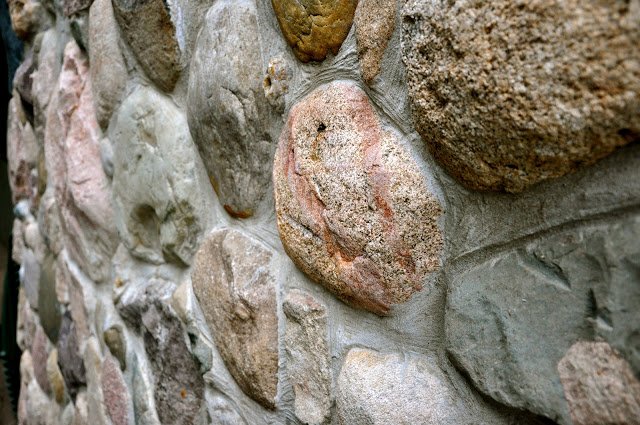 Just the other day in the van, I was singing this song to the kids,
"You gotta build your house upon the rock- make a good foundation with a
solid spot, and then the storms may come and go, but, the peace of God
you will know."
Matthew 7:24-25
says, "Therefore everyone who hears these words of Mine, and acts upon them, may be compared to a wise man, who built his house upon the rock. And the rain descended, and the floods came, and the winds blew, and burst against that house; and yet it did not fall, for it had been founded upon the rock."
In
John 8:31-32
, Jesus said, "…If you abide in My word, then you are truly disciples of Mine; and you shall know the truth, and the truth shall make you free." If we abide. If we remain. If we abide and remain, where? In His Word.
Then
we will be true followers; knowing truth and set free… standing upon a firm foundation, the Rock. Is this true of you?
Let's look at The Word more closely.
John 1:1
reveals, "In the beginning was the the Word, and the Word was with God, and the Word was God. He was in the beginning with God." And in
Revelation 19:13
, it speaks of Jesus' return, "And
He is
clothed with a robe dipped in blood; and His name is called The Word of God."
Do you believe the Bible is the Word of God?
Do you believe that Jesus is the Word- with God in the beginning- and that He is coming again?
Isaiah 5:21 and 24b
are sobering verses, "Woe to those who are wise in their own eyes, and clever in their own sight! For they have rejected the law of the LORD of hosts, and despised the word of the Holy One of Israel."
Oh, forgive us God, for thinking we know best- for rejecting your law and despising your word! Help us to know You Jesus, the Word- and not neglect our
daily bread
.
will you read it today?
1. What role does the Word of God play in your life? We need to read the bible, and ask the Holy Spirit to help us as we observe, interpret and apply it to our lives. Read
James 1:21-27
and write out your response to this passage.
2. Read
1 Corinthians 1:18
. Is the word of the cross foolishness to you or is it the power of God?