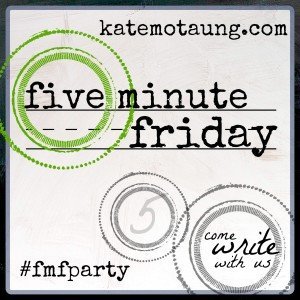 Come join us over at Kate's place as we write for 5 minutes. Tap out the first thoughts that come to mind about this week's prompt: World.
Small Town Girl Meets Great Big World
One time, at a conference, I saw Renee at breakfast without make-up on. It made a big impression on tightly wound me who was without make up too—feeling exposed and embarrassed. But seeing Renee doing the same put me at ease. Her freedom to share her bare-face helped me find freedom as I was away from home.
One time I received an email from Mary in New Zealand, just at the time when I wondered if all this writing even mattered to anyone. From around the world she made a world of difference as she encouraged me to keep baring my soul to help others find freedom.
One woman from Costa Rica—the country that holds a part of my heart—didn't laugh when I asked her about adopting from there. Colleen respected my exposed soul and handled my adoptive mama's heart with care.
I've only been out of the country a handful of times (that includes a few trips to Canada, one to Japan and one to Costa Rica).
I am not a world traveler, although I think it would be fun. I am a small town girl who sometimes feels small time too. My lack of world-savviness tempts me to feel irrelevant.
But one night that changed.
On the eve of this site's launch, I opened up a screen—with the map of the world via my Google Analytics' account*—and found much of it shaded in. It shut up my doubts right then and there.
Whether your small words go far or stay near—if they have made the difference to at least one in the world—they matter.
Whether that person is down the road or wrapped 'round the globe, they matter.
Even if you feel small there is a great big world out there that needs you to be faithful with small steps of obedience.
You can help point others to freedom as you freely share what's in your hands—hands folded in prayer, money unfolded from wallet, grace unfurled wide and truth waving high as a banner.
Let's offer hope to the world today.
Heaven knows we need it.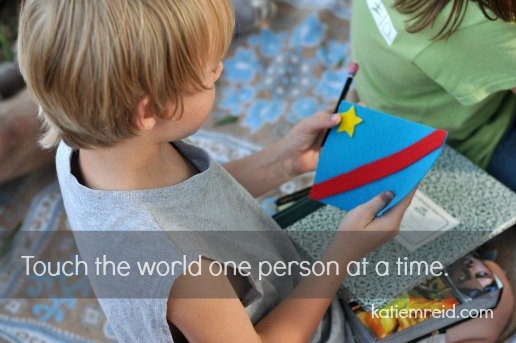 *This is a recap of what I wrote on Instagram in response to the world map image from Google Analytics:
Dear Blogging Friends:
Do you ever wonder if it's worth it? all the time, brain-power and sacrifice it takes to get the words on the screen? I have these thoughts sometimes but I want to silence them once and for all.
On the eve of Launch Day I opened up this screen and was filled with emotion. You see, I'm just an ordinary gal who lives in the country, near the Amish in the Midwest. My expired passport contains a few stamps (exactly two). I don't have the means to travel the world and share Jesus' hope face-to-face. BUT, through this little screen shot God showed me something big.
His hope is going forth, all over the world, as I type my heart out. I'm a missionary, and so are you, right from home—to those near and abroad. Don't think for one second that what you do is a joke. You are His hope-bearer. By His grace and ability He is using your words to touch someone who needs it. Whether it be terrorists trying to hack you or a desperate mom in need of a lifeline—He is using your open hands to touch people you'd never have access to otherwise.
So, dear blogger, what you do matters. Don't stop! Keep writing and let God take your words, His Words, where He wills. He's a much better distributor of your material than any publishing house. He's been getting His Word out for a long time now.
Praying for you right now to type out a message that someone else needs to hear—whether that's your neighbor across town or your neighbor across the seas.