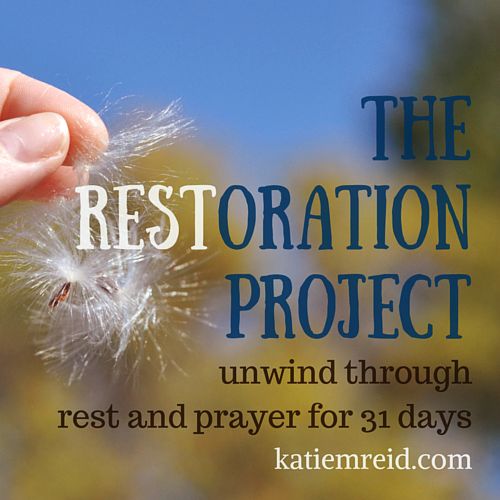 Welcome to Day #8 of the Restoration Project!
Most Thursdays and Fridays this month I am inviting some of my writing friends to chime in on the subject of rest or prayer as we learn to unwind. I met the lovely Michelle this summer at the Declare Conference. If you get the opportunity to attend Declare, I highly recommend it.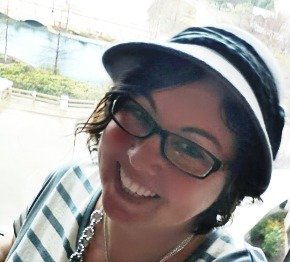 Michelle Acker is a small business owner, wife, and mother who writes on balancing the chaos and demands of our busy world with living a life filled with purpose. Michelle serves an actively engaged community of digital evangelists through her work on the leadership team of the Declare Conference, and she writes passionately about living with purpose at MichelleAcker.com.  She is the author of the current series, 31 Ways to Put Down Your Phone and Be Present. Michelle's passion is teaching women to lead purpose-filled lives by trusting God, leaving a legacy, and remembering to rest. She and her husband, Chris, live and work in North Texas with their two sons, one crazy old dog, and a small fleet of dirt bikes. Find her on Twitter and Insta @2BeStill.
This is what the Sovereign Lord, the Holy One of Israel, says:
"In repentance and rest is your salvation,
    in quietness and trust is your strength,
    but you would have none of it."
The Art of Rest
In 2006, I stumbled across a book which had a profound impact on me, and it revolutionized the way I prioritize my life. When I first read Sleepless in America by Mary Sheedy Kurcinka, I thought it was only for children with behavior problems. Trust me when I say it's for all of us. In fact, after reading it, the 'art' of rest has become an integral part of my life and legacy.
Since 2006, God has repeatedly reinforced both my own need for rest and His purposes for rest. Over time, He's shown me that rest is about more than just physical rest and sleep. And it's about more than Sabbath Rest as well. What I've come to call the Art of Rest is composed of three elements.
Physical Rest:  The act of resting the physical body & brain through sleep, physical rest, and mental relaxation. "It is vain for you to rise up early, To retire late, To eat the bread of painful labors; For He gives to His beloved even in his sleep." – Psalm 127:2
Spiritual Rest: A daily act of spiritual discipline to rest in and trust God. "Come to me all you who are weary and heavy burdened, and I will give you rest." – Matthew

11:28

Sabbath Rest: A day each week set aside for worship and to glorify God. "Six days shall work be done, but on the seventh day is a Sabbath of solemn rest, a holy convocation. You shall do no work. It is a Sabbath to the Lord in all your dwelling places." – Leviticus 23:3 ESV
Spiritual Rest… resting in God.
The best tool I've found for practicing spiritual rest comes from Psalm 46:10 in the words: Be Still and know that I am God.  Being still and doing nothing are not the same thing, contrary to what our culture might teach us. They are, in fact, very different. Do a little digging into this Psalm and you'll quickly find other translations for be still  that say, 'Let go. Relax. And… cease striving'. Other ways to interpret And know that I am God  might include: 'Recognize. Understand. And… trust Me'.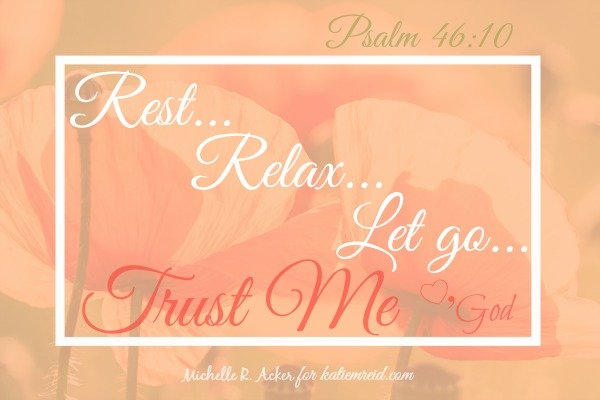 Resting in God is not idleness. 
Just as being still is not doing nothing, resting in God is not idleness. It is active. Sometimes it's crazy hard work, because let's face it, it's hard to let go of control. And while it is sometimes a struggle, resting in God is always a place of grace and peace. Even in times of overwhelming stress, there is grace and peace to be found if we rest in God. Connect your spiritual rest with being still. Put your focus on letting go of doing life under your own strength and recognize, understand, and trust in His. When you get there, you'll find the most wonderful place of soul rest, even in the middle of your everyday chaos. Work for it. The grace and peace to be found in this kind of spiritual rest are worth it.
Grace & Peace,
Michelle
P.S. Michelle is doing a great 31 days series this month: 31 Days to Put Down Your Phone and Be Present. Be sure to check it out!