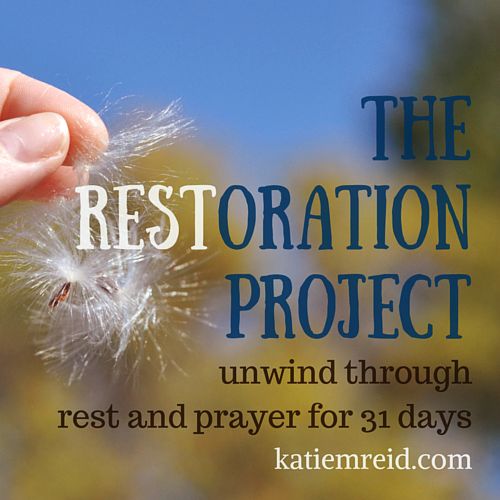 Welcome to Day #17 of the Restoration Project.
Happy Saturday to you! I hope you've been enjoying the weekend challenges as we learn to unwind.
Today's exercise is simple: stand still.
I don't know about you but it's hard for me to stand still. My mind often jumps to the next thing I "should" be doing. But, those rare times, when I just stand still and breathe deep, do my body and mind good.
Webster defines standstill as "a state characterized by absence of motion or of progress". Yet as we pause by standing still we make room to breathe, to appreciate, to refocus. And, I dare say, we make great progress in the area of rest.

We trust God to keep things in motion as we slow.
God is not absent when we stop moving. In fact, I think He feels closer as we refrain from our harried pace.
Get outside if you can (if it's not too cold, it might snow here, yikes!) and stand still. Breathe deep and take in the wonder around you.
During Vacation Bible School our kids are often challenged to "watch for God", to take notice of His creation and the things He is doing.
So, while you are standing there, take in His handiwork.
What do you see?
What do you take notice of when you slow down?
Or maybe you need to lay down to see better…
Lay in a hammock and see the trees from a different perspective.
Lay a blanket out in the yard or at a park, and gaze up at the sky.
Lay on the couch and observe the 1970's textured ceiling with glitter sprayed among the plaster—oh wait, that just might be at our house, or the Brady's. 🙂
Stand still, lay down and rest well friends.

P.S. Get caught up on Days 1-16 of the Restoration Project.
P.P.S If you haven't entered to win the $500 DaySpring Shopping Spree you can still do so!