We live in a time where women have more opportunities than ever before. But many of us are trying to "do more" and "be more" at a high cost to our health, relationships and well-being.
I recently read an interesting article about, "Rushing Woman's Syndrome" and the negative impact that doing too much, too fast, can have on our bodies.
We search for balance as we juggle many plates, but how do we stay afloat as we tread water between breakfast and bedtime?
Do you feel the tug of war—the tension—of trying to balance both work and family, or ministry and home?
What are we to do when we feel called to more than one thing?
How do you thrive in the "pull" between Titus 2 and the other giftings that God has entrusted to you?
Here are 2 (of 5) steps to consider:
1. Be aware of crosswinds: Your callings won't likely fit neatly into separate boxes. There will be cross-over. Your child may need you when you are on the cusp of producing a masterpiece. Or your boss may give you a non-negotiable deadline that falls on an important family date. Don't stress when your callings bleed together but ask God to help you rest in His Sufficiency, and call in reinforcements if necessary.
2. Gather a lifeboat: Ask a team to help support you in both calm and stormy seasons. Have a small group ready to pitch in if needed and cover you in prayer as you go forward. Fill your "lifeboat" with others who will encourage you and help you see coming danger, while holding you accountable to your callings.

P.S. Thank you to everyone who has already purchased a copy of Tale of Our Lives: Reflection Pond. We were #3 in the Writing Skills section on Amazon the other day, exciting! If you did purchase a copy please consider leaving an honest review on Amazon. Also, the book is now $1.99 (for a limited time, then it will go up). Grab your copy today!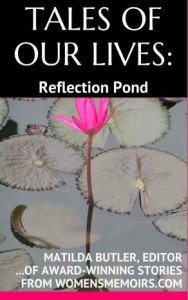 Your encouragement and support of my story, "Extra Salt on the Fries" (that is published in this women's memoir anthology) is so appreciated. Thank you for making this launch week so fun! If you missed our celebration video you can catch it here.
P.P.S. Linking up with Kelly Balarie at Purposeful Faith for the #RaRaLinkup. Join us!