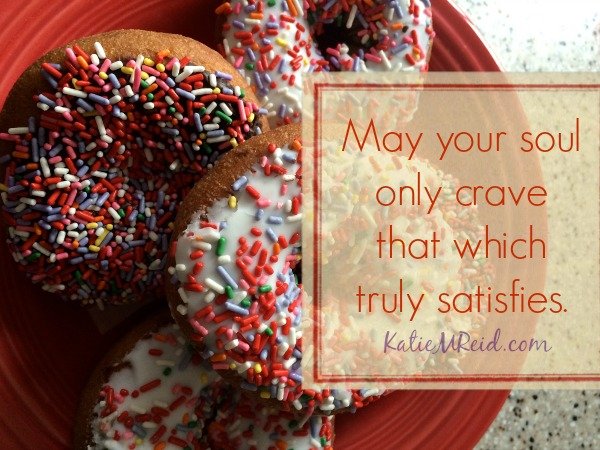 When I saw that my friend, Wendy, was heading up the 40 Day Sugar Fast again, I said, "Oh no!"
Not because last year was a bad experience.
Not because my heart was refined in a much-needed way.
Not because God uncovered my anger issues and asked me to confess them.
I said, "Oh no" because it's hard to go without sugar (mostly dark chocolate) for that long and I don't like to fight my flesh. And because I knew that God had heavy heart-work to do within this hungry soul.
But I also heard an "Oh yes!" resound from deep within because I want to crave Jesus and crush idols. I want to be made well—even though I know the process won't be easy.
Before the fast officially started I had a pretty good idea about what God wanted to work on. And I knew it went deeper than my afternoon indulgences.
I'd strayed from putting Jesus first and had filled my life with counterfeits that left me wanting.
Last year I confessed anger and this year I'm confessing my addiction to approval.
I'm a people-pleasing, competitive, striving for significance kind of of woman.
I like to know where I stand. If my rank is not high enough in my eyes, I work longer, try better, scheme harder, and dream bigger to try and change that.
But the more you get caught up in numbers—whether on the scale, in your bank account or on your social media platforms—the more you get caught in web of discouragement.
The numbers won't fulfill you. Some of the skinniest, richest, and most famous people are extremely unhappy.
True satisfaction is found in Jesus alone.
Jesus' name is the sweetest.
His Word is what fills us.
We taste and see that He is good and we begin to lose our appetite for culture's confections.
I'm confessing my soul cravings for approval ratings over at Wendy Speake's place today. Join me there…