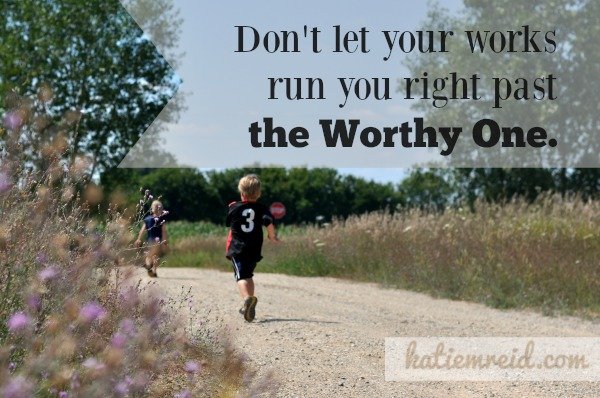 "Sometimes I forget. Sometimes in the midst of church life, I just "do" and I forget the "who". I forget the "Why," and do not rest in His "Because." My former worship pastor shared this with me, 'The greatest impediment to your spiritual intimacy is your giftedness. Because you are gifted, you are going to make life work within the church without ever knowing God well.'" –Jennifer Schmidt
I'm a Martha fan.
You know her right? She's Mary's sister in the Bible. She was a doer—responsible and hard-working. She took care of others and got things done.
Martha often gets a bad rap. She was busy at work doing meal prep for her guests and just wanted a little help from her sister.
But Martha was distracted by her many tasks; so she came to him and asked, "Lord, do you not care that my sister has left me to do all the work by myself? Tell her then to help me." But the Lord answered her, "Martha, Martha, you are worried and distracted by many things; there is need of only one thing. Mary has chosen the better part, which will not be taken away from her." -Luke 10:40-42, NRSV

I totally get Martha. If nobody works, nobody eats. If no one helps the pressure mounts upon her shoulders.
There is nothing wrong with being dependable. However, those of us who are wired this way do need to be mindful. Sometimes we find our worth in our work—apart from Jesus. Sometimes we let our worry suffocate our worship.
…worship and worry cannot live in the same heart; they are mutually exclusive." -Ruth Bell Graham
Had Martha forgotten who was in her midst?
Jesus: the water-to-wine Miracle Worker, the feed-the-5,000 Supernatural Provider, the raise-the-dead Anointed Healer.
Jesus could do anything, surely He could have taken care of the meal so that Martha could be more present. Could it be that Martha was so focused on her works that she missed an opportunity to worship?
Doing for the Lord should be an expression of our heart to Him, an extension of thankfulness. We need to be careful that we aren't using our works to feel worthy.
Don't let your works run you right past the Worthy One.
In the midst of your giftedness, don't lose sight of the Gift. In the midst of your doing don't overlook the Divine. In the midst of your striving don't bypass the Savior.
"We may run ourselves ragged doing things for God and lose him in the midst of it all." -Sheila Walsh
Join me over at Kelly Balarie's blog, Purposeful Faith, as we talk about Doing Less in Order to Gain More…