We are celebrating! After a lot of work behind-the-scenes, the new website is up!
Take a look around and make yourself at home as you find resources to help you breathe deeply and walk freely.*
For it's by God's grace that you have been saved. You receive it through faith. It was not our plan or our effort. It is God's gift, pure and simple. You didn't earn it, not one of us did, so don't go around bragging that you must have done something amazing. For we are the product of His hand, heaven's poetry etched on lives, created in the Anointed, Jesus, to accomplish the good works God arranged long ago." -Ephesians 2:8-10, VOICE
Favorite Features
The Resource page is full of articles to encourage you in your faith, relationships, purpose, and writing.
The About page highlights two of my favorite blog series (see if you can find them): 31 Days with My Brother (all about my amazing brother who has Down Syndrome) and The Grounded Series (a series of faith and fun for mothers of tween girls).
The Book page (pinch me!) contains a promo video for my upcoming book and access to the first chapter (for FREE!).
Book Giveaway
Enter below for a chance to win one of four books by authors who have inspired me: Cold Tangerines by Shauna Niequist, Simply Tuesday by Emily P. Freeman, The Art of Work by Jeff Goins, and Soul H20 by Sherry Stahl.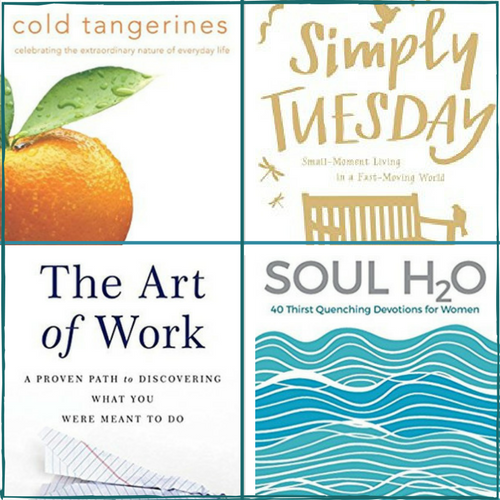 If you are not yet a subscriber, we encourage you to do so. About once a week, we deliver encouragement into your inbox, for free (you will also receive four free tracks from my Echoes of My Heart album). In addition, subscribers will be the first to hear when the application for my book launch team goes live.

P.S. BIG thanks to Mandy and Carol of Mandy Roberson Media for all their hard work to make this new space welcoming, fresh, and easy-to-use. I highly recommend these two! And special thanks to hubby for his patience with the MANY decisions that needed to be made surrounding the site redesign.
P.P.S. My friend Christy wrote an article geared toward go-getters. If you haven't gotten to know Christy, I encourage you to do so. She's one of my favorite Modern Marthas! She and her husband were also guests on our live show, "Stop! Hammock Time."
*This website uses affiliate links. I am a participant in the Amazon Services LLC Associates Program, an affiliate advertising program designed to provide a means for me to earn fees by linking to Amazon.com and affiliated sites. I may be compensated for purchases made through affiliate links, at no cost to you.