Welcome to Week #1 of the Made Like Martha mobile book club!
We hope you'll join us for the next ten weeks as we dig into this message of grace and freedom. As we discuss each chapter of Made Like Martha, I've invited some of my writing friends to take turns hosting our mobile book club at their place.
We'll also interact over in the Made Like Martha Sisterhood (Facebook Group), so be sure to join it if you haven't yet. Today's host will be joining me at 8:00pm EST in our Facebook Group for a live chat about Chapter 1 on Wednesday, July 25th.
We look forward to getting to know you better as we read, chat, and interact.
Disclosure: Affiliate links below. Read full disclosure policy here. 
In case your copy of Made Like Martha hasn't arrived yet (or you haven't ordered one yet), you can read Chapter 1 over here. But you'll want to grab the book (paperback, ebook, or audio version) before next week, since we'll be discussing Chapter 2 next Tuesday.
Our first host is the lovely and hospitable Vanessa Hunt from At the Picket Fence blog. Vanessa and I are represented by the same literary agent, but our friendship goes beyond that—even though Vanessa lives in the Pacific Northwest and I live in Michigan, we enjoy chatting over voxer about our frustrations and joys as modern Marthas.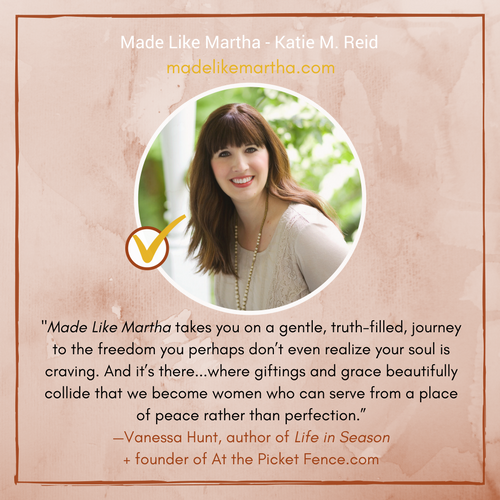 Vanessa has co-authored a beautiful book called, Life in Season: Celebrate the Moments that Fill Your Heart & Home.  
Let's get started, shall we? Here's the intro to Vanessa's post surrounding the theme of Chapter 1.
Book Club Week #1:
In the summer of 1981, my parents moved us from Springfield, MO to Los Angeles, CA. At the time, my aunt and uncle were pastoring a church called the 'Beach Fellowship' and we began attending. Now, it wasn't called that because it was simply close in proximity to the beach. No, this church literally gathered ON the beach. We went from wearing patent leather Mary Jane shoes in the 'Bible belt' to wearing swimsuits and flip-flops in the sand. To say this was quite a transition is the grossest of gross understatements.
The Sunday school class for my age group was held in a VW bus. Yep. I can't say that I missed wearing itchy tights to church but even at 5 years old I knew I preferred the comfort of an air-conditioned room at Central Assembly of God to a hot, cramped van even if it was fun to pretend that I was one of 'Charlie's Angels'.
Out of all of the lessons I learned in the Beach Fellowship Sunday School class, the one that stands out the most didn't involve a Bible story brought to life by a flannel-graph board. No, it happened during prayer time…
You might also like:
The Tightly Wound Woman's Guide to Hospitality
The Surprising Thing Your Type A Friend Needs (But Probably Isn't Telling You)