The Author Interview Series continues with good news from energetic, authentic, and fun friend, Kristin Funston.
Kristin's book, More for Mom, will help you live with intention and joy as you realize that God wants to help you live fully instead of living depleted.
Disclosure: Affiliate links are used in this post. If you choose to purchase through the links, I may be compensated at no additional cost to you. See full disclosure policy.
I had the joy of endorsing Kristin's book, More for Mom: Living Your Whole and Holy Life:
Do you view the spiritual disciplines as daunting items to check off your list and get right? I sure did, until Kristin helped me realize that God uses them to give us more—not more pressures and demands on our time—but more strength and more peace. As a busy mom, I'm relieved that God isn't out to deplete us with added stress but desires to equip us for godly success. Here's to more life, through Christ!"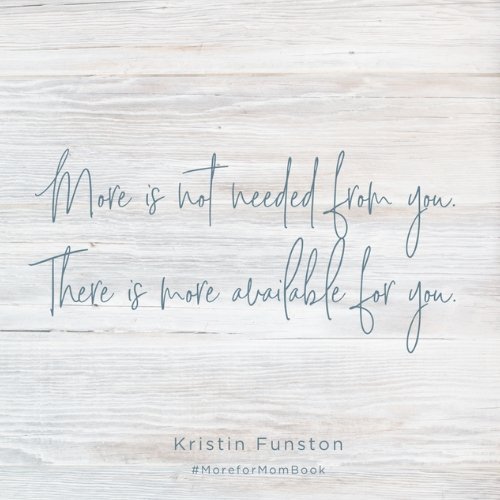 Interview with Kristin Funston
What is mom guilt, and why do moms struggle so much with it?
Mom guilt is just what it sounds like. It's the feeling of guilt—or the berating from ourselves or from others—for the way we parent (the way we talk to our children or the decisions we make that affect their lives). Mom guilt can show up unexpectedly and quickly and in a wide variety of situations.
The reason we struggle with it boils down to expectations. Expectations we put on ourselves, on others or what others put on us. Sure, we want to do and be all the things to everyone, but we can't. I talk about this a lot in chapter called "Raving Fans." When we don't meet expectations, we're bombarded with emotions. Mom guilt is cruel, but it grows from something we can control, which is encouraging. We control this guilt by making sure expectations we set align with our reality. And not just our day-to-day reality, but the reality of who Christ says we are and what we are supposed to do or handle. There are a number of ways to manage this, starting with setting realistic expectations and not getting pulled into the trap of making exceeding expectations the expectation.
What do you mean when you write that are lives are full, but they aren't whole?
We live in this crazy, busy, modern world. A world that fills our schedules, minds, and desires. We can literally fill our lives with things, people, events, books, jobs, thoughts, feelings and so much more, but we can still be incomplete. This stuff filling our lives doesn't always complete us. I believe it's God, number one, that completes us, making us whole, and then His kindness allows us to seal it with the extra blessing of relationships.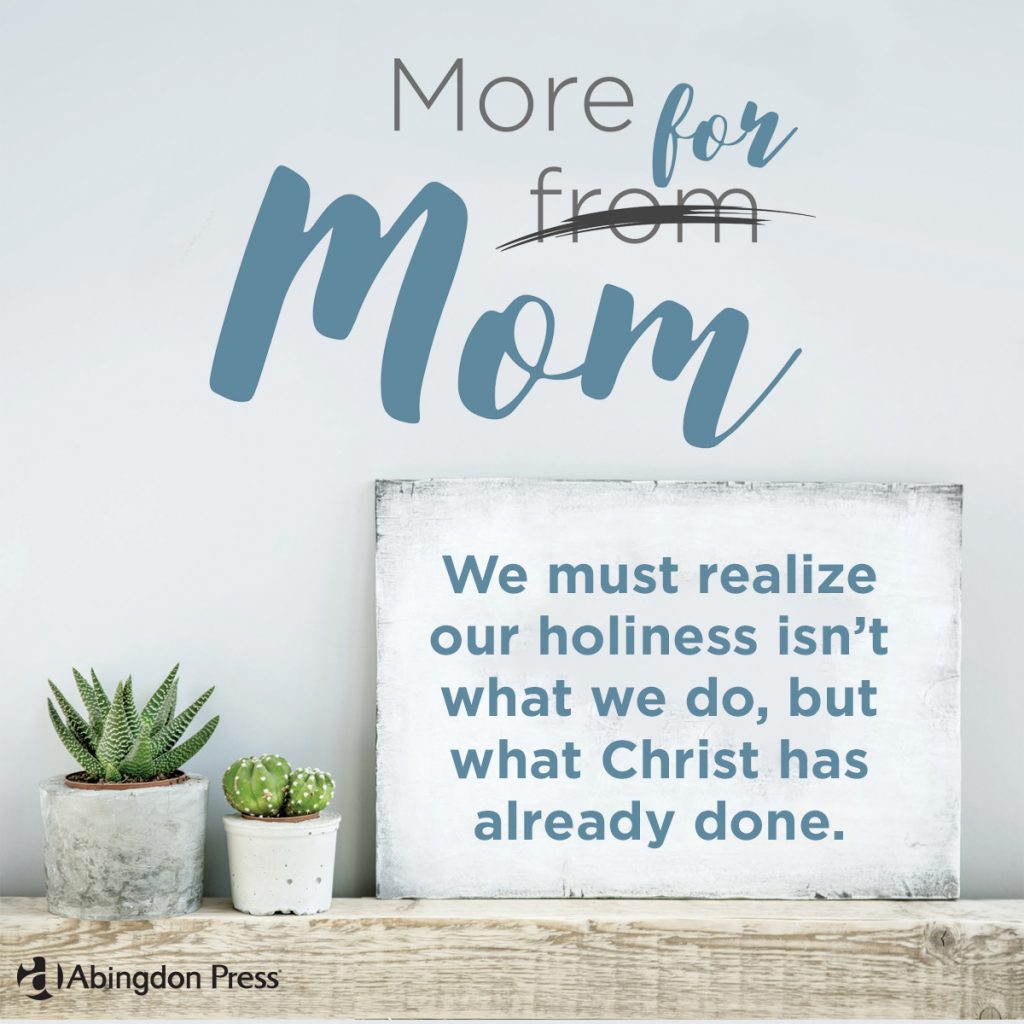 What does it mean to be a whole and holy mom?
A whole and holy mom is, number one, a believer in Christ and what He did for us on the cross. This idea of "wholeness" stems all the way back to the garden with Adam, Eve and the way humans were created. Just like when thinking of "whole foods," that food is in natural state—the way nature intended for it to be, or pretty close to it. It's the healthiest form of that food. Adam and Eve were physically, emotionally, spiritually healthy, complete and whole in the garden with each other and with God. Their lives were complete. This is how it was supposed to be, the way nature intended for us to be. When we claim Jesus Christ as our Lord and Savior, our relationship with our Creator is restored back to a place of wholeness, completing us emotionally and spiritually. 
Our "wholeness" is based on God's ability to mend our brokenness and overlook our sin, because of what Jesus did on the cross. @kfun #MoreforMomBook
Click To Tweet
Because we are "whole" and complete in Christ, back in proper relationship with Him, we are, therefore, holy. Holy ultimately means to be set apart. So as believers in Christ's sacrifice for us, we live a life that is set apart—different—than the way our culture and the world want or urge us to live. This life doesn't have to (and can't) be a perfect life, but it is one that's different. When we follow Christ and live a life worthy of the calling He's placed on us, God sees Jesus' covering of us. He sees Jesus' holiness in place of our sinfulness.
So that's it. A whole and holy mom is not a perfect mom, but a believer and follower of Christ right here on Earth, who admits she needs a savior.
Q: You want to encourage women to stop believing the lie that more is needed from them and start living the truth that more is available for them. What is the more that they are missing out on?
I think the details of the "more" they are missing out on is ultimately going to differ from one woman to the next, but it's all going to stem back to Jesus. Because doesn't everything? More life, more love, more joy, more peace, more of all that good stuff—it comes from Him. He is and has the more they are missing out on. Ephesians tells us that God is able to do more than we can even begin to think or ask. However, on this side of heaven, where we moms are asked to give and give and give, it's hard to comprehend the abundance He has available for us. This giving that's required of us in our roles as moms, wives, sisters and workers wears us down, distracting us from fully thriving and living in that place of abundance.
How do we overcome thinking our time and priorities are more important than anyone else's? How does that sometimes flow into a "holier than thou" attitude?
Being "holier-than-thou" or thinking we, our time or our priorities are more important than others puts us in a place that is set away and above others. However, God is the only one who is above us and others. We cannot and should not place ourselves at the same level as God, but as humans, we are all on a level playing field. Something to note is that we are not set on separate playing fields either, we are set on the same field, together. We are not set apart from other people but set apart with other people.
We overcome this by first recognizing the fact that we are set apart with other people. This life here on Earth is a team sport. Recognizing this will help us to understand proper attitudes in regards to other people.
What do you hope readers gain from reading this book?
As I've mention, for the longest time I felt depleted and exhausted from my life. (If I'm honest, I have to admit that I still feel that way sometimes.) I know I'm not the only one who has ever felt that way or will feel that way in the future. I'm ready for us to give from a place where we can do more than just give; we can give in a celebratory way because we've already received more than would ever be enough. This perspective will shape what our daily grind looks and feels like because we'll finally recognize what it means to be whole and holy in the day-to-day. That's very churchy language. Basically, I want moms—really everyone—to have peace in their daily grind because of all we have available through Christ.
We can give in a celebratory way because we've already received more than would ever be enough. @kfun #MoreForMomBook
Click To Tweet
Thank you for being with us today, Kristin! 
With a passion for writing, Kristin Funston encourages women in a way that is relatable and practical, with a healthy dose of humor. In addition to be a writer, Funston is a member and employee of Hope Presbyterian Church and works as the Marriage and Family Coordinator and a leader in the women's ministry. Funston is also passionate about helping women embrace their current season and experience God in the everyday. She shares her humor and writing on motherhood on her blog and has been featured on other blogs, including: The Better Mom, City Moms Blog, TODAY Parenting, and Scary Mommy. A mom to three girls and not-so-domestic wife to an entrepreneurial athlete, Funston and her family live outside of Memphis, TN.
Learn more at MoreforMomBook.com. Kristin is also active on Facebook and Instagram.
You might also like:
Interview with the authors of Mended: Restoring the Hearts of Mothers and Daughters
God Provides What You Lack, Dear Mama
Dear Moms: Some Thoughts on Expectations and Victories