With the election season upon us, I thought I'd discuss politics on Day #11 of this 31 days series about my brother.
In 1998 the Bill Clinton/Monica Lewinsky scandal was reported on the news continuously. One day my mom was listening to the radio in the basement and Brian was down there. She figured he did not know or understand what was going on with the scandal. Then Brian walked over to her and said, "Number 7 and number 9".
My mom was surprised. He then explained, "The commandments (7 and 9), 'Don't lie and don't commit adultery."
He DID get it!
Over and over my brother has given us clues that he understands more than he may show outwardly.
When Brian turned 18 he registered to vote. I love that he did this. He has every right to voice his opinion about who should be in office.
Regardless of the political differences you and I might have, we were encouraged by Sarah Palin's son, Trig, and her decision to give birth to him. It was a blessing to have a political figure who had a child with Down Syndrome and was an advocate for their rights.
I have heard varying statistics about the percentage of babies with Down Syndrome that are aborted, but it seems (based on the stats) that it is a very high number. This fact makes us very sad, as you can imagine. Brian is such a wonderful person, who has enriched our lives in SO many ways. He wasn't what was expected, and there have been challenges, but the joy and enrichment God has brought to our lives through him far outweighs the hard things.
As you may, or may not, know my husband and I are in the process of waiting to be chosen by an expectant mother to adopt an infant domestically. We have been waiting almost a year and a half, and it deeply saddens us that babies with Down Syndrome are being aborted when we would gladly welcome them into our home and family. If you know of a woman in this situation, would you prayerfully consider telling them about us? We are open to whatever baby God has for us and are praying for His will and timing. It has already been quite the journey (wonderful and hard), and has stretched us and those around us in many ways. Thank you for your prayers as we keep waiting.
We view life as precious and a gift from God. I pray the following photos and thoughts remind you of the hope that is found in Christ, and how valuable life is.
May 2012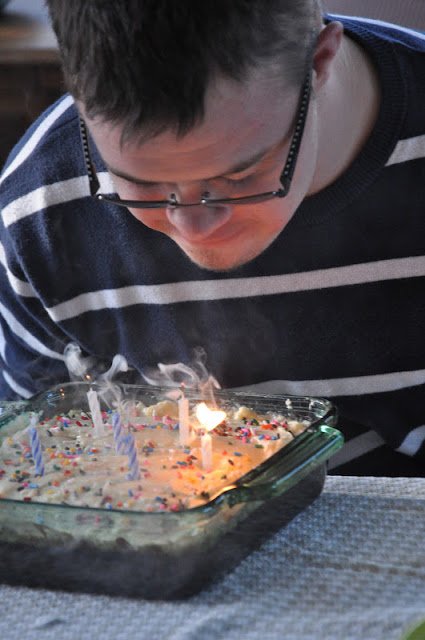 Brian's 32nd Birthday
Deep Breaths: What is something you can celebrate today? In a world of politically division and relational strife, what is something that you can do to unselfishly serve your neighbor this week?
Hebrews 10:24-25
24 And let us consider how we may spur one another on toward love and good deeds, 25 not giving up meeting together, as some are in the habit of doing, but encouraging one another—and all the more as you see the Day approaching.