Welcome to Day #5 in a 31 day series on my brother. If you are new click here to read the rest of the story.
For as long as I can remember my brother has liked structure and routine. He likes to know what to expect, what is coming, and likes to know what time he is going to eat (and would prefer that it accompanies his eating time schedule). I can strongly echo his desires- type A older sister- you bet!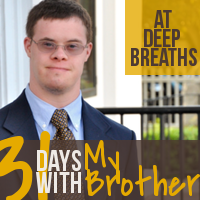 Brian is an avid sports fan (more on that in another post). When my brother was younger he used to write made-up names, football player type, down a lined piece of paper…
1. Travis Young
2. Bo Summers
3. Justin Cook
And so he would write, all the way down the page. The names sounded like they could belong to actual players. Maybe he was designing the first fantasy football team; should have marketed that idea!
My brother used to get up at the same time everyday, from the time he started school through completing his young adult program (at 26); even on the weekends. He would check his clock a lot (I do this too). When he stayed at my grandparents he would "check" their alarm clock too. Listen to this excerpt from a letter from our late grandfather (affectionately called, Poppy).
April 4, 1986 "…thanks for setting the alarm clock on Granny's dresser. It woke us precisely at 12:02 this morning! Be a good "guy" as you return to school this week and Poppy will try to remember that you prefer this term to "boy". We love you! Poppy"
Brian is not this way so much anymore (at least outwardly) but he used to keep looking at the clock if we ate dinner too much after 5pm. Whether he was hungry or not is a different story; he wanted to eat when it was the typical time to eat, end of story. He was not rude about it, just not real subtle.
Brian likes to know what the plan is for the day, the week, the month. He frequently references my mom's calendar and points to things, like upcoming events, birthdays, important dates, etc.

He is loyal to the seasons, according to how the calendar spells it out. If it is cold, but still summer, shorts it is. If it is hot, but still winter, the sweater stays on.
My brother loves traditions as well. I think it drives him nuts when we celebrate a birthday on a day other than the actual birth day. He has many catch phrases he says (that I will be sharing as we go along), one of them is, "It drives me nuts!" Living with three semi-obnoxious sisters has provided him with plenty of opportunities to use this phrase.
Brian loves holidays…on St. Patrick's Day he is not pleased unless the "leprechauns" dye the toilet water green (even better if the milk is green -although we are too weirded out to drink it then).
Halloween would not be complete without watching Charlie Brown's The Great Pumpkin, and dressing up like Harry Potter; passing out candy at home (he is a big Harry Potter fan)!
On Thanksgiving morning you better not miss watching the Macy's Day Parade; what a scandal that would be.
Now we move on to the shirts. My husband has a recovering shoe and coat problem.:) But my brother has a shirt problem. For starters he has too many. But the problem, with trying to get rid of them, is that he is SO sentimental (I can relate on this point as well). He has shirts from vacations, shirts of his favorite sports teams, shirts from the colleges we attended, and so it goes. Here is where it gets tricky…
Let's say my parents and brother were going to visit his Writing Sis in the big city, but then they were going to watch their favorite sports team play football there later on- what shirt to wear? The one from the big city or the sports team? Here is another Brianism, "How 'bout both?" And so the multi-layering of shirts emerges. Sometimes he wears three and changes them as the day progresses. One shirt from the college Writing Sis went to, the next shirt from Nebraska, revealed when they see her old boyfriend -who is originally from there, and then the sports team shirt for the game- ohh the planning and loyalty.
My brother has learned to be more flexible, since it is a necessity around our family. I am not sure he digs it totally, but he has learned to adjust. I try and remember to tell him what we are doing next or what we are doing for the rest of the day when he is here. He seems to appreciate that.
Deep Breaths: Do you like structure and routine? They can be wonderful things- helping you and those around you feel secure and cared for. But sometimes our desire and dedication to these can get in the way of enjoying the unexpected.
Journal or share an example of this in your own life. If you are a little (or a lot) type A- try doing something spontaneous right now. If you are more the "fly-by-the-seat-of-your-pants" personality, try and structure one thing in your day this week. The bottom line is that God is in control of our days; let's follow Him and enjoy the journey that He takes us on. In good and bad, He is Sovereign, Mighty, and so Loving– and always trustworthy; even (and maybe mostly) in the unexpected.


Psalm 9:10 And they that know your name will put their trust in you: for you, LORD, have not forsaken them that seek you.