Proverbs 31:10 "An excellent wife, who can find? For her worth is far above jewels."
I haven't felt like much of an excellent wife lately. I have, however, felt hard to find. Lately, I have been knee-deep in this writing stuff and I am pretty sure my husband has wondered where I am (on yeah, on the computer again, typing like a crazy). I have not been as present as I should be.
Here's the thing about my husband, he is so supportive and so patient. I am really blessed to have a man who encourages me to pursue all this creative stuff and doesn't mind our not-picked-up house. He gets me. You can imagine my delight when we put our creative minds together and produce goofy videos, like this one or this one.
After watching one of our videos my sis-in-law said, "I just love watching this" (I assumed it was because of its "excellent, high quality, creative genius"- ha, not!). She explained that she loved watching it because Hubby and I did it together, side-by-side, having fun together and connecting- that it was a beautiful thing.
After her comment I realized that this connecting thing is unfortunately rare in a lot of marriages. Some of my favorite times together are when we let loose and are silly together. This would happen much more often if I wasn't so serious and preoccupied with "important" things.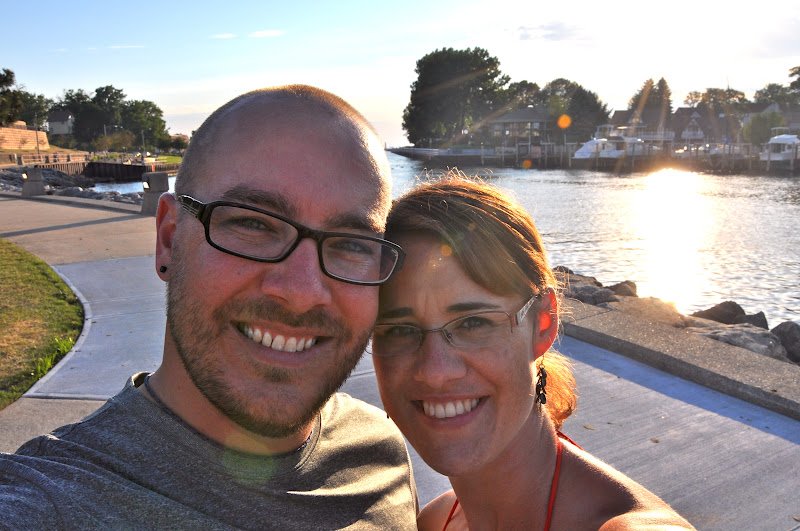 Anniversary trip to the Lake, 2012
I can't imagine doing this marriage thing without the Lord. I am so selfish by nature and I desperately need His guidance about what true love is. Let's dig in and take a closer look about putting on love and how it makes all the difference.
Colossians 3:14 "And above all these put on love, which binds everything together in perfect harmony."
The heading for Colossians 3 reads "Put On the New Life". If we are in Christ our old life is buried and a new life emerges. We are called to put off what is earthly and put on that which is like Christ. We are called to put on compassionate hearts, kindness, humility, meekness, patience, forgiveness (vs.12). But above all we are to put on love (vs. 14).
And what kind of garment is love?

"I delight greatly in the LORD; my soul rejoices in my God. For he has
clothed me with garments of salvation and arrayed me in a robe of his
righteousness, as a bridegroom adorns his head like a priest, and as a
bride adorns herself with her jewels" (Isaiah 61:10, NIV, emphasis mine).
"She is clothed with strength and dignity; she can laugh at the days to come" (Proverbs 31:25, NIV, emphasis mine).
"…clothe yourself with the presence of the Lord Jesus Christ. And
don't let yourself think about ways to indulge your evil desires" (Romans 13:14, NLT, emphasis mine).
"Girl, seriously, what are you waiting for? Put on love. You'll never regret it. Plus, it's totally your color. 'Regardless of what you put on, wear love. It's your basic, all-purpose garment. Never be without it' (Colossians 3:14, The Message; quote from Kristen Welch of We Are That Family).
This garment of love, is Jesus Himself. He clothes us with garments of salvation and His robe of righteousness. We don't have to muster up all these admirable characteristics- they are ours in Christ. But, we do have a choice whether we display them or not, or whether we will bury them underneath less-attractive, ill-fitting clothes.
We belong to Jesus and we are clothed in Him. He within and coming through, not by our might, but by His Spirit.
Let choose to let this love shine, sparkling and dazzling in the light of the Son. Let's put on the melody of love because it binds everything together in perfect harmony. Jesus is Love. His Word is Love- love letter to be read…love letter written upon our hearts.
While lengthy, please take a few minutes to read the following- all about this LOVE.
"Dear friends, let us love one another, for love comes from God. Everyone who loves has been born of God and knows God. Whoever does not love does not know God, because God is love. This is how God showed his love among us: He sent his one and only Son into the world that we might live through him.
This is love: not that we loved God, but that he loved us and sent his Son as an atoning sacrifice for our sins. Dear friends, since God so loved us, we also ought to love one another. No one has ever seen God; but if we love one another, God lives in us and his love is made complete in us.
This is how we know that we live in him and he in us: He has given us of his Spirit. And we have seen and testify that the Father has sent his Son to be the Savior of the world. If anyone acknowledges that Jesus is the Son of God, God lives in them and they in God. And so we know and rely on the love God has for us.
God is love. Whoever lives in love lives in God, and God in them. This is how love is made complete among us so that we will have confidence on the day of judgment: In this world we are like Jesus. There is no fear in love. But perfect love drives out fear, because fear has to do with punishment. The one who fears is not made perfect in love.

We love because he first loved us. Whoever claims to love God yet hates a brother or sister is a liar. For whoever does not love their brother and sister, whom they have seen, cannot love God, whom they have not seen. And he has given us this command: Anyone who loves God must also love their brother and sister" (1 John 4:7-21, emphasis mine).
Three years ago my hubby and I put together the following video. It is a quick overview of the book of Colossians. I thought it was a fitting way to wrap-up this idea of putting on love and the new life we have in Christ.
"Put off the old life, put on the new. Put off what's empty, put on what's true!"
Today I am adding my post to five wonderful Wednesday link-ups, Coffee for Your Heart, #TellHisStory, Women to Women, Words of Life Wednesdays Three Word Wednesdays, won't you join us?