Yes! It's that time of week again. Time to write for 5 unedited minutes on the weekly prompt and then link-up with the lovely Lisa-Jo Baker for
Five Minute Friday
as we share posts, encouragement and community. You are invited! Come join us, you belong and we are glad YOU are here! The prompt this week is BLOOM.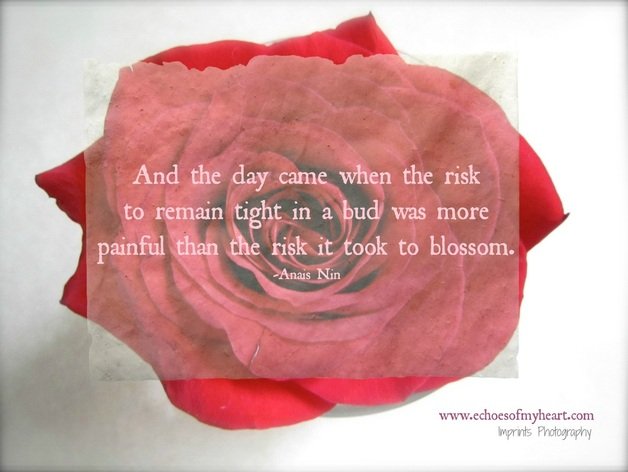 Hey you.
Yes you.
I see you.

I see you criticizing yourself in the mirror, evaluating your flaws and declaring that "I'm not measuring up" mantra that you've rehearsed too many times before.

I am calling you forth, right now, today, so take a listen…


I am calling you to

stand firm upon the roots of faith that I have given you,
to stand tall, assured of my love and my approval of you,
to look yourself square in the face and believe this love that I have for you.

Let My Holy Spirit unleash the beauty that I see—that I have placed within you.
If you could see what I see then you wouldn't cower or criticize or critique.

I have strategically placed you here, in this home, in this town, in this place- for My purposes,
for such a time as this…for right now, for today.

As you go about your day, please remember that you matter.
As you grow and blossom you are displaying My grace, My glory in a dim world.

You are radiant; glowing with My presence.
You are needed.
You are wanted.

Put your roots down deep in my word, and see what I will do within, through and around you.
Don't look to the next flower over, wondering why you weren't  made like her- in that lovely shade of yellow.
You are mine (and so is she by the way).
Together, you and the whole field of flowers, make a wondrous display for the world to see.



Y

ou are most fragrant when you allow Me to cultivate and nourish you so that you grow strong, healthy and vibrant.
Enjoy the Sun, and the Son, but don't hide from the rain either.
It is necessary to make you even more beautiful, even more alive.

My darling look again at your reflection and see mine standing right there behind you—smiling with delight and acceptance.
Let's face this day, this life, together.
Go bloom as I lead.
Unleash your beauty where I direct.
Stay connected to Me and let's impact this world with true hope; found in Me, the Master Gardener.