Welcome to our third installment of the
Open Hearts
series. In case you missed the first two, check out
Holley Gerth's
post and
Jennifer Dukes Lee's
post too. On most Tuesdays through early September I will host special guests who will open their hearts and encourage us to open ours as well.
I am delighted to introduce another blogging friend to you today, Karen Brown. I met Karen through my friend Meredith and have been incredibly blessed to read her valuable insights. My favorite post of Karen's can be read
here
.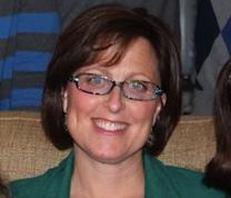 Karen Brown
is a teacher at heart who always needs a creative outlet, and writing has recently provided that for her. Nestled in the St. Louis suburbs with four amazing kids and a very patient husband, she can be found swimming, reading, and mostly, hanging out with her family. To Karen, the main purpose of her life is to respond to the profound Grace and Truth found in the gospel so that others may know Him. Karen's blog is a collection of writings that mainly serve as "altars" of her journey with Christ. Each piece was written after a time when she felt God, through His Spirit, revealed something to her about Himself, herself, or the world. Head over to
Stooping for Manna
to read more of Karen's beautiful reflections.
---
After twenty years of avoiding the damage done to my knee in high school, the doctor was talking surgery. I started complaining to him about how I, a mother of four, didn't have time for this. But the doctor showed me the results of my MRI, and it was clear. "There is really no other choice," he said.
"But what if I just waited until next year? Then…"
He held up his hand to stop me and said, "Think past the process to where you want to be. Think about being pain-free. Think about all that you will be able to do with your kids."
His words made a huge difference. I had been so focused on the short-term that I had completely forgotten that in the long run, things would be better.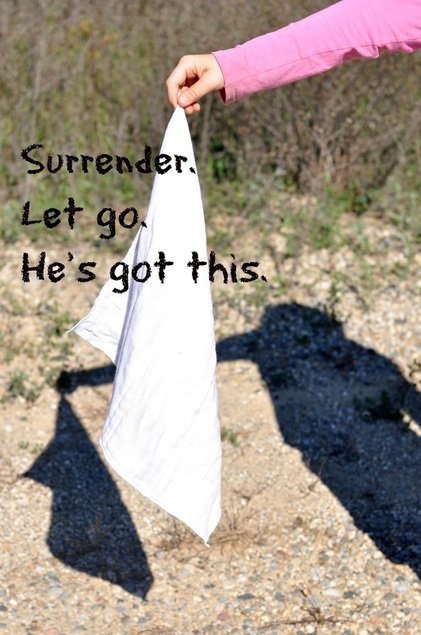 The Promises
Sometimes when the treatment seems overwhelming, we close ourselves off from healing. But then, the promises of the outcome give us courage and hope.
My doctor opened my mind to the idea of ligament replacement surgery with promises of a better quality of life.
And so it was with the Healer. He opened my mind up to the idea of a heart transplant with promises of His own. He drew me in with whisperings of my deepest longings. And He had me at Love, but I hung on His every word.

Life…Peace…Joy…Forgiveness
And with every whisper, I inched closer to the operating table. But still, the promises weren't enough for me to surrender.
And perhaps, so it is with you, too.
We want what's promised, yet we squirm on the crinkly paper and fast-talk our way out of the surgery that's necessary. He's gentle with us, but does not waver. He shows us evidence of our condition and warns of the alternative, but the idea of cutting, cracking, and pain is still too much.
He may have our head, but not our heart. And with every pulse, it grows slower, weaker, smaller, harder…
Maybe deep down, we doubt the promises. Or, perhaps our vision is too near-sighted for far-off promises to make a difference. But we are so very tired of hobbling through life. So we strap ourselves down, grit our teeth, squint into the future, and recite the promises that will be ours…someday. Hiding our doubt and willing ourselves to believe.
---
The Testimonies
The Healer knows what we need, and He points to the testimonies of those who have gone before us.

He reminds us of Mary of Bethany who poured out her most prized possession before Jesus. She came, releasing her hair, soul, and reputation… to worship. She spilled it all out because she knew that in His care, she had more.  John 12:1-8

We revisit Stephen, who extended amazing grace to those who held killing stones, so that haters would know the love of the only One worth dying for. He gave his life because he knew where to find more. Acts 7:54-60
 
These lives, among others, are pictures of what we want. We want the kind of faith that doesn't seem to be strapped down or gritting through.
But how can we be so sure? Are the promises enough?

The Promiser
After his pep-talk, my doctor asked me if I was ready to schedule my knee surgery. And I thought…Yes, I want to be free of knee pain. Yes, I want a better quality of life. Yes, I have no other option.
But still, something was holding me back.
I asked the doctor for a little more time. I went home and researched his credentials. I asked around for reviews of his skill and character. And after two weeks, I felt like I knew enough.
And, I said yes.
Could the same be true with Mary and Stephen? Promises alone couldn't have been enough for their kind of surrender. That level of worship can only come from knowing the Promiser. When we know Him, we learn that the promises aren't just for later. He is all we need, right now.
And the future only holds more…
So when we know Him, nothing holds us back. We open ourselves up completely to our Healer's care, eager for Him to work on us. And in the moments of pruning and circumcision of heart, the only thing we want to recite is…His name.
Because He is all that's promised.

The Surgery
So, I allowed the doctor to cut open my knee and replace my old ligament with a strong, new one. And eventually, after the recovery, crutches, and therapy, I was stronger and healthier.
And often, I lay myself out and ask my Healer to open up my heart because in knowing Him, I know that His cuts are perfect…and good for me.  
And after this kind of surgery, where stone is replaced with flesh, life pours out like expensive perfume and wounds bleed amazing grace, even for haters. In peace, trust, and worship.
It's exactly what I want. Is it what you want?
Know the Promiser. He's all that's promised. And He's worthy of your open heart. 

Trusting the Promiser,
Karen
"And I will give you a new heart, and a new spirit I will put within you. And I will remove the heart of stone from your flesh and give you a heart of flesh." Ezekiel 36:26