I am dreaming of a home office to write in. A space that I can decorate and make my own as I pour out the words. I want a window in front of my desk so I can look outside and drink in inspiration. I told Hubby, "I need the light to write."

As those words spilled out, we both realized the weight that they carried. I need the light to write. I need Jesus to help and guide as I speak of His ways and share what He is stirring within.

We all need the light of the Son to help us do what He has called us to do and to be who He wants us to be.

I also need the light to right.

I need the light of Jesus' Word to right me. I can pluck the keys and string the words, but if I am just saying them and not doing them, I am offering a shallow cup to the thirsty.

I have said it once and unfortunately I have to confess it again…I have neglected His Word.

The very words that give life and are living waters to dried up souls have sunk down low on my priority list.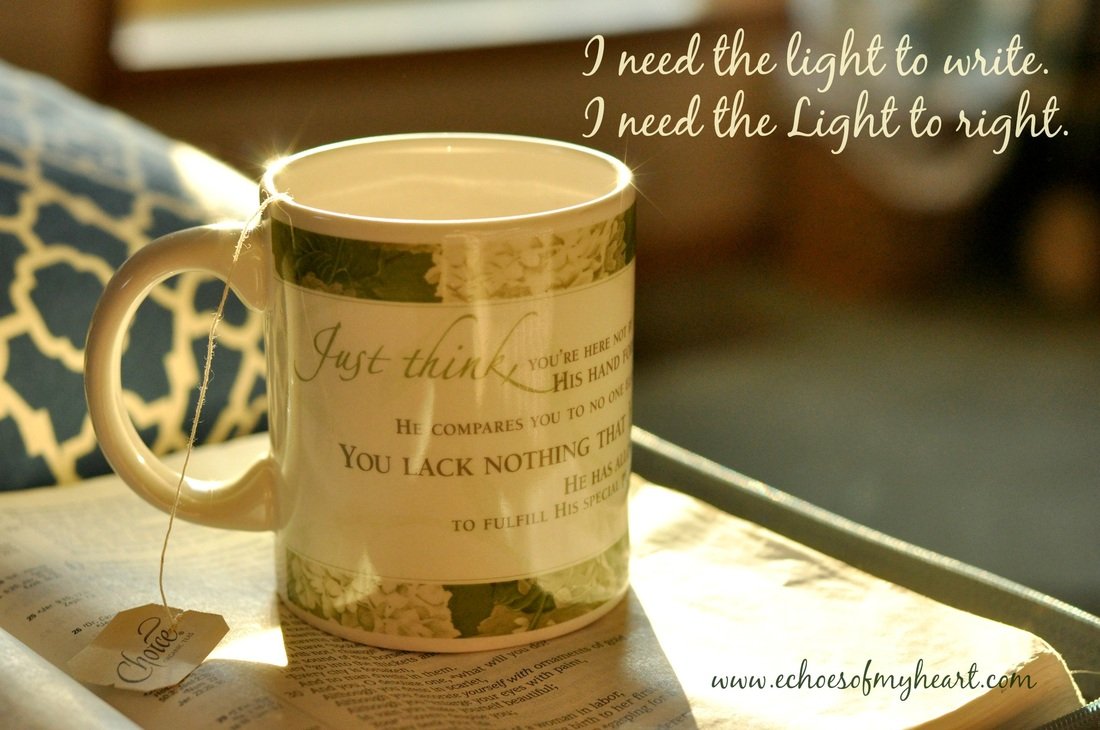 I have been preoccupied with shining a bright light instead of letting the bright light shine through me as He is magnified (thank you Christine Cain for prompting this thought).

I am grateful for His Word. This Word, Jesus, who became flesh and dwelt among us (see John 1:14). I am thankful that His Word can illuminate the dark places in hearts and help right us in the ways that we have strayed.

Dear God-
Thank You for forming us to shine brightly for you. Thank You that our sins are forgiven because of what Jesus did on the cross. Forgive us for making light of Your Word instead of carrying it as a beacon of hope to a hurting world. Help us to forgive ourselves and take the next step as your truth lights our path (Psalm 119:105). Thank You that You are able to right us with the power of Your Words (Hebrews 4:12). Help us to seek Your face as we search the scriptures to know You better.
In Jesus' Name, Amen.

We are thankful for you, the #TightlyWoundWoman Community. Thank you for your encouraging words, your courage in saying "me too" and your desire to grow as we find grace in the unraveling of life. We would love to hear from you. Consider answering one or more of the following in the comments section.

How do you make the Word a priority in your life?

What are some practical tips for getting God's Word in your heart?

What is your favorite scripture in the Bible? Why is this a beloved verse?

Read more about the importance of God's Word in these posts from the archives: