I'm trying something new today. I am interviewing another writer, Jolene Underwood, about two initiatives that she facilitates, #BlogItForward and #RiseUpWriters.

I am excited to share these with you because they are practical ways that we, as writers, can keep the focus on Christ and others.

If we're honest, it is easy to get wound up in this whole platform and numbers thing and it can soon become all about us.

I appreciate how Jolene has taken these steps to help us grow in this area as we link arms and become better together. Her heart is that we make much of Christ with our writing and encourage one another along this journey.

Watch the video interview below as Jolene shares about these two great programs.
Thank you to Jolene for taking time for this interview. Now, head on over and sign-up for #RiseUpWriters. I am so looking forward to encouragement in my inbox each week as we write to make Him known.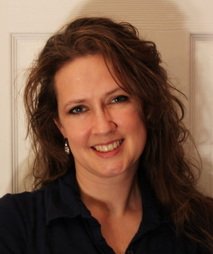 Jolene Underwood writes about "living for Him with faith-filled eyes" at www.joleneunderwood.com. Through trial after trial, she has been challenged to step forward with confidence in the faith she professes to have. God has continually beckoned her to "be strong and courageous." Through fear and failure, God's grace has broken through. On her blog you will find stories of fostering, faith, family, fear, failure, freedom and grace.

Jolene would love to connect with you in the journey to live with "faith-eyes."  Connect on Twitter/Pinterest/Instagram: @faith_eyes
---
Jolene and I have guest posted for each other. You can read my post He Remains Faithful as part of her 31 Days of Messy Faith series. And then go read the wonderful post that Jolene wrote for
the #OpenHearts series, entitled, Kindness in the Kicking.
Who can you encourage today as they write their heart out for the Lord?
Who has encouraged you on your writing journey?

In This Together,
Katie