Hi Friends- Would you do me a favor? I entered the Jesus Calling Photo Contest and it ends today. Would you take a 5 seconds and vote for my entry, I'd be so grateful- thank you! Click this link to vote. http://a.pgtb.me/l04v36/hr6Cq?w=32991061&e=90273656 And if you'd be willing to share it with your friends to vote, that would be awesome.:)
Welcome back to the Unraveling Grace Series! It is such a joy to host other writers here as they share from the heart and help us unwind in His presence.
Get caught up on the series:
January:Hurts, Hope and Healing by Jennifer Watson
February: For the One Who Doubts God's Sovereignty by Abby McDonald
March:     Beating Inflating Fears by Kelly Balarie
April:        When Life Unravels and You're Barely Hanging On by Bethany Huff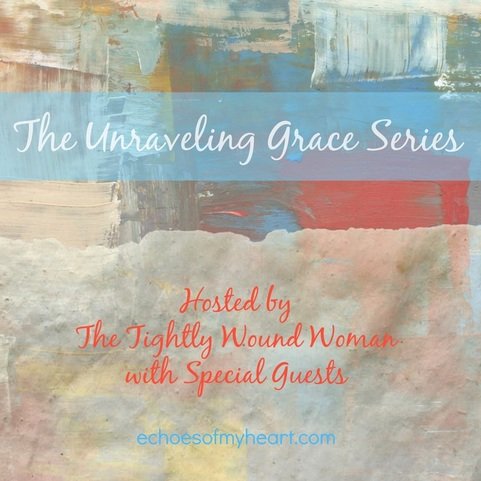 Today's special guest and I attended the She Speaks Conference last year and connected through the She Speaks After-Party on Twitter. Renee is a big encourager! I am thankful for her and so glad that she is sharing with us today.
Renee Griffin was adopted as a baby, but she carried a dream of finding her birth family. After years of searching, she found her birth family in 2003. God called her to write about her adoption reunion journey ten years later. Renee obeyed the call and began writing her story, Eyes Of A Stranger, on her blog http://www.reneegriffin.com. Renee is passionate about studying scriptures and seeing God's Truths revealed in ordinary life. Renee has been married to her love, Kevin, for almost 20 years, and is Mama to three of the most amazing children God ever created.
Connect with Renee:
www.facebook.com/reneetgriffin
www.twitter.com/_zebrastripes
www.instagram.com/reneetgriffin
http://www.pinterest.com/_zebrastripes/
---
Function In Chaos
"It's great that you can function in chaos."
She said it in a joking way. I didn't take offense. I was too busy laughing at the look on her face as she surveyed the chaos on my desk. Hives were breaking out on her neck.
She's extremely organized. The sight of my piles gave her a negative reaction. I consider myself creatively organized. Where she sees a mess, I see controlled chaos.
Her words didn't sting, but they did grab me.
Do I really function in chaos?
I'm not one to immediately agree with others' opinions. I wasn't sure if I agreed with my OCD pal.  Sure, her environment is totally efficient with tubs and labels, but does that brand mine as chaos?
Maybe.
Have I learned to function in chaos to such a degree that it feels normal?
I asked the Lord to show me areas of my life where I falsely believe I am surrendered, but am only functioning in chaos.
Function is a math term meaning  "a relation between a set of inputs and a set of permissible outputs."  When you put a number in called the input, the function is applied and a number, or output, comes out.
For all you math geeks like myself, you are welcome.
For the rest of you, hang with me a minute. There's a pattern in this crazy, "math-a-palooza" you don't want to miss.
The function is a rule.
No matter what number you input, the function applies the same rule every time. If your function is add 5, then every input will have 5 added to it. If you input 10, the function will output 15.
The inputs change, but the function remains the same.
Isn't life like this sometimes? We're focused on the chaotic outputs, yet fail to consider the function.
Functions are learned.
In the past, I might have been offended at my friend's remark. Okay, not maybe. I'd have been ticked and given a terse, nice-nasty smile framing a sharp, snarky remark.
Today, my functions have changed because of God's Word.
I think that Paul got this idea. "I know what it is to be in need and I know what it is to have plenty. I have learned the secret to being content in any and every situation, whether well fed or hungry, whether living in plenty or in want. I can do everything through Him Who gives me strength." -Philippians 4:12
Paul's function was Jesus. No matter what he faced, his function was Christ.
Is Jesus your function?
Hey new mama with the dark circles under your eyes needing sleep, you can do all things through Jesus.
Hey working mama doing all you can to get food on the table, dragging your weary bones to bed late, in Him you can do all things.
Hey stay-at-home mama without a lunch break or adult conversation, He will give you strength.
Hey ladies with grown babies you miss and women who never got to be mamas, Jesus will sustain you.
Hey sisters, facing unspeakable pain and loss, Jesus is enough.
Whatever you're facing, Jesus knows. He's the only function we need.  Whether your desk is shiny like my friend's or all kinds of crazy like mine, it doesn't matter.  The only thing that matters is your function.
Let's take our chaos to Jesus.
Can I pray for you?
Father God, I lift my sister before You and ask You to fill her to overflow with Your Perfect Love. Wrap her up with Peace enveloping her soul. Give her tired body strength and quiet her mind. Help her, Jesus. Reach down with Your Mighty Right Hand and give her grace to forgive that hurt, unkind word, and undeserved act. Show her that You see her. She's not invisible. Help her forgive herself. Send one of Your girls into her path to be Your Hands and Feet. Open her eyes to see how much You love her and have called her to a divine purpose and plan. In the strong and powerful Name of Jesus I pray, Amen.
One final math problem for you.
Your chaos + Jesus = Everything you need
With Thanksgiving,
Renee
Reflection Questions:
What areas of your life feel chaotic?
Is Jesus your function?