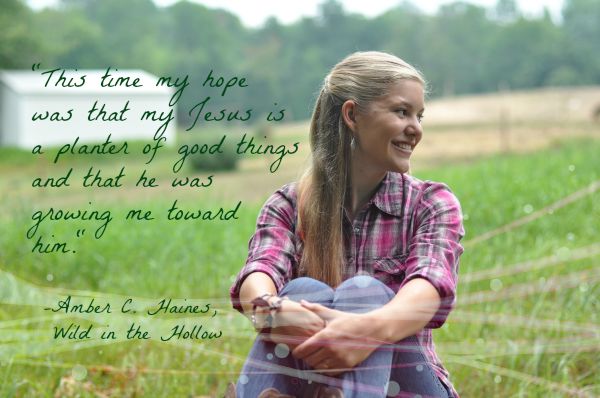 I was nervous to read this book. It held the promise of breath-taking poetry yet the possibility of silencing my words through its ease of craft. But I began its pages anyway. And I am glad.
Wild in the Hollow, by Amber C. Haines, is a piece of contemporary art with classic strokes added to enhance the overall feel of this vivid work. The feel is both honest and lyrical, both old yet new. On one hand I identified on another I wanted to turn away. The questions—underneath and above—resonated deep and gave my soul permission to face hidden places in myself and exposed places in others.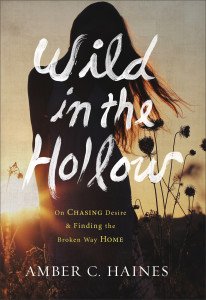 I was moved by stand alone lines that helped the whole speak loudly to covered places.
pg. 54 "Our efforts to tame ourselves were desperate."
pg. 139 "And the more I added to the list, the less I accomplished. Every step of striving was a wall, a barrier against love. I wasn't even sad anymore. I was distracted. Every effort toward control made me more numb, and if you can't feel, you aren't alive anymore. Control was killing me.
pg. 167 "I saw the American church, and it was a marketplace. It was in the slavery of debt, creating more product to keep itself afloat. I saw the church, and it had syncretized Jesus with consumerism, a new religion. I saw us, and we were self-proclaimed and congratulated leaders on a platform. We were fat and unsatisfied like kingdom-building Babylon. We were the consumer eating each other alive, consuming each other as products until we were nearly gone, until we saw ourselves as exiles again.
And I realized my personal quest for desire had led me astray.
I had all but abandoned my post—my place on the wall. My family and I have a section of the wall to rebuild, to repair, and I had wandered off too far, looking for my own piece of wall to erect. I had built a tower of Babel of sorts, to make a name for myself, to gather fame so that I would feel important.
I had forgotten that raising a generation to stand tall, faithful to their section of the wall, is most important work.
Help others be successful, He said, and start with your family.
I have neglected my post for another post—another "Look at me, aren't I shiny and bright?" I was enticed by the beauty out there because the beauty in here seems harder to attain.
It's harder to see amidst tantrums and disobedience and tiring work, day-in and day-out work. I had forgotten what it is I really desire.
Home—to belong among those who really know me, not just the prettied up version.
I am asking Jesus to help me return home—both to His arms and to the arms of my people. I won't stop writing because He hasn't asked me to, but the tension of these two callings nearly split me in two, because I let the lesser become the greater as I tried to make myself greater instead of lesser.
It's an ugly business—this making a name when really His name is the Only One to be exalted.
He is Home.
He is the Name, and the One, that we really want after all.
I got sidetracked by the shiny things and I got dulled in the process.
The conference, the words, this book, all were a part of His plan to speak in ways that I would hear.
I have a long way to go, but I am taking the next step towards them, towards Him.
And Amber reminded me of that with her words. Her winding journey led her to right where she started. She came home, but not the same. She arrived, not on a stage but on the wood floor, forged by cross. With her toes in grass, and clothes on line, she entered fully into the story that He had written. She came home, to Him, broken yet whole.
Through the words along this crooked path I was set straight. I awoke to the trouble I was in and we are in. I saw the brokenness as an arrow pointing straight to our desperate need for the Object of our desire, Jesus.
Come broken, come as you are. Come and sit and listen to Amber's story and remember the great story, His Story—woven with redemption. Remember your true longing for Home. Let Him fill your hollow.

*I received a copy of this book in exchange for an honest review via Revell Reads.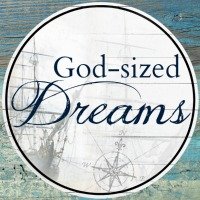 Today I'm writing over at God-sized Dreams as we talk about being content with where God has placed us. Join me over there…