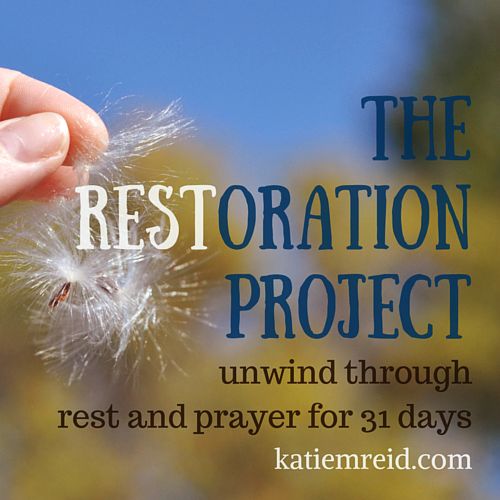 Welcome to Day #27 of the Restoration Project.
It's time for another book review as we unwind through rest and prayer this month.
Finding Spiritual Whitespace: Awakening Your Soul to Rest, by Bonnie Gray, is an intense quest towards healing through raw story, vulnerable revelation and poignant reflection questions and exercises. Bonnie lays her soul bare as she embarks on a journey towards wholeness and freedom. She invites you to do the same as you turn the pages and face the places of unrest in your heart and past.
Bonnie takes a brave journey back to the little girl she once was and faces her pain, with Jesus and a trusted counselor. She goes back in order to go forward. She learns to rest by finally facing the unrest that had been buried—just beneath the surface.
Her journey is one of brokenness, bravery and tenderness as she finds Jesus in the midst of shattered places and fragile relationships.
A few of my favorite quotes from the book:
Maybe there hasn't been any safety in relationships apart from you being competent. You don't know if people will accept you or reject you if they know you are broken." pg. 135.

"In order to find freedom in who we are now, we must undergo the anxiety of letting go of who we've been. It's the fear of being in need, the empty spaces we want to avoid. We tell ourselves to save. We might need it later. But the stress of avoidance causes anxiety." pg. 110

"Rest is not a lifestyle. Rest is a living journey: a relationship. Resting is a relationship we walk by faith with Jesus into our most vulnerable places." pg. 193
Bonnie addresses PTSD in this book. If you have PTSD, or have experienced trauma, please be aware that this book could trigger issues. You might want to go through this book as you are going through counseling as well. I experienced several triggers as I read this book but God used it to help me face some hard things that I had been sweeping under the rug and trying to tidy up in an unhealthy manner.
If you are looking for PTSD support, check out this website that my friends, Shelly and Wanda, are a part of: ptsdperspectives.org
What about you?
Are you experiencing unrest, soul exhaustion and anxiety?
Do you long for breathing room?
Do you need surgery on the damaged places that have been infected from past pain?
Dear God:
Oh how we need You. You are the Great Restorer. You are the One who can awaken our souls to rest. Help us to bravely walk with You as You help us navigate these choppy waters. Forgive our self-reliance and unhealthy self-protective behaviors. Help us to go to counseling if we need to and to bathe ourselves in Your Word. Make us whole in You, Jesus. Cleanse us from the boils of unforgiveness—take our festering hearts and free us with Your truth. Make us new as we hand over our pain. Help us to stop tip-toeing around the chasm of sin and run full to Your embrace, full of grace. Oh, how we need You.

In Jesus' Name,
Amen.
I mentioned this poem the other day on Periscope—it is Track #4 on the Echoes of My Heart album. I think it fits well with the topic of Bonnie's book:
Gatepost
Sometimes before you can go out with joy,
You need to stop, sit, and deal with the hard stuff.
Sometimes before that everlasting peace pushes through,
You need to turn around and face the pain; for real this time.
Sometimes before you can break forth into song
You need to allow your voice to weep.
Sometimes before you can clap your hands
You need to grieve what those hands have lost.
Sometimes before new life springs up
You need to till the dead places, just beneath the surface.
Sometimes before the transformation
You need to pour out your hurts like rain.
As you face these fears, losses, or sins with Him
It may seem momentarily overwhelming, but, for you dear one:
Joy is coming full in the morning
Peace is coming up with the sunrise
A song is breaking forth from the deepest part
Your hands will clap as you dance free
New life is coming up afresh
The transformation is lasting and real—
It's a memorial to the Lord,
to the Lord of the desert, the Lord of the mountain, and of your heart,
The Sovereign, Sufficient, and Compassionate God has made
an everlasting sign which will not be cut off—
here's to new life in you!
-KMR March 2009 (from Isaiah 55:12-13 and MI CCCA session w/ Kevin Butcher)

Read Days 1-26 of the Restoration Project.
As a special gift for following along with the #RestorationProject, I'm telling you about the 25% off sitewide sale that DaySpring is offering from now until Saturday, October 31st.
This would be a great time to get some Christmas shopping done and purchase Bonnie's book, Finding Spiritual Whitespace, at a discounted price.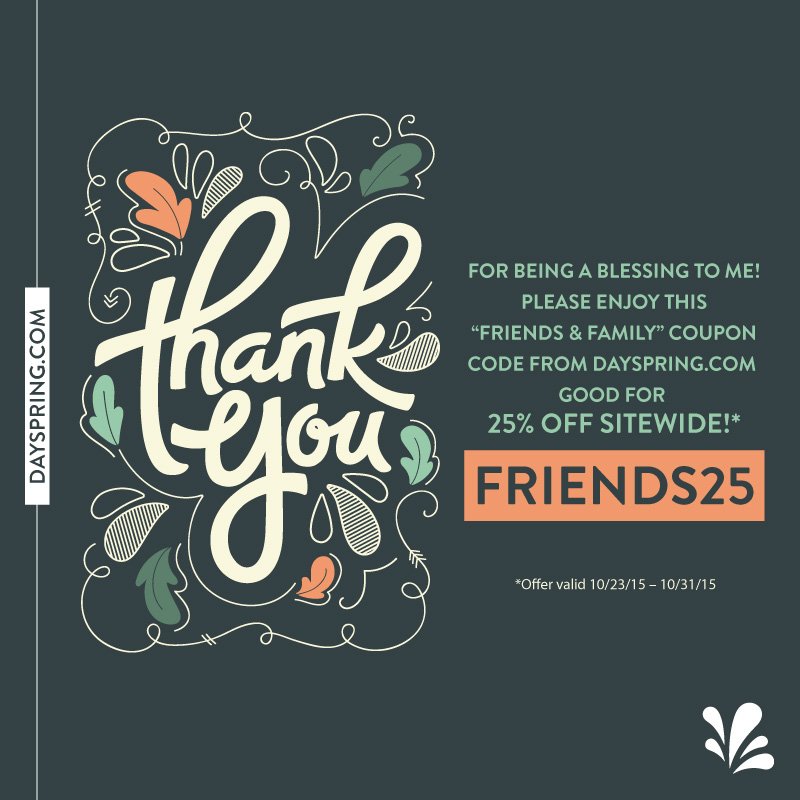 *I am a DaySpring affiliate.
P.S. Linking up with Kelly Balarie of Purposeful Faith for the #RaRaLinkup.