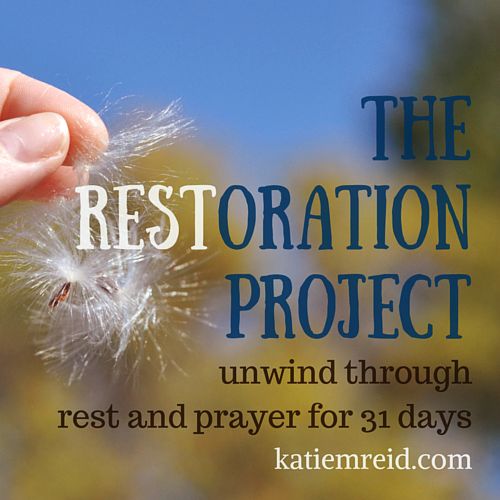 Welcome to Day #28 of the Restoration Project.
My friend Charity has guest posted for me before. She wrote The God Who Shepherds, for the Isaiah 40 Series, and Caught Up, for the Psalms Series. Charity is a creative visionary who desire to seek the Lord first and follow Him as a faithful daughter.
Charity has been married for ten years—this coming December—to her husband, Nate. They have five beautiful children, all under the age of 8! Charity is currently homeschooling their two oldest children. She very much enjoys serving at her church Calvary Mountain View in American Fork, Utah. She and her husband do a yearly outreach called the Cure Cancer Fast. Charity loves getting lost in the Old Testament and spending hours with many treasured women that she calls "friend".
Undo Your Prayer
There is a great truth that can suffocate hope from our deepest prayers, "Lord not my will be done, but Yours."
This truth was never given to drain us from the joy of believing in our Great God. We prep our hearts so much in this way that this may be what has made prayer become a lethargic last resort.
What a clever lie the Enemy whispers, "That won't be His will, so why pray?" Then we find our prayer closets not often visited and our communication with this Mighty Savior…silenced. This we know would never be His will.
For what we do know His will to be is the relationship of a child and Father.
For are these not His great words:
"Truly I tell you, unless you change and become like little children, you will never enter the kingdom of heaven" (Matthew 18:3).
Heaven, the place of His throne and earth His footstool (Acts 7:49).
Oh, He is Sovereign! Yet still He says, "Let the little children come to Me and do not hinder them, for to such belongs the kingdom of heaven" (Matthew 19:14).
It's a soft voice, you see, that this Great King has. He calls to you and whispers, 'just be little again'.
Does He always need to remind us that He is not theology?
God is not hard to find and difficult to talk with. He can be disturbed.
He beckons us, 'come like a child'! For children are light-hearted and daring in their trust of Him. 'He will answer me! He will help me!' Those are the many thoughts of a child. Yet, as that child grows older it prepares too often for the disappointment of the answer 'no'.
It's the great notion of giving the Almighty so much 'elbow room' that our heart's desires fade in the distant background.
Our prayers begin with disclaimers, 'Lord I know this may not be Your will,' 'Father I understand if this is what You have for me,' 'God I'm okay with You not saying 'yes'.
These prayers come from a head that hangs low and a heart that is protecting itself from disappointment.
It seems as though we have forgotten our great place in the heart of this King.
"Persist!" He would say, as the widow persisted. For I am not the hard-hearted unjust judge, so please do not approach Me as such. For these are My Words:
Then the Lord said, "Hear what the unjust judge said.  And shall God not avenge His own elect who cry out day and night to Him, though He bears long with them?  I tell you that He will avenge them speedily. Nevertheless, when the Son of Man comes, will He really find faith on the earth?" Luke 18:6-8
Yes. He will find faith within you, if you start praying like a child…like His child.
Praying Boldly,
Charity
This November Charity and her husband, Nate, will host the Cure Cancer Fast. Each day there will be an uplifting devotional on their blog, c2fast.com, to encourage you. The focus of the fast is for both the lost and the cancer patient to be healed by the Great Physician.
Join the fast and invite others to be a part of something beyond ourselves. Let's pray, unedited, and ask God to intervene—He specializes in making the impossible possible after all (see Matthew 19:26).
Learn more about Nate and Charity's incredible testimony and the fast.