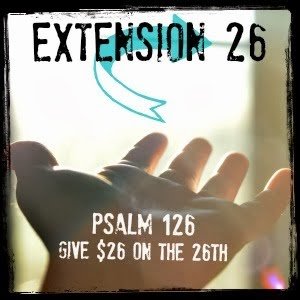 It's time again to showcase an organization that is doing good around the globe.
This month, for Extension 26, we are featuring Mercy House and Fair Trade Friday. In July I shared this post, Contempt, Comfort and Compassion, about the Fair Trade Friday club. I just had dinner with my friend L.A and she is a FTF club member and is delighted by the beautiful and unique items that she receives every month.
It is a privilege to support what the Welch family is doing and we are thrilled to share this interview with Mercy House's founder, Kristen Welch.
Kristen Welch is a Texas girl, born and raised in the south. It wasn't until she became a busy mother of three that she began to blog about her life on WeAreTHATFamily.com. Over the years, Kristen has grown a vast following of moms who identify with her real, often funny, and always inspiring writing.
In 2010, Kristen traveled with Compassion International to Kenya on a blogging trip to write about poverty in a huge slum. That experience turned her world upside down, and as a result, she and her family founded a non-profit called Mercy House, which endeavors to empower and disciple impoverished women around the world. You can learn more about how this ministry started in Kristen's memoir, Rhinestone Jesus
. She also has a new book coming out Jan 2016 called Raising Grateful Kids in an Entitled World.
Kristen's Blog: We are THAT family
Non-Profit: Mercy House
Join the Club: Fair Trade Friday
1. Could you tell us about Mercy House and the vision behind it?
Mercy House is a non-profit that works to engage, empower and disciple women around the world in Jesus' name. We fund two maternity homes in Kenya that rescue the most vulnerable pregnant girls in the country as well as facilitate Fair Trade Friday, a fair trade subscription club that empowers women with jobs in more than 20 countries. I guess the vision behind it started with my family's desire to help one girl, after a Compassion blogger trip that I took to Kenya in 2010. We had no idea what God was going to do, we just stepped out and said yes.
2. What was one of the misconceptions you had going into this project and how has God grown you through this process of extending yourself on behalf of others?
There have been so many. I think one of the main ones was financial. I naively thought if we could just get rich people to believe in what we're trying to do…but God showed me from the beginning that he can take the small gift—the widow's mite, the two fish and loves—and multiply it more than we ever dreamed.

3. What is one of your favorite stories about God's provision for Mercy House?
I'm still amazed that we were able to buy two homes in Kenya for the maternity centers. We paid cash (over $400,000 for both). Pretty amazing what a bunch of moms can do!
4. What is one the current challenges that Mercy House is facing? How can we be a part of the solution?
This relates to the next question, but we have many small faith-based non profit counting on us to buy fair trade product from them (around 30 in 20 countries). Our biggest need is continuing to grow (and maintain) Fair Trade Friday Clubs, so we can continue to help these women.

5. In July I shared a post about Fair Trade Friday. Does Fair Trade Friday help Mercy House directly? And if so, how?
Fair Trade Friday is literally sustaining our maternity homes in Kenya. Every box we sell provides $5 of support for our work in Kenya. So not only are we empowering more than 1000 impoverished people a month through the Clubs, it's helping keep the maternity homes funded. It's a very very important part of what we do.

Check out this video for more information:
https://vimeo.com/135618858
Thank you Kristen for taking the time to share your heart and ministry with us.
I ordered a Fair Trade Friday box to use for Christmas gifts. I can't think of a better way to shop this holiday season than empowering vulnerable women, purchasing their hand-crafted items and sharing their story.
Happy Shopping!
Purchase Kristen's book, Rhinestone Jesus
, just in time for some holiday reading or gift-giving:

P.S. Linking up with Kelly Balarie's Purposeful Faith for the #RaRaLinkup and Holly Barrett's #TestimonyTuesday.
Disclosure: This post contains affiliate links