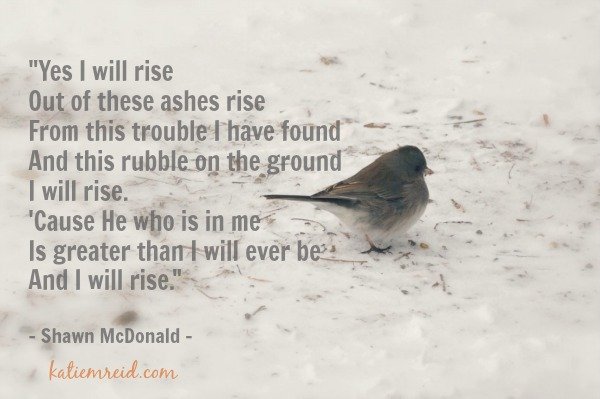 We can be tempted to give up. We wait for things to change. We feel forgotten.
It's feels easier to stay in bed than face the day. It feels safer to hunker down under covers than put two feet on the cold ground and brave whatever may come.
Is the dark robbing you of the light that is waiting?
Are the looming duties of the day crushing your sense of wonder and delight?
Are you going to give up or get up?
Are you going to strap on His Strength, along with His spiritual armor, and rise?
As we walk in the newborn stages of this New Year, let's ask God to help us thrive, not just survive. Let's petition our Savior to wake us from our apathetic stupor and call us out like Lazarus—to embrace life—fully alive. Let's cooperate with the Spirit as He helps us soar instead of staying grounded.
When he had said this, Jesus called in a loud voice, "Lazarus, come out!" The dead man came out, his hands and feet wrapped with strips of linen, and a cloth around his face.

Jesus said to them, "Take off the grave clothes and let him go."
At the sound of Jesus' voice, death has to flee.
The grave has to give up that which Jesus commands to get up.
May we rise on the wings of this new year as He calls us forth, out of ashes, out of ruins and into His marvelous light.
I'm over at Kelly Balarie's place today, Purposeful Faith, talking about The Good and Bad of Giving Up…
Speaking of giving up vs. getting up, I am DELIGHTED to share some exciting news with you. In 2014 I submitted a story about my brother with Down Syndrome to a Women's Memoir contest. Just when I had given up, like the very next day, I received great news that my piece had been selected to move on to the second round of the contest.
TOMORROW, that piece, entitled, Extra Salt of the Fries will be published in Tales of Our Lives: Reflection Pond, by Matilda Butler.
Tales of Our Lives: Reflection Pond is an anthology of award-winning, inspiring, women's true stories told from perspectives that illuminate our diverse lives. And the great news is that tomorrow on Amazon this 300+ page book is only 99 cents! What a deal! 
Grab a copy tomorrow morning and please let me know what you think (if you would then leave an honest review of it on Amazon this week that would be sprinkles on the doughnut). 🙂
Be sure to tune in to my Periscope tomorrow at 1:30 EST (@Katie_M_Reid) for a Book Launch Party, complete with prizes, surprises and lots of fun!