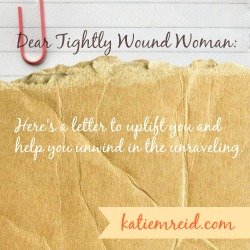 Hi Friend!
It's a new year. Some things have passed and other things continue into the future.
I am delighted that Letters to the Tightly Wound Woman is one of the latter. Each month you'll receive a love letter of sorts, especially written to those of us who are wound up tight and need fresh assurance that we are loved "as is".
The first Tuesday of the month, right here, is where you'll find your letter.
Let's open our mail, shall we? Or click here and I'll read it to you.
Dear Tightly Wound Woman:
I know that you want to be made well, but you're scared of what that might entail.
You keep spinning your wheels when you hit ice. You grasp for traction. You exert an exorbitant amount of energy trying to gain ground, but you find yourself stuck.
As the new year begins, I have some news to share. It's not new, really, but if you grasp this then you will be made new—all things new.
See, I am doing a new thing! Not it springs up; do you not perceive it? I am making a way in the wilderness and streams in the wasteland." –Isaiah 43:19
Lean in daughter, and I will tell you the secret—the key to what you feel you're missing:
Listen.
Listen close. Listen well.
This is what I'm asking you to do this year.
You want to be made well, right? So listen.
Linger…slow…savor.
Bend…stoop…bow.
Lean…pause…yield.
Stop and hear, before speeding ahead.
Keep step with My Spirit.
Stay close so that you can hear—my heartbeat, my love, my wisdom.
Listen close to Your Lord. Do you hear the whispers of My affections?
Listen well to those I've placed in your care. Do you hear their heartbeat, their questions, their fears, their joys?
Oh how I care for you and I listen well to You. Follow in My steps by listening to Me and to those that I give.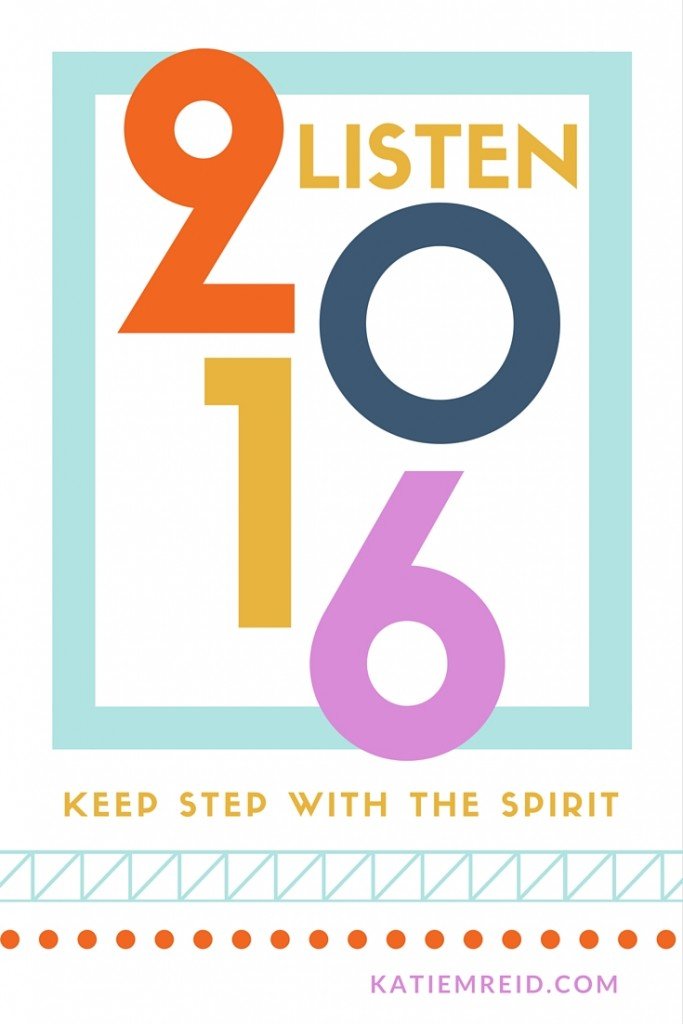 You often rush, not really catching all the love, grace and help that I offer.
You often move on to the next thing in your mind, instead of really entering into the thing right in front of you—at your doorstep, at the bedside, 'round the table, by the fire.
Lean in love. For My Love leans into you. It's all around.
Do you see it, feel it, hear it?
Listen.
Love,
Me
If you want to read the 12 letters from last year, you can do so below:
January:   Dear Tightly Wound Woman: Facing Fears
February: Dear Tightly Wound Woman: Unrealistic Expectations
March:     Dear Tightly Wound Woman: Deferred Hopes
April:       Dear Tightly Wound Woman: Waltzing with Wisdom
May:        Dear Tightly Wound Woman: RESToration
June:       Dear Tightly Wound Woman: Hope Still
July:        Dear Tightly Wound Woman: Sustaining Peace
August:   Dear Tightly Wound Woman: Known By Me
September: Dear Tightly Wound Woman: Pleasing Sacrifice
October: Dear Tightly Wound Woman: Being Restored and Renewed
November: Dear Tightly Wound Woman: The Overseer of Your Soul
December: Dear Tightly Wound Woman: Feeling Down
Sometimes I read these aloud over on Soundcloud.
Consider subscribing to my blog so that you don't miss any of these letters. Just enter your email address at the top right and you'll receive my posts into your inbox for free.
I'm sending out a special letter to subscribers this Friday, so be sure to sign up before then! 🙂

P.S. In case you didn't catch it, my One Word for this year is LISTEN. "Keep step with the Spirit" is the tagline. I want to listen well this year and be made well through the love and wisdom of my Lord. I don't want to run ahead nor lag behind as the Spirit leads.
Listen closely to wisdom and direct your heart to understanding." -Proverbs 2:2
What's your One Word?
Linking up with Kelly Balarie for the #RaRaLinkup on Purposeful Faith and Jennifer Dukes Lee for #TellHisStory.