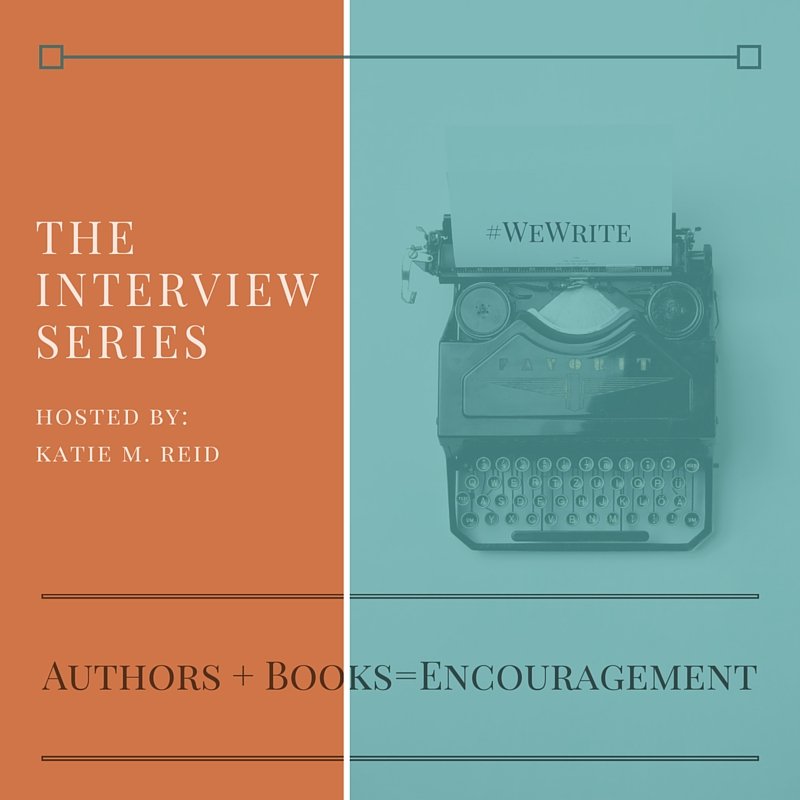 On Fridays at 1:30 EST I host the #WeWrite Periscope (@Katie_M_Reid). It is a joy to encourage and support other writers.
As an extension of #WeWrite I am hosting The Interview Series. This series will feature upcoming and newly released books, author interviews and an inside look at the business of book writing. I hope you enjoy meeting these authors and learning more about their projects and personalities.
May you also find courage to keep writing and telling your story.
Our first author is the lovely and hospitable, Logan Wolfram. Logan's book, Curious Faith, released on March 1st.
Logan Wolfram would give you full access to her pantry if you lived next door. She is a plate-juggling mom and interior decorator turned writer, speaker and host of the Allume Conference. She is a passionate leader who desires to see women live fully in Christ. Logan and her husband, Jeremy, divide their time between wrangling two inquisitive boys and a 175-pound dog named Titan. They reside in Greenville, South Carolina. She blogs at LoganWolfram.com
Curious Faith
Thank you for being with us today Logan! We are excited to learn more about your first book.
What is one of the things that you are most excited about regarding the message of "Curious Faith"?

I'm excited for people to begin thinking of their faith in terms of the idea of curiosity as a whole.  I think we apply curiosity to so many other areas of our lives, but we somehow manage to exclude it from matters of faith and our souls.  It's sort of a concept that I believe can really revolutionize our faith and our perspective on life, so I'm pumped about that!
What theme or chapter was the hardest to write and why?
A couple of chapters were hard.  Chapter 1 was pretty rough to write and as many times as I have read it, it still kinda tears me up. Also the Chapter called "When We Carry Heavy Things" was hard.  I'm pretty open about struggle and pain, and the way that I've written it invites the reader into that space…so when I go back and read my own words, they are pretty raw and honest, and it makes me feel all the feelings again.  I think any time we dig up pain and make it available in the most authentic way possible, and walk into the pain of others (Chapter 10 does that a lot), it's just hard.

What is one take-a-way that you hope the reader walks away with?
One of the biggest things I hope people gain from the book is to fall in love with the Lord all over again.  I pray that readers remember who He is to us and who we are to Him…because it's from that place of security that we walk in the freedom of a curious and open-handed life.  When we remember that, and we apply it throughout different circumstances, we really do rediscover hope and possibility.

What is one specific way that you have been intentional about staying curious in your walk with the Lord?
One thing I've realized about curiosity is that it's not only something that you cultivate in one area.  I've found that when I'm curious about finding the Lord in multiple areas of my life, I find him more fully in my faith.  Obviously staying in the Word of God is crucial to staying curious…and the more we learn, the more curious we become.  But even in other areas….finding God through being curious in my kitchen, or in art, or in exploring things with my kids…as we live curious, we will find that our faith becomes more curious too!

What has been the most challenging aspect of writing a book, while also being a wife, mom, host, creative and leader?
Um ALL OF IT!!!  Any time that the proverbial plate of your life gets stacked too high, you've got to do what you can to simplify and determine what things are most crucial and do those.  And also, I'd not even call it a balancing act so much as learning to shift focus consistently.  On days I'm dominating in work, most likely there is a hug pile of laundry I'm ignoring.  On days my house is tidy and delicious new dinner is on the table, my work flow probably hasn't been as good.  And sometimes, I just have to say NO to nonessentials…learning to do that makes a BIG difference in managing all of the things that I do NEED to do.  It has taken a lot of shifting within my family and friends to accommodate the changes in pace with all of these things and roles too.  I've had to ask for lots of grace as I learn to balance new responsibilities that pile on top of the ones that were already there.  Some days it means being ok with chicken nuggets for dinner and falling asleep putting my kids to bed at 8pm too.  Honestly I'm just trying to steward the moments and the opportunities well so that when I stand before the Lord in the end he says "well done my good and faithful servant."

What advice do you have for those that are getting ready to launch their first book?
Sleep now or forever hold your rest.  This is hands down one of the hardest things I've ever done.  It feels icky to be self promotional and awkward to ask the free world to help you…but somewhere in it all, we have to learn how to do both.  The thing is, I believe in this message of Curious Faith to change lives (I know it changed mine), and so it's learning how to share that with others and ask them to share with the people they know too.  It is hard to motivate people to buy the book but it matters that they do.  My advice is…hold on to your bootstraps, this is hard.  And also…there's so much other junk that you have to deal with doing this…marketing, sales, promotions, etc….and it can be super distracting, especially when pieces of it don't necessarily go well.  You have to continue to sit before the Lord and remember what you've written and why you did it…because that's what all the other stuff is for anyhow.  It's about the message…so despite all the distractions, don't lose sight of that.

Thank you Logan for writing this inspiring book to foster our curiosity and faith.
Curious Faith Book Review
I had the privilege of reading an advanced copy of Curious Faith. Here is my book review and some of my favorite quotes:
This book is a warm invitation to continue on the path of adventure—or to get back on it if you have wandered off. Logan is a hospitable and honest guide as she highlights the benefits of living out your faith with childlike curiosity. Well-written and authentic, this book inspires you to take the next step of wild obedience by being faithful with what God has set before you.
If there's one thing that life keeps teaching me, it's that I can't actually control the journey despite even my best attempts."

"Our desire to control the way so often impedes our ability to experience new journeys."

"Expectations are preconceived resentments."

-Logan Wolfram, Curious Faith
Head on over and purchase your copy of Curious Faith and checkout Logan's site for some bonus material.

*This post contain affiliate links.
P.S. Linking up with the gals over at Purposeful Faith today for the #RaRaLinkup.