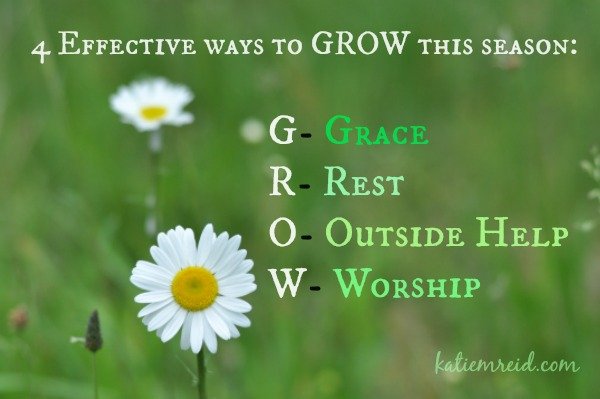 Although we just experienced our second snowstorm in a week, Spring is coming.
As the cold gives way to warmth, barren ground transforms to lush green carpet and dead-looking trees start to bud with life, we enter a new season.
We set goals at year's start, but how about now with the change of season?
How do we grow effectively in our faith and not remain dormant and complacent?
4 Effective Ways to G.R.O.W. this Season:
G- Grace
R- Rest
O- Outside Help
W- Worship
Step 1: Grace
Webster defines grace as "unmerited divine assistance given humans for their regeneration or sanctification." Yes indeed! I need divine assistance to embrace change—of my mind, heart and soul. You too?
As a tightly wound woman I often keep an unrealistic schedule with unreasonable demands on myself to do and do some more. In order to effectively grow I need divine intervention to help me change and try a new, life-giving approach.
I want to be in a position for optimal growth, but it won't happen if I live depleted.
I need God's grace to give me courage as He works life into the dead places of my heart.
Head on over to Kelly Balarie's blog, Purposeful Faith, for the rest of this post as we Learn How to Effectively Grow in Faith…