The "Listen Close, Listen Well" series continues today (and most Thursdays from now through the end of August). Since our baby girl is due in May, many of my writing friends are sharing their hearts and words throughout this series so I can be freed up to love on Baby Cinco. I know you'll enjoy their insights as we continue to explore what it means to listen better.
Today's guest is a dear friend of mine from the camping world. I'm delighted to host Abby and her words as she shares a special message from the Father's heart.
Abby Banfield is a Michigan girl married to a Minnesota man. She became a mother just 5 months ago and is navigating all the new challenges and joys that brings. Abby is a camp kid turned camp director, happiest with a cup of coffee in hand laughing at a cheesy pun.
Preparing a Place
It all started with a 40% off Hobby Lobby coupon. On a whim I bought a large navy canvas with words like brave, strong, courageous, and adventure. When my husband asked where we would put it I said, "Someday, in a little boy's nursery."
Fast forward a year and a half and there I sat, late one summer night, rocking back and forth in an empty room. My book rested in my lap, or what was left of my lap with my 30 weeks pregnant belly taking up most of the space. In just 10 (but it was actually 11) short weeks our first child, a son, would be joining our family and changing life as I knew it forever.
That night I penned this letter to him.
Sweet baby boy:
We are preparing a space for you in our home. It's cozy and small in this little cottage. Sometimes we trip over one another and get frustrated but more than filling it with stuff, we hope to fill our tiny space with love, laughter, noise, and memories.
Your dad has been working so hard, taking apart our 'guest room and office' to make way for you. The cream walls have become a soft blue gray, a Craigslist glider is refinished with new cushions and he's built a storage unit and dresser for your tiny clothes. He's a pretty amazing hard worker, your servant-hearted handyman dad.
As we make these preparations for you I'm reminded of John 14 where Jesus says He is going to His father's house in heaven to prepare a place for us. I'm sitting in the rocking chair, reading my book and trying to imagine rocking you in just a few short weeks. My heart nearly exploded with love (and a little fear) imagining it.
As we work I think and dream about your future and our hopes for you, yet right now I am making a place for you. I imagine this is what Jesus meant, He's preparing a special place for each of us in heaven with tenderness, love, anticipation, joy, and care, even as we live our days on earth. Know that we love you, sweet baby boy, but know how much more He loves you, and always will.
You are so, so loved,
Mom
From there the nursery preparations changed from creating a Pinterest-worthy scene or creating a place of functionality to an act of worship. With each detail I picked out, purchased, or made, I thought about our baby boy and hoped he'd like it—the canvas hanging on the wall, a handmade canoe paddle from his dad, his life verse on a wood plaque, and the baskets on the walls for books and stuffed animals.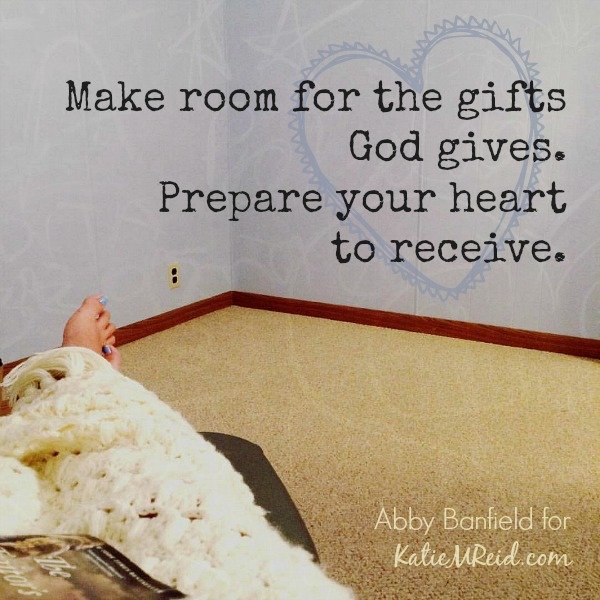 When I listened close, and listened well, I heard God say, "You are showing great love to your son, to my son, by preparing a place for him. Do you know I'm doing the same for you?"
I imagine God saying, "Oh, let's paint this room blue, Abby loves that color! And make sure there's a balcony, she's always wanted one of those and don't forget the reading nook where the morning light will shine in and fill the space with cheery light. She's going to love this home I've made for her, I can't wait until she gets here."
You see God knows me, He loves me, and He's got a place for me. And friend? He knows you, He loves you, and He has a place for you.
Listen close and listen well for God's love notes because sometimes you'll find them in the most unexpected places.
Making Room,
Abby
Last fall I had the honor of giving my "Undress the Stress" seminar at the Women's Retreat that Abby directs at Grace Adventures. Annie Downs was the keynote speaker and it was a powerful and encouraging time. I highly recommend you attend this year's retreat (they are four weekends to chose from). My friend Cindy Bultema is speaking for one of the weekends and Karen Ehman is speaking at another—what fun!
Get caught up on the other "Listen Close, Listen Well" posts below:
Not Ours to Give Away by Tiffany Parry
Lean In My Daughters by Kerrington Sweeney
Listening When It's Loud by Teri Lynne Underwood
Fear and Doorknobs by Kim Osterholzer
What God Wants by Crystal Hall