Times of transition often leave me disoriented and downright frustrated. When pressure holds me down and unanswered questions weigh heavily on my mind, I am strategically positioned to grab hold of God. But many times I go forward—relying on my own strength—because I don't like waiting my turn. My heels get worn with callouses after many rounds of limbo and eventually I land flat on my back in exhaustion—in need of healing—as the ceiling spins overhead.
Waiting for the next thing is hard. I feel lost as I pace and start to doubt and I wonder when things will change. Waiting, with no end in sight, makes me feel overlooked and even forgotten.
I feel lost in the in-between. I'm not sure how to act in times of transition. I spin with worry at the presence of unanswered questions.
I want to land, and when I'm hovering in space—in an unknown place—I feel uneasy and on edge. You too?
When we're in a holding pattern it is easy to forget that God is holding us close. When we're forced to be still, it's hard to remember that He is on the move.
Transition is a ripe season for faith muscles to be stretched and strengthened.
When we find ourselves in a season of change it can be tempting to try and rush our way through it.
How do we find grace and peace in changing times?

You might also enjoy:
Tripping in Times of Transition
Girl Meets Change (Book Review)
When You're in a Holding Pattern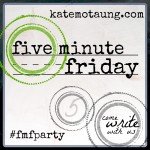 P.S. When I transitioned from being a casual blogger to a focused writer, the Five Minute Friday community provided encouragement and opportunities to improve my craft. Today the Five Minute Friday book launches into the world! It is a joy to have one of my essays in this book and many of my writing friends are featured as well. Go pick up a copy today (all proceeds will help support two ministries in South Africa)!
Save