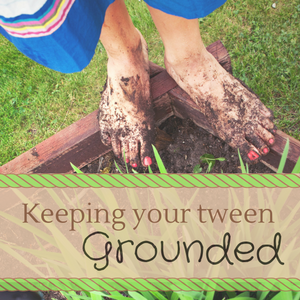 Welcome to Day 7 of the Grounded Series!
On Fridays, Brooke will be reviewing a resource for tweens, that she has found fun and useful for growing in faith.
For Girls Like You Book Review
Hi everyone!! I'm so exited to talk to you about this wonderful devotional for girls like you! 😉
I like to explain devos with the 5 W's. The 5 W's?? Yeah, you know: Who, What, When, Where, and Why. Got it? Alright, Here we go:
Who:  (Or who wrote it)
Wynter Pitts. She has 4 girls. Here is her Family:
Wynter is a wonderful woman of God who is the founder of the ministry, For Girls Like You (forgirlslikeyou.com), which has many wonderful resources like this, including: T-Shirts, Your God's Girl Devo, Wonderfully Made Doodle Journal, For Girls Like You magazines, Speaking and Events, etc.
What:  (Or what it talks about)
For Girls Like You addresses topics like Anger, Forgiveness, Being you, Jealousy, Competition, Fear, Truth, Money, etc.
When:  (Or when it was published)
2015
Where:  (Or who published it)
Harvest House Publishers. Great publishing company that seeks Christ-Loving authors.
Why:  (Or what the purpose is)
To encourage girls to love God and give Him their all.
My favorite part of this devotional is the first discussion called "The Big Deal with a Little Hamster." It talks about comparison problems and how you can prevent them.
We should only want to be like Jesus and do and have what He says is good for us!  -Wynter Pitts
So, I hope you've gotten a little bit of a glance at the For Girls Like You devotional and I hope you will stop by her website and learn more!
Also, check out Alena Pitts' blog at:  http://www.alenapitts.com/. Alena and her mom, Wynter, are publishing a book series called "Lena in the Spotlight". Learn about it here: http://www.alenapitts.com/blog/2016/8/19/im-writing-a-bookor-3
Thanks!!
Stay Grounded in Love,
~Brooklyn <3 😀 😮 😉
You might also like:
Interview with War Room Actress (Alena Pitts)
Trust is Required if You Want to be Led
How to Brave Your Fears and Help Your Child Succeed