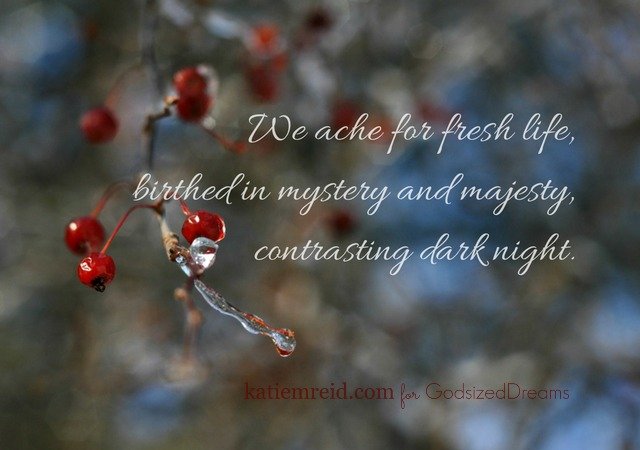 This season can be packed to the brim, with celebrations and obligations. To-do lists fill and the weather chills, and we sometimes lose our footing on slippery ground.
The soul longs for quiet by a warm fire, to see twinkling lights overhead—in sky and tree.
We sip the simple and remember to breathe, to fill the lungs that God has laced together. We look into cupped glass and see a glimpse of artistry—woven together in secret place.
We are tempted to see only lack and frailty, yet as we lean in, we hear the faint tune from above—echoes of mercy and whispers of love.
Soon the demands pull us away as we strap on boots and scramble for coat. We face the cold and brace ourselves for the trek.
We long for restoration, like creation longs for its coming redemption—we contract and moan as we face the barren.
We ache for fresh life, birthed in mystery and majesty, contrasting dark night.
We cry out for intervention as we find ourselves in transition. We are unsure if we can take the next step. It feels too much—weighty, tense.
We push and we pull and we hold on with the strength that remains.
Then, right before the point of losing our grip completely, the voice of Love cuts through the chaos and warms us midst the chill of this season…
***
Today is my last day writing regularly over on God-sized Dreams. It has been a great honor to be a contributor over there for almost two years. I hope that you will continue to engage with the community at God-sized Dreams as they offer encouragement and support for dreams like you.

P.S. God-sized Dreams hosts the #DreamTogether linkup. Consider linking up your encouraging post over there!
P.P.S. Linking up with Kelly Balarie's #RaRaLinkup also. If you haven't already done so, check out her Fear Fighting Book!
Save