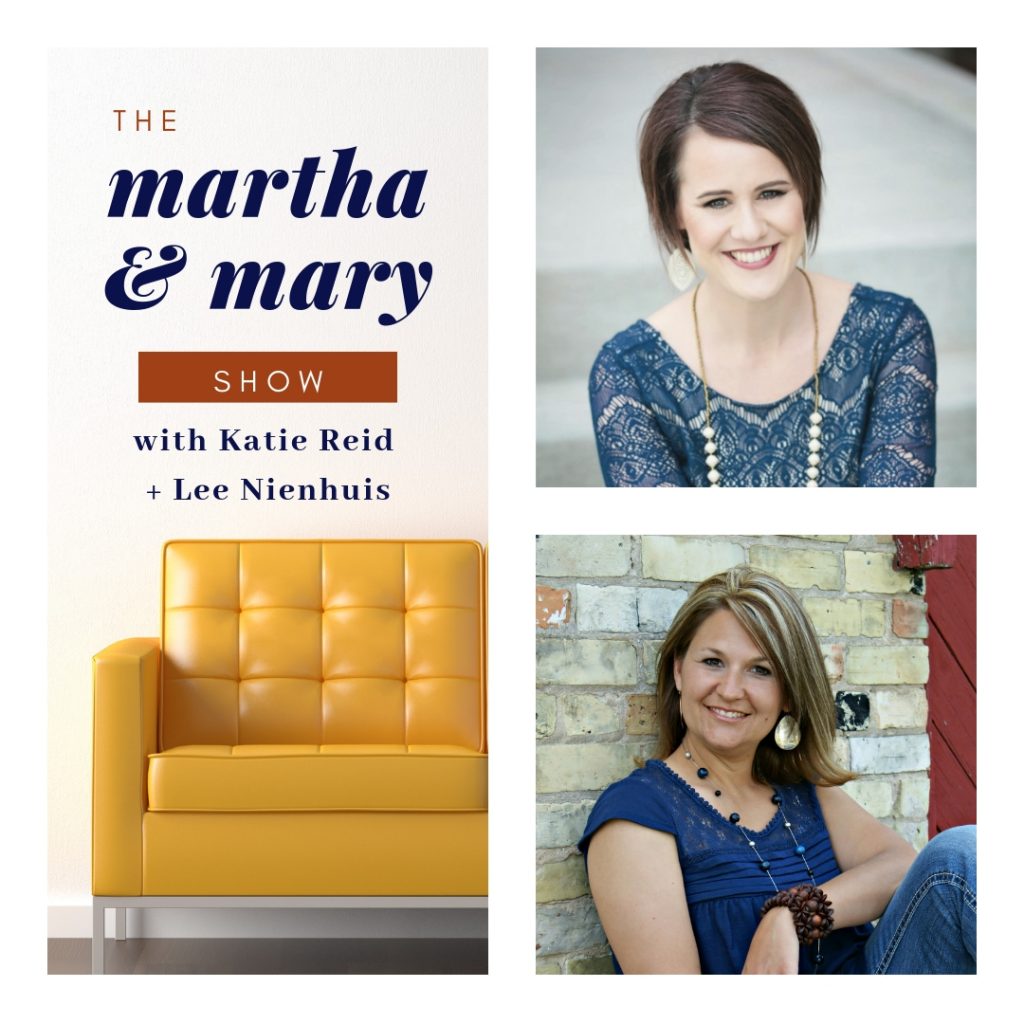 We are ecstatic to tell you the BIG NEWS! Author, speaker, and my friend, Lee Nienhuis, and I have launched a podcast together called, The Martha + Mary Show!
Lee and I have been talking about doing this show for awhile now, and even though we have full lives and busy schedules, we snuck it in and are having a blast. We hope you enjoy this transparent conversation between two friends who bring different personalities (and Enneagram numbers) to the table.
Let us know in the comments, if you are more like Martha or Mary, or somewhere in between.
Episode #1: Together on Purpose
It's the one-year anniversary of the Made Like Martha book releasing into the world, so we're celebrating with the first episode of The Martha + Mary Show, hosted by two friends (with totally different lenses), authors and speakers: Katie M. Reid and Lee Nienhuis.
Today, Katie and Lee talk about the differences between those who are made more like Martha and those who are made more like Mary. They share the history of their friendship, what they appreciate (and what annoys them) about each type, and how God created us to be stronger and better together, on purpose.
Be sure to subscribe to the show via your favorite podcast listening app, like: iTunes, Stitcher, Libsyn, or Spotify.
Disclosure: Affiliate links are used in this post. If you choose to purchase through the links, I may be compensated at no additional cost to you. See full disclosure policy.
Listen to Episode 1:
Show Notes for Episode 1: Together, On Purpose
Theme music: "Driven" from Katie Reid's "Echoes of My Heart" Album. https://www.katiemreid.com/singer/
More Info: She Speaks Conference, IF: Gathering, Enneagram, Hired-help Mentality
Show Sponsor: Brenda Yoder, Counselor + Author of Fledge: Launching Your Kids Without Losing Your Mind. 
Connect with Brenda and listen to her Life Beyond the Picket Fence Podcast: https://brendayoder.com/
Featured Resource: Made Like Martha book. https://www.katiemreid.com/made-like-martha/
Today's Verse: Proverbs 27:17
Iron sharpens iron, and one man sharpens another."
Our Handles: @leenienhuis @katie_m_reid
Our Hashtags: #marthamaryshow #teammartha #teammary
Episode Producer: Angie Elkins of Chatologie
Celebrate Good Times!
In honor of Made Like Martha turning one, we're celebrating with the launch of The Martha + Mary Show podcast, and some other fun things too.
Anyone who leaves a rating and review of the podcast, on iTunes, between July 10th-July 16th, will be entered to win the digital audiobook of Made Like Martha AND Brave Moms, Brave Kids! The winner will be announced, on July 17th, on the blog, and live in the Made Like Martha Sisterhood Group, on Facebook. If you aren't a member of that, join here.
Leaving a review, and sharing this podcast with your friends is such a gift to us, thank you!
Big thanks to Coming Alive Jenn for this 5-star review:
Head over to the podcast page for more info about The Martha + Mary Show and more episodes too!
P.S. Our sponsor slots are filled for the first season of the podcast, but we are opening up slots for the next season. Contact Katie, if you are interested in learning more via the contact form.