Often we forget that Martha of Bethany was a woman just like us. She wanted to care for others well, yet she had her limits too. She probably felt like the weight of the world was on her shoulders, yet she had a friend who was made to carry that weight—not just for her, but for all us.
We're changing things up a bit today, through this historical fiction piece about dear Martha.
Disclosure: Affiliate links are used in this post. If you choose to purchase through the links, I may be compensated at no additional cost to you. See full disclosure policy.
Consider This: Martha of Bethany
She busies herself with the task at hand, soaking strips of cloth in the water basin. Martha's hands and mind swirl like a tornado as she works to drown her fears. She hurries to finish, so her sister can reapply the fresh cloths to their ailing brother's forehead.
Where is He?
They sent for Jesus days ago, alerting Him to Lazarus' grave condition. But He has not yet arrived.
Martha wills Lazarus' fever to subside. To her dismay it appears she is losing the battle, with the illness that is threatening her brother's life.
Jesus. Jesus, don't you care?
A familiar ache surfaces as Martha recounts a conversation that took place in her home, between she and her dear friend—the one taking His sweet time when they need Him most.
Martha, Martha.
Martha of Bethany: Hostess with the Mostest, to-do list finisher, hard worker, full of faith, possessing spiritual depth, friend of Jesus. #madelikemartha
Click To Tweet
He spoke her name so tenderly that night, even though she was a bundle of impatience and irritability.
She had started with good intentions, of course, trying to make sure everything was just right for her friend and his companions, but even Miss Dependability had limits. Martha was downright weary from all her preparations—tired of carrying the weight of the world on her tense shoulders. It seemed like no one cared as deeply as she did, that no one else saw all that was undone.
Don't you care that I'm left to do all the serving alone?
There in her kitchen she had felt orphaned again, overlooked and left to do what others didn't notice or weren't willing to do. Couldn't they see, that although she was the oldest and most responsible sibling, she still needed assurance that everything would be okay…that she would be okay.
Martha, you are worried about so many things…
Exhibiting great strength day in and day out, managing a myriad of details, caring for her siblings in the wake of their parents' absence, Martha secretly longed for someone else be strong for her, so she didn't always have to be the one on whom everyone relied.
Where was her rock to lean on?
…only a few things are necessary, really only one…
A groan of agony from the other room snapped Martha back to the present.
Holding back salty tears, she forces herself to focus on the task before her. No time to dwell on what was, she is needed now—more than ever.
Jesus. Where are you?
Read the conclusion of this fictional reflection, on Martha of Bethany, at Jami Amerine's place, as part of her "Consider This" series….

You might also like:
The Lineage of Grace Series by Francine Rivers
3 Surprising Facts We Have Overlooked About Martha
Consider This: Namaah, the Wife of Noah by Jami Amerine
P.S. Checkout Jami's gorgeous artwork, that goes along with the "Consider This" series, over on Instagram.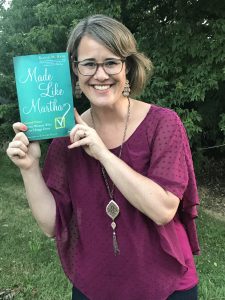 P.P.S. There's a super fun surprise coming on July 10th, as we celebrate the one-year anniversary of Made Like Martha. Subscribers will hear the big news early. If you aren't a subscriber yet, text MARTHA to 33777, to subscribe, for free!