Day #29 heralds a post from Writing Sis. As you can tell, Writing Sis, is an outstanding writer; hence her namesake. Grab a cup of hot tea, put on a cozy blanket and breathe deep.
My family loves to talk. A lot. Conversations between my mom and my sisters and me, in particular, might start on one topic, wander off into an "oh-before-I-forget…" anecdote, march further into tangential territory, circle back to the original topic, dig up a funny memory, hover around something more serious, segue into a joke, then dissolve into laughter. "What was I saying again?" and "What was I going to tell you?" are oft-used phrases, and no wonder. (As someone who feels I write more clearly than I speak, I confess my conversational style may be the most labyrinthine of all.) No matter how involved our talks, though, the underlying objectives are simple: comfort, connection, keeping in touch. We may live miles apart, but picking up the phone and sharing a story, seeking advice, or dissecting an episode of Downton Abbey eradicates the distance.
Communicating with Brian has always been different. He has never been one to share his innermost thoughts or feelings. He will readily dig up funny memories and segue into jokes (physical comedy being his preferred humor and putting something on his head—a sock, a place mat—his favorite gag), and he'll sometimes hover around more serious stuff (such as relatives who've passed away, paying them tribute in song or remembrance). But usually he'd rather draw on his Magna Doodle or rewatch Air Bud: Golden Receiver than have a lengthy talk. I know some of this is just his personality.There are plenty of people who'd rather watch an uplifting movie about an athletic dog than sit down for a heart-to-heart. But some of it's related to Down syndrome. Brian grew up with a stutter, needing extra time and effort to express himself verbally. With speech therapy, it became a little easier. Plus, as Katie explained in another post, the rest of the fam is well-versed in his catchphrases and Brianisms, so even when his speech is harder to understand, we can usually pick up on the meaning.
Over the past few years, though, Brian seems to have had more difficultly communicating: talking less, getting more stuck in his head. He'll repeat bits of dialogue from movies or fixate on certain words or phrases but often seems less present in the now. A lot of questions are met with silence and/or "I don't know." I suspect these "I don't knows" are a kind of a vocalized pause—a way to bide some time, in this family of his that talks so much, while he prepares to say what he's going to say. If we're patient and don't interrupt him or answer for him, he might follow up with a concrete answer:
Me: "What did you have for dinner last night, Bri?"
[long pause]
Brian: "I don't know."
[longer pause]
Brian: "Ham."
Me: And?
[long pause]
Brian: "I said I don't know!!"
[longer pause]
Brian: "Potatoes."
Sadly, some of his recent behavior points to early-onset dementia, which is fairly common in adults with Down syndrome, though it often doesn't show up until an older age. As much as I'm aware of this, now that Brian lives in a group home, and not with our parents, I especially wish I could pick up the phone and hear exactly how he's doing and what he thinks of his roommates and what he has been dreaming about lately and what show he's watching on TV Land. My objectives are comfort, connection, keeping in touch, but the intricacies of his everyday life remain mysterious. They're boiled down to ham and potatoes.
What I've tried to learn in the last year or so—and am still learning—is how to meet my brother where he is. To not obsess over where he has been (expecting him to be the same) or where he might be in five, ten years (that, too, being a mystery) but to connect with him in ways that are comfortable to him now. Fortunately, he's on medication that seems to be helping: focus-wise, more energy. Still, adaptability is crucial. On weekends when I'm home in Michigan, we might just sit next to each other on the couch while he silently draws on his Magna Doodle and I look through Mom's back issues of Country Living, and this is time well spent. I'll ask him about his group home or girlfriend but won't be too insistent about needing to know the specifics. Sometimes it's "I don't know" and sometimes he'll offer more. I trust that what we really want to say to each other is best
communicated in hugs, high-fives, the occasional "feet war" (a sibling tradition), and putting socks on our heads. As Katie mentioned, Brian has always expressed himself thoughtfully through the music he plays and greeting cards he picks out. His succinct written notes are also so expressive. After I gave him his birthday present and around the time my dog died, I got this one in the mail:
Dear Laura,

Thank you for the DVD Gnomeo and Juliet. I enjoy it.
Sad about Easy. It was good dog.

I love you.
Love, Brian
Verbal communication is great—those wonderful maze-like conversations that only family members and the closest of friends can follow. But there are so many other ways in which we can know someone and be known. Brian, the best bro a girl could ask, has helped teach me this.  

May I always listen.
-LHP
10/29/12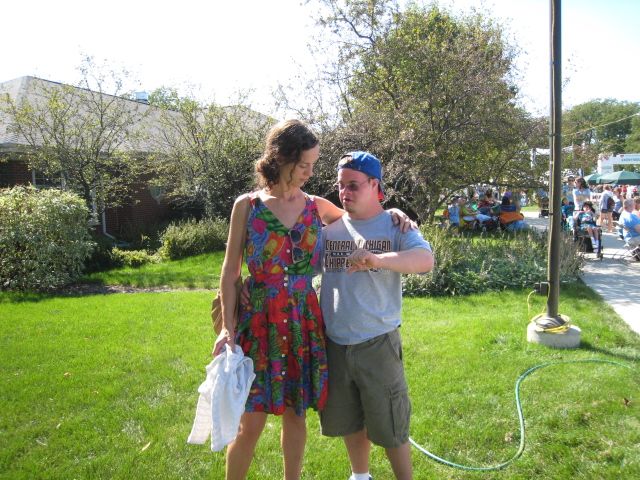 Deep Breaths:  Tears are flowing as I read this beautifully honest post from Writing Sis.
Listening; let's land there.  What has God been speaking to you lately?  Are you listening for Him…do you hear Him speak in chilly wind whispers, in the warmth of a bear hug, in the vibrance of sunrise, in encouraging word, in the pages of Word worn yet new- wrought with truth, for Love.   Do you slow down and sit and be still and just listen.  Sometime He speaks loudest in silence; in waiting.
 The Lord said, "Go out and stand on the mountain in the presence of the Lord,
for the Lord is about to pass by."
Then a great and powerful wind tore the mountains apart and shattered the rocks before the Lord,
but the Lord was not in the wind.
After the wind there was an earthquake, but the Lord was not in the earthquake.
After the earthquake came a fire, but the Lord was not in the fire.
And after the fire came a gentle whisper.