Welcome to Day #1 of the Intentional Mothering Series!

I am so excited for this and hope that you are too. It is my pleasure to introduce you to some wonderful moms (of various ages and stages of life) throughout this series. My prayer is that you will be encouraged in your role as a mom, inspired to be an even better mom, and feel supported in this most noble endeavor– of raising the next generation.
This series will begin today and end on May 12th… Mother's Day! I hope that as you join us, you will not be a causal observer, but an active participant; committing to let God grow you into becoming a more intentional mother. What a celebration Mother's Day will be as we take these next few weeks to learn and apply what we learn, while enjoying the priceless gift of being a mom.
My friend Charity's adorable and lively foursome.



Throughout this series some of my family and friends have graciously agreed to provide some giveaways just for you. Please be sure to thank them and show your appreciation by ordering from them in the future (their products make great gifts)!
Today Lights by Linda is giving away one of her awesome night lights.
These lights are great for Mother's Day, wedding, house-warming, appreciation, and holiday gifts!
To enter:
1. Share today's post link on facebook (inviting your friends to read the "Intentional Mothering" series)
AND
2. Comment on this post (after you have shared on facebook). The comment should include that you shared on facebook and your response to the Deep Breaths reflection/challenge found at the end (one winner will be chosen at random and have one of these lovely lights mailed to them- we will announce the winner later this week on the blog).
If you are interested in ordering from Lights by Linda you can e-mail Linda at: reid1ls@gmail.com (she is offering the lights for $25 each, including shipping, through the end of May, just mention this series when you order).
Each light is handmade and one-of-a-kind.
Introduction and Invitation
I do not want you to feel guilt as you go through this series (although the Holy Spirit may convict, which is different than guilt); I pray we all grow and learn together- and love our children better in the process.
Let's begin with a big deep breath (and hopefully a nice hot beverage in hand- or an iced one if you are of the Southern variety).
Intentional Mothering…what does it look like? What does it feel like? Sound like?
I am sure it will not look the same for each of us, as we are all wired differently and so are our children. But, here are a few thoughts/ideas that I think can serve as common denominators in this dicussion:
Slowing Down
Making eye-contact
Stopping and listening to hearts
Training
Nurturing
Being deliberate and doing things "on-purpose"
Not giving up
Knowing the condition of our flocks
Imparting grace and truth
Raising with love, care, and patience
Depending on the Lord for wisdom and strength
I don't know about you, but, I could marinate on the this list for awhile; slow-cooking these principles until their flavorful juices absorb right into my soul-fiber…then flow over into daily life.
How many times a day am I in a hurry, or impatient, or selfishly just wanting to do "my thing" and be left alone? I am so glad I do not have to attempt motherhood on my own strength or motivation. The Lord is here, ready and able to help us carry out this amazing feat; raising the next generation to know and love Him; living for Him in a sinful, broken society.
Celebrating the miracle of my sis-in-law's son.
I have a long ways to go to be the kind of mom I want to be; but even in preparation for this series I was reminded to slow down and just plain appreciate my kids more…


I have posted this poem before, but I thought it was a fitting start to our journey.
My Heart Took a Picture
I caught a glimpse of life at present-
tender, fleeting, and wonder-filled.
I let my soul drink a treasured dose,
of joy and peace brimming with promise.
I captured sacred moments amidst the blur;
passing glories hedging in this season.
I breathed in the fragrant delicate scent- of fresh lives;
free and trusting.
I allowed my eyes to see the divine,
as He lovingly drew my heart closer.
I received this gift; a reflective pause-
a taste of life in an awakened state.
I experienced what is commonly overlooked,
as my heart took a picture."
-KMR 11/23/10 (copyrighted "Echoes of My Heart" CD)
for my kids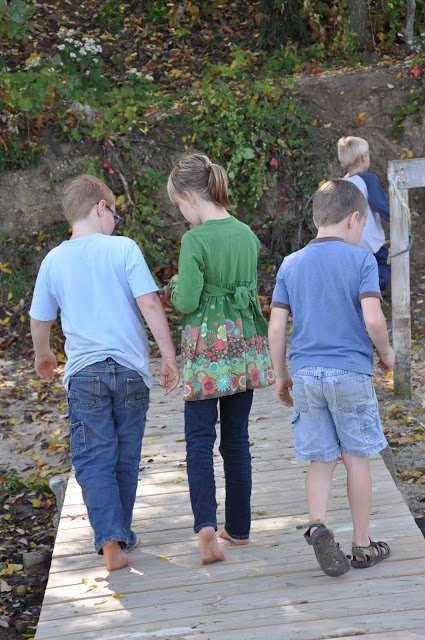 Camp kids enjoying Creation and friendships.
Learning to embrace the journey (not just the destination),
Katie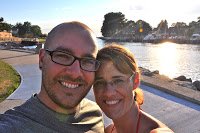 Katie loves being a wife and mom. She likes to be creative, brainstorm, and exhort others in the Lord. She and her husband strive to point others to Christ through relevant relationships, biblical instruction, and intentional experiences. Katie writes here at Deep Breaths…a place to pause, refocus, and grow in your relationship with the Lord.
Deep Breaths:
1. Today's challenge is to slow down and appreciate your kids more. Observe what they are doing. Jot down a few things you notice. Tell them one thing that you appreciate about them or thank them for a job well done today (be specific).
2. Review the list of common denominators given (in the post) concerning Intentional Mothering. What is one word or phrase that stands out to you…that you would like to work on throughout this series? Spend a few minutes talking to God about that word/phrase; ask Him to guide you in improving on that area specifically.
Psalm 145:4-6 "One generation commends Your works to another; they tell of Your mighty acts. They speak of the glorious splendor of Your Majesty- and I will meditate on Your wonderful works. They tell of the power of Your awesome works- and I will proclaim Your great deeds."
Connect with your kiddos today- like Angela and her daughter Audrey are.:)
The comments section (of this blog) is a place to share responses,
questions, and examples regarding the current post. We would love for you to
join in the discussion and share how your "Deep Breaths" reflections/challenges are
going. It is not a place to brag or bash, but to share hearts, be real, and encourage one another to become more intentional mothers.