Mentoring. This concept is surrounded by mystery. Many people talk about its importance and the desire to have (or to be) a mentor, but many people struggle on the path of having healthy mentoring relationships.
Love you Paula, thanks for your listening ear and encouragement in worship!
I have had some mentors in my life and also have had the responsibility of mentoring as well. Things have not always gone well. A wise man once told me not to take credit for the growth in someone you are mentoring, because, then you will need to take credit for their failures as well. This helped me realize that the growth in their life is God's doing, and that they are ultimately responsible for their actions. I can be a support, but I am not their boss. I cringe at the times I bossed, with good intentions, according to my "wisdom". I should have listened and prayed more.
The biggest help to me, in seeking out a mentor, and in being a mentor, is to ask this question before any agreement or arrangement is made.
What are your expectations in this mentoring relationship?
A few years ago I had a young lady ask me to mentor her. I asked her the question (above) and told her to think about it and write down what she was looking for. She came back with a list that was way beyond what I could give her, in time and attention. We discussed what I could realistically offer and I asked her if she still wanted to proceed. She did. We met for six weeks, an hour a week in my home (during the kids' nap time). We laid out some goals together and had a very intentional hour each week. In this instance we both needed structure and a specific plan.
However, most often my husband and I prefer to mentor by inviting people into our lives. Just having them over for a meal and letting them see the real us. We try to be intentional in asking questions (hearing their story and then challenging them to grow) but a lot of the mentoring comes in the ordinary moments. They see the good things and the struggles too (kids interrupting, misunderstandings, laughter, messes, and sharing personal triumphs and failures).
"Doing real life together" is the best way we have found to mentor- in most cases.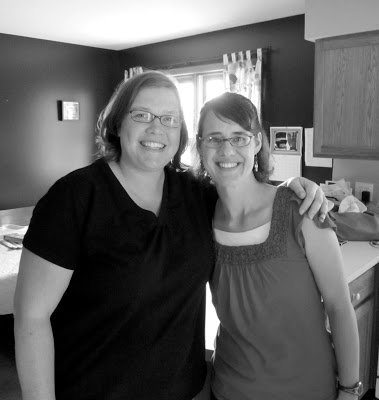 Thanks Sarae for being an example of an intentional mother and Christ-follower!
I remember wanting someone to mentor me in the past, but it never seemed to pan out. I have found several women who are a little older than me who have served well as mentors, but still long for an older woman (who has already raised her kids) to invest in my life. I have wonderful role models in my mom, and mother-in-law, but sometimes you want someone who lives closer, and is not related, to help steer you.
In my mentoring quest, most ladies I find are either too busy or not the kind of person I want to get advice from (as a wife and mom, I look to Titus 2:3-5 as a guide for the kind of woman I want to mentor me). I often get frustrated with both older women and us younger women too. A lot of times I run across older women who criticize how the younger women are doing things, instead of coming alongside them and encouraging them. On the other hand, we younger woman can be stubborn and not too teachable. We can get defensive when corrected or challenged, instead of valuing the years of experience older women have.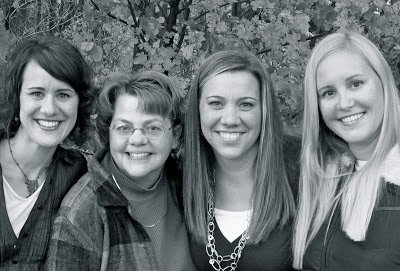 Thanks Ladies for helping me see "blind spots" and for the gift of speaking into each others' lives!
I had an older woman come up to me at a conference and say, "Love your husband and your children. I know I am called to encourage younger woman to do that, and I am not sure how. So I am just going to tell you to love your husband and your children."
I wanted to hug her and plant a big kiss on her cheek! It was so simple, but just what I need to hear (as I was struggling with how involved to be, or not to be, in ministry, with young kids at home).
Road trips provide countless hours of investing into friendships!
Mentoring is a valuable thing, but much uncertainty seems to surround it. May we all seek to invest in the lives around us. May we not get bogged down with unrealistic expectations or comparisons, but seek to be fruitful and multiply, by abiding with the Lord and sharing His love and truth with those around us, in words, sometimes, but in actions mostly.

Ephesians 4:15-16 "but speaking the truth in love, we are to grow up in all aspects into Him, who is the head, even Christ, from which the whole body; being fitted and held together by that which every joint supplies, according to the proper working of each individual part, causes the growth of the body for the building up of itself in love" (NASB).
"One generation will commend Your works to another"- Psalm 145:4
Deep Breaths:
1. What is God laying on your heart in regards to mentorship?
2. What is something you need to confess or lay before the Lord in regards to this subject?
3. If you do not have a mentor, pray that God might provide one- in His timing and way.