Welcome to Day #10 of the Intentional Mothering Series:

Marnie is the kind of woman that you make a beeline for in a crowded room, and as you engage in conversation with her, you feel right at home. She is the lovely mother of five wonderful children (my kids are big fans of them). We are looking forward to seeing Marnie and her family at camp again this summer, where she will have camera in hand and welcoming words on her lips.
Memorizing God's Word

Like many
kids the motivation of stickers or candy was enough to send me into a panic Sunday
mornings. On the short drive from our door to the church parking lot, I crammed
for the "test" – did you or did you not know your Bible verse this week? Of
course the incentive was not enough to hook me into a weeks' worth of work that
would really cement the verse in my memory. After all, I only
really
needed to know the verse long
enough to get credit. To be honest, aside from the standard
John 3:16
type
verses, I don't remember much of my early memorization attempts.
One day all
that changed. My new Sunday school teacher, Aunt Marion, did not assign random
verses. She assigned chapters. Each week you were expected to memorize a new
verse but say the entire passage you had learned. No longer was the motivation
a piece of bubble gum – she gave real prizes – fancy pencils and erasers- but
only once you had memorized the entire chapter and could say it all at once.
This captured my attention. Mind you, my motivation was still "stuff" but I
certainly gave more thought to my memorizing efforts. To this day, I can still
quote
Psalm 1
and
1 Corinthians 13
. Aunt Marion's method had long term impact.
When I
turned 17 I taught my first Sunday school class of 2 year olds. I remember
being speechless as one day little Alan, swaying back and forth, recited all 66
books of the Bible in order with no mistakes. Of course I knew he didn't know
what this meant but I was still impressed that he said them…
A number of
years later, I was lounging in my bed with my almost two year old son, Drew. I
was reading a novel and he was looking at the pictures in
The Beginner's Bible
.
This was a book we looked at often and his favorite part was the end. I smiled
as I saw him, out of the corner of my eye, pointing at pictures as he turned
the pages. I saw him pause on a page and tears filled my eyes as I heard his
sweet voice say
"Holy, holy, holy i' da Lor' A'mighty, who was and is and is 'a'
come."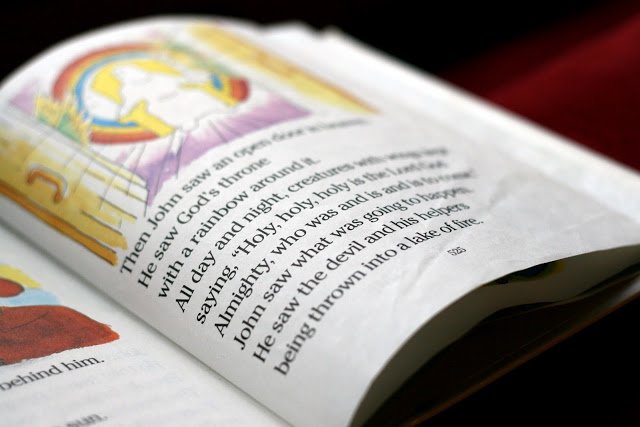 These
glimpses in history have greatly influenced scripture memorization in my home.
I think if
you are a Christ-follower, you likely know Psalm 119:11 "I have hidden your word in my heart that I might not sin against you."
This was the
beginning place for my conviction of the importance of memorization.
With each of
my children, during my pregnancy, I prayed and searched Scripture and, around
the time of their birth, chose a "life verse" for them -verses with a message
and challenge for my child to live and look towards-verses that I can pray over
them.
Once I knew that Drew was capable of learning
verses, I started teaching him his life verse. With the children that followed,
we began memorizing their verses as soon as they could legibly repeat words. I
realize that they did not fully understand what they were saying, but, beginning
this habit of memorization early helped to establish its importance. It can be
the beginning of
"[Impressing] them on
your children. [Talking] about them when you sit at home and when you walk
along the road, when you lie down and when you get up" (Deuteronomy 6:6-9).
Recalling my
own experience in memorization, I wanted my children to remember the verses
they learned. To keep track of this I needed a plan. I had read about a system of reviewing
memorization daily, weekly and monthly. In applying this to our family, I assigned
each member a color of index card on which to record their verses. This made
it easy to keep track with one filing system
Then I took
a recipe box with dividers labeled daily, weekly and monthly. The weekly tab
was sub-divided into the days of the week and the monthly into numbers 1-31.
Once the child had mastered the verse daily, that card was moved to weekly.
Once they could say the verse once a week without help, the card was moved to
monthly. If at any time, they struggle with a verse, it is moved back to a place
of greater review until they are again proficient at the verse.
This review
is a part of our daily bedtime routine. The benefit for the other listening
children is that they often catch on to their siblings' verses as well. This
does take time and effort, but, to hear your child able to quote Scripture in
response to a situation, makes this worth it.
A big part
of memorizing is making sure that the child understands the meaning and
importance of the verse. Once they
understand the verse it is often cemented for them. In
Joshua 1:8
and throughout
the Psalms we are encouraged to meditate on God's Word. God promises that his Word will not return
void (
Isaiah 55:11
). What a beautiful pattern to strengthen the influence His Word
has on our children and in our homes.
Our society
values music, movies and books –how many people do you know can quote their favorite
lines? For those of us that love the Lord, His word should be exactly like that
– one on which we love to read, meditate and share. It is worthy to commit to
memory.
One last
encouragement – don't expect your children to do something you are not willing
to do yourself. It does not matter how
old you are or how long it takes you to memorize. Pick a chapter and start.
Your children hearing you memorize will help to "spur them on" (
Hebrews 10:24
).
Love,
Marnie
Marnie is the very blessed wife of her best friend. The humble mother of five
precious children. Walking a life-road that is crazier, more challenging
and even more amazing than she could ever have imagined. She is also a wonderful photographer, intentional conversationalist, and a transparent and approachable mentor to many. She blogs at
The Little Hill Life
.


Deep Breaths:
1. Is there a verse or chapter that you are memorizing? If not, choose one today. Start slow and keep reviewing this verse. Put it on an index card, on your mirror, or by the kitchen sink.
2. What is an area that you are struggling with, or one that your child is struggling with (like fear, attitude, pride, doubt)? Look up several verses to memorize together on the subject and quiz each other at meal time or bed time.