My heart is full today…
I sat down for a few minutes and wrote in my journal under the heading "DREAMS" (things I would love to do or see happen).
Some of the usual things surfaced- traveling to Australia/New Zealand with Hubby, writing a devotional book, recording another CD. But, a common thread was woven brightly throughout much of the list- Adoption.
Adopting a Hispanic girl, being an encourager and advocate for others adopting, speaking (together with Brave One) about our Open Adoption at various venues, and being an adoption photographer. My dream would be to travel with families and capture their first moments together; becoming a family.
Someday perhaps. But for now, I am thrilled to be able to photograph some dear families after they come home with their children.
In a few weeks I get to start living this dream, by greeting Angela (of Praise and Fireworks), her Hubby, and their sweet daughter at the airport when they come home- with camera in hand, of course; my heart is really bursting at the seams because of this!
I recently contacted Jen of Adopting Nations to make this beautiful custom taggie blanket for Li'l Miss Joy herself (that is my nickname for Angela's daughter- because when I first saw a picture of her sweet face, it was so full of joy).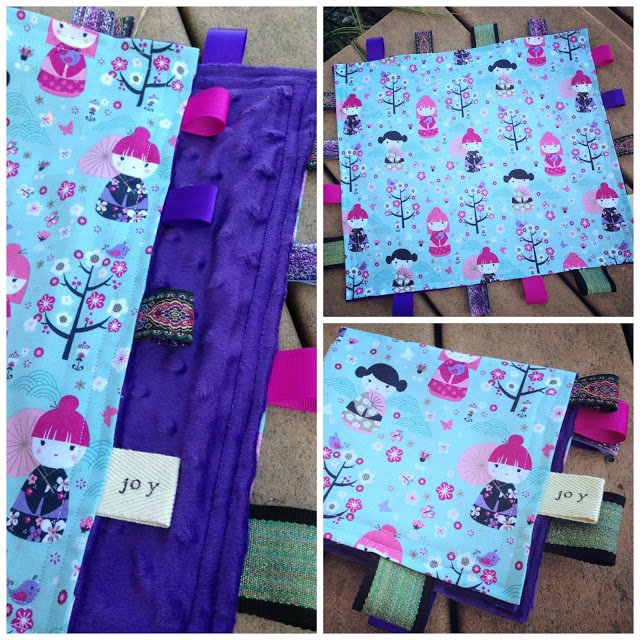 Custom-made "Taggie" for Li'l Miss Joy, made with love by Jen.
Now, about Jen! About a month ago we hit up some mega garage sales as a family. We drove around, somewhat aimlessly, to the various sales and were pleasantly surprised when we found ourselves at Jen and her Hubby's adoption fundraiser. We knew this couple from our college days (our husbands even went to high school together), and it was great to reconnect with them and hear more about their up-coming adoption.
The story gets even more intertwined…rewind to March, when we moved back here, and a thoughtful lady from church presented us with an adorable froggy/minke blanket for our little guy. She had purchased it from a couple who were raising funds to adopt two boys from Africa. She thought it was pretty neat to buy this handmade blanket for our adopted son, while supporting this couple's adoption in the process too… and I agree. Here is Strong One himself, loving his blanket, made by Jen.
I love the different fabrics on the blanket(s); soft, eye-catching and well-made.
I cannot wait to take some photos of Jen's family (hopefully this winter), after their boys come home. I asked Jen if I could highlight her blankets and story today on the blog. Please consider supporting their adoption by purchasing a handmade lovey via her Etsy store. They make very special gifts; you will love them!
Now here is a little bit about Jen:
Now please go bombard Jen's store with orders! And join us in prayer for these two boys, for their safety, peace, and hope, and for God's amazing provision to bring them home soon. Please pray for Jen and her husband as they wait and prepare to become parents… waiting is such an emotional roller coaster.
P. S. If you know of anyone who is adopting, or has adopted, consider telling them about Imprints Photography, and our desire to provide adoptive families with quality pictures of their tender moments.
You can see my work of FB: https://www.facebook.com/pages/Imprints-Photography/363903573634033
Deep Breaths:
1. What is a dream that you are praying to see fulfilled? Ask God to help you put feet to the next step.
2. How can you help someone else fulfill their dreams (lift them up in prayer, ask how you can help, give financially, etc.)?
3. Ask God what He would like you to do, regarding widows and orphans.
James 1:27 "Religion that God our Father accepts as pure and faultless is this: to look after orphans and widows in their distress and to keep oneself from being polluted by the world."