Welcome to Day #26 in the Isaiah 40 Series!
Isaiah 40:26 "Lift up your eyes on high and see who has created these stars, the One who leads forth their host by number, He calls them all by name; because of the greatness of His might and the strength of His power, not one of them is missing."
I wish you could have gathered in our backyard on Thursday night; the view of the sky was absolutely breathtaking. It was a clear, crisp night and the sky was so black and the stars were so bright. We saw numerous "falling stars", and were filled with wonder at the beauty of it all.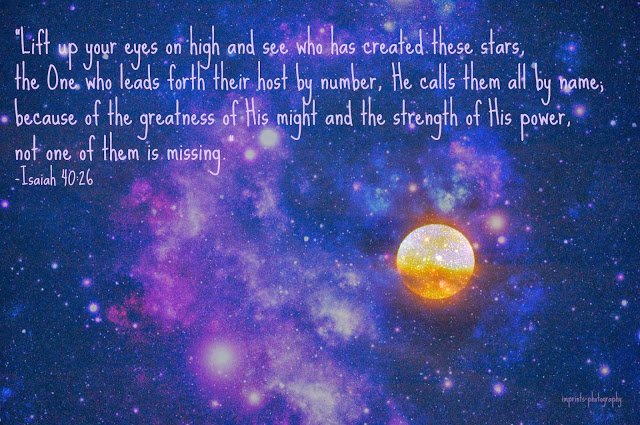 Moon photos taken by imprints photography with help from picmonkey.com
Hubby and I went and saw Gravity the other night, at the recommendation of my mom and Singing Sis. It was an interesting and high-quality film. As we gazed at the sky, in all its glory, last night, I recalled the perspective of the movie (being up in space and looking down) vs. our normal perspective (being on earth and looking up). It caused me to ponder how vast space is and how small, yet special, earth is.
Hubby explained to the kids what "falling stars" really are and how they usually burn up, before hitting the ground, as they enter our atmosphere. This amazed me as I thought about this, and about the movie- that our atmosphere is made differently, set apart from what is out there in space. It gave me a picture of God holding earth, surrounding it, putting a type of force field around it- protecting us, as He gives us more time to know Him on earth, and turn to Him and be saved.
How Great Is Our God is what comes to mind; He truly is so much greater than we can even fathom. If you have not heard Louie Giglio's talk, entitled How Great Is Our God, you really, really need too. It wrecked us, in a very good way and expanded our thinking in practical ways on "the greatness of His might and the strength of His power." Please go watch it and tell us what you think!
As we look at Isaiah 40:26 we see that God is the Creator and He leads forth the stars by number and He calls them all by name. Wait, read that again. This is amazing stuff, right?! He leads forth the stars- all of them, and each one He calls by name.
If He can lead the vast army of stars, surely, He is capable of leading you and me. If He calls them each by name, surely, He knows, not just your name, but all that you are and all that you are going through.
Here are some fundamental questions to ask yourself in light of this verse:
1. Do you believe that God is the Creator? That He has made the stars and made you?


2. Do you believe that the God who leads forth the stars can lead you through life; your set number of rotations around the sun?


3. Do you believe that God knows you and calls you by name?


4. Do you believe that God is great in might and strong in power; beyond anyone or anything else?
Oh, how I hope and pray that you can truly answer "yes" to these questions. But, I would prefer that you are honest rather than just saying "yes" and not really meaning it. I admire people who wrestle with the hard questions instead of shallowly or blindly answering "yes" -without really thinking about it. At the same time, I pray, by faith, that the wrestling does not continue on and on but that God is taken at His Word, and our finite minds choose to believe this infinite God; and settle on what we believe on this side of eternity.
Psalm 33:4-9 "For the word of the Lord is right and true; he is faithful in all he does. The Lord loves righteousness and justice; the earth is full of his unfailing love. By the word of the Lord the heavens were made, their starry host by the breath of his mouth. He gathers the waters of the sea into jars; he puts the deep into storehouses. Let all the earth fear the Lord; let all the people of the world revere him. For he spoke, and it came to be; he commanded, and it stood firm."
Let's look up and choose to let this Great God, beyond compare, lead our day, our week; our life. He has the proper perspective and is more than able to lead us forth, by name; may we call on His name and get on with the adventure.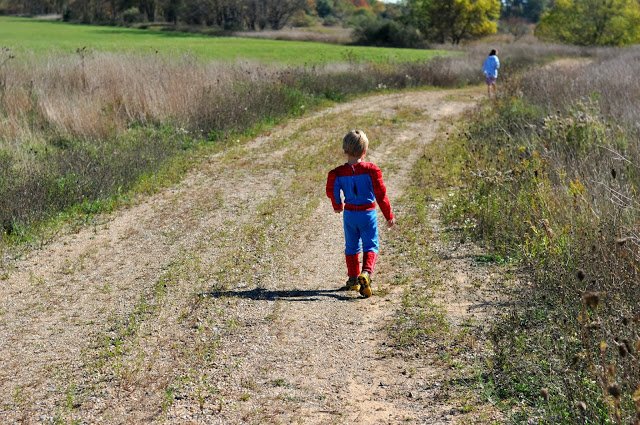 "What I have is a mission. A purpose. I am here to live the best life I can with what I have been given. I am here to live out this human existence as a spiritual being… a servant to God and His people… before I head back home to Him." – Sara Frankl, Gitzen Girl (passed away in 2011)
Deep Breaths:
1. Memorize Isaiah 40:26
2. Read Psalm 33 and write a song, poem, or journal entry about your response.
3. Look up at the sky tonight and hopefully see the reality of this verse played out above you. Talk to this great God, who is above and longs to be within at the same time. He loves you. He knows you. He is more than able to lead you forth, by name.