*I am pleased to announce that Lisa, Beth and Jane are the winners of the personalized bookplates from Lisa-Jo Baker! Congrats Ladies and Happy Mother's Day!
Today we are revisiting one of the most popular posts on the blog. I can brag about it because I didn't write it! It if from the Intentional Mothering Series that ran a year ago. If you haven't read it, you really should. We were blessed to host some fantastic moms as they shared practical ways to mother intentionally.

My sister-in-law connected me with Rebekah because she is an adoptive
mother and we were in the process of adopting. Rebekah has a hospitable
heart and is a great resource and open book when it comes to adoption
and motherhood. I admire her example and intentionality with her boys,
and am honored that she is sharing with us here.
Supernatural Superheroes
Our boys, LJ and Ty
Superheroes are a BIG deal in my house. At almost four years old, my boys have yet to learn of the classics (superman/batman/spiderman), but instead want to be TALL like their daddy. They want Super Why's power to read, Lightening McQueen's speed, and Mr. Incredible's ability to lift cars. Some days I am convinced they actually think they are super-powered monster trucks. I have to remind them that although jumping over each other and lined-up pillows is impressive, it's not safe…or allowed. I settle on letting them run around in undies and rain boots saving their favorite stuffed animals from imminent danger.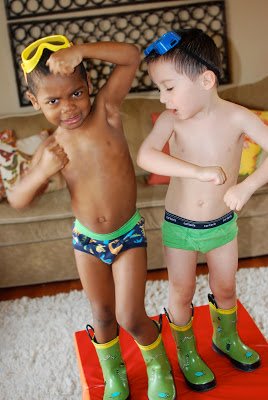 Both
of our boys are adopted. They may be the same age, but their worldviews
are, drastically, different. Tyrus was birthed into a beautiful open
adoption and has never experienced the deep roots of insecurity that his
brother has faced. LJ lived in five foster homes in his short 2 ½ years
of life, before coming to us. Even after a year of gushing over him, in
love, and affirming his place in our family, our sweet little buddy
wrestles with doubt.
My
husband, Ben, and I have been in constant prayer over the turmoil we
see in LJ's heart and depend on God's guidance in navigating the
terrain. A few months ago, I was finally able to name the cloud that
hung over his countenance. Defeat. LJ walked in a constant spirit of
defeat. Unlike Ty, he had not been given tools to problem solve and he
lacked all self-confidence.
At
night, I would lay hands on both boys and pray that God would grow them
into strong, mighty men. That, like Samuel, their words would not fall
from their lips (1 Samuel 3:19).
In
my own quiet time, I would pray for my boys and think about the
characteristics that I wanted them to be marked by and ways to instill
them. God hit me one day with the realization that if I wanted my boys
to be lovers of the Word – If I wanted them to hide Truth in their hearts – I had to, intentionally, put it there!
It
was a light bulb moment. What better way to conquer LJ's defeat or
instill confidence in Ty, than to teach them what God's Word has to say?
As a family, we decided to start with Philippians 4:13, "I can do all
things through Christ who strengthens me."
We
weren't looking to be fastidious about scripture memorization, rather
we wanted the words the boys memorized to be genuine and meaningful. I
did a quick Google search one day on kids memorizing scripture and found
most of the "guides" to be marked by length versus application. "Jesus
Wept" was, actually, on several lists.
Ben
and I decided to be intentional with our selections and unstructured at
the pace of memorization. In three months we are only on verse number
two – Colossians 3:20, "Children, obey your parents in everything, for
this pleases the Lord." We didn't move on to our second verse until the boys were applying Philippians 4:13 on their own.
We
started the conversation by telling them how important God's Word is
and that the Holy Spirit uses it to communicate with us and guide our
decisions. Every time (and I mean EVERY time) one of the boys would say,
"I can't…" we would immediately jump in and say, "What does God's Word
say about that?" It says, we can do ALL things through Christ who gives us strength.
One day LJ was really frustrated with getting his shoes on. I walked in on him crying.
"Honey, what's wrong?"

"I CAN'T do this!" he sobbed.

"What?"
"I can't… [he caught himself]."
"You CAN do it. What does God's Word tell us?

LJ mumbled, "I can do all things through Christ who strengthens me."
"That's right! But I don't think you believe it, right now. Try saying it really, really loud!"

He giggled and at the top of his lungs yelled, "I CAN DO ALL THINGS THROUGH CHRIST WHO GIVES ME STRENGTH!"
"AMEN! When you are struggling with something, LJ, ask God to show you what to do…ask him to help you."
The thing with LJ was that when he
faced a challenge, he gave up before trying. The result was an attitude
of defeat – all the time. That day, he DID put his shoes on…he just
needed to be encouraged that he could do it.
It's
been a few months, now, of convincing the boys that they can do all
things through Christ. The spirit of defeat has lifted from LJ and I
think it's been weeks since I have heard either boy tell me that they
"can't" do something. In fact, a couple of weeks ago I was talking to
Ben and said something that started with "I can't…"
Ty
looked at me and said, "Mom, we don't say that word in this family."
LJ, echoed with, "You can do all things through Christ who gives you
strength, Mama."
I laughed through my tears.
Yes I can.


My
little supernatural superheroes got it. They are shining their lights
and chewing on God's Word, in a way that means something to them. I love
the New Living Translation of Luke 6:45, "
A good person produces good
things from the treasury of a good heart, and an evil person produces
evil things from the treasury of an evil heart. What you say flows from
what is in your heart."
Since
my babies can't read the Word of God for themselves, it's up to me to
put it in their heart. It's my job to fill their lives with Truth. I
cling to the promise of Proverbs 22:6, that if I train up my boys in the
way they should go, they won't walk away. Ever.
These
boys may be loud in their love and peculiar in their clothing choices
(or lack of), but they are genuine in their delivery.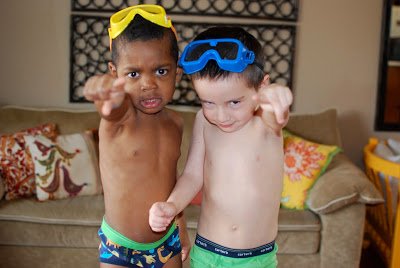 Parenting on purpose,
Rebekah
Rebekah writes honestly and from the heart about her family and adoption at Heart Cries; join her there.
1. Is there an area in your life where you are saying "I can't"? Ask God to give you the
strength to do that hard thing.
2. Challenge yourself to memorize one verse this month; really meditate on it and ask the
Holy Spirit to help you apply it to your daily life.