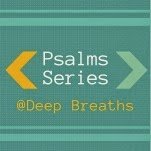 Rachael is a friend from our camp ministry days. She is a busy mama, and I am glad that she is sharing from her heart today on Psalm 128.
Rachael is the proud mother of 4-year-old twins Samuel and Sophia, and 11-month-old John. Her husband, Zack, pastors two United Methodist churches, where Rachael spearheads a MOPS group and volunteers with the children's ministry. A stay-at-home mom, she enjoys cooking, canning, camping, and scrapbooking. She recently started a blog, Mommy in Ministry.
Read Psalm 128
I had promised myself I would never use a credit card; the temptation was too great. But, back in college, those happy looking people with free t-shirts and frisbees, begging unsuspecting students to sign-up for their credit card, made it too easy. I hadn't realized how easily I would get in over my head: a trip to the mall here, out to eat with friends there, gas for the car, etc. During the course of my college years, I maxed out three cards.Three years later I was still paying for that tank of gas, hot chocolate and pair of jeans.
My Bible opened to Matthew 25:23 "His master replied, 'Well done, good and faithful servant! You have been faithful with a few things; I will put you in charge of many things. Come and share in your master's happiness!", these words resonated in my mind. I desired to be a faithful servant, to walk in obedience, like Psalm 128 opens, "Blessed are all who fear the Lord, who walk in his ways".
I sat at my dining table on a metal folding chair, fearing what would happen if something didn't change. I stared at the bills, papers, and envelopes piled on the table – my maxed out credit cards among the pile. It was 2007. Numbers flooded my brain; I never learned how to manage my finances. Knowing the due date for bills came around each month stressed me out. The thought of a budget made my head spin. I recalled the only two pieces of financial advice my parents gave me as a child. From my dad, "Get a life. Get a job. Get paid." The advice from my Mom: "Spend your first pay check on yourself". I laughed out loud, at these "words of wisdom". These attempted techniques had not worked for me; to be honest it hadn't worked for them either.
I learned more about Dave Ramsey's Financial Peace University. Sitting there, I listened to the first of many Financial Peace CD's. Slowly, I took the scissors and created a mosaic of plastic shapes on my table. My goal was to be debt free, and the credit cards were the first casualties of war. I estimated that it would take me nine years to undo the mess I had gotten myself into.

"You will eat the fruit of your labor; blessings and prosperity will be yours" (Psalm 128:2).
My husband was brought up in a God-fearing home. As a child he learned how to tithe and save. At the age of 19 he bought his own house. When we married, the two became one and he acquired my debt. My goal was already in motion, now we applied his wisdom. From the get go, God was and is first in our marriage. So the tithe was non-negotiable.
Shortly after marriage we were delighted to discover I was pregnant, not with one but two babies. I saw how hard my husband would fight for our new family when I was put on bed rest with our twins. My husband worked several jobs while attending school fulltime. We had planned on waiting to have any children, but as is often the case, God's timing was not our own. We thought we had the perfect family, mom-dad-boy-girl. Then God spoke to our hearts, "Your wife will be like a fruitful vine with in your house; your children will be like olive shoots around your table. Yes, this will be the blessing for the man who fears the Lord" (Psalm 128:3-4).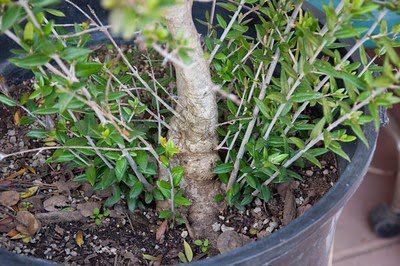 Olive shoots
We saw God's hand on our family. We saw and continue to see his blessings in our life. The twins were born healthy. My husband received two master's degrees and has been appointed pastor of wonderfully loving congregations. We have been blessed to live in beautiful parsonages. But, for a year, we each quietly conflicted and struggled with the Lord. My husband and I were both feeling called to come to a place of complete trust in God. As we searched the Scriptures, I clung to Psalm 128 as my prayer. The twins were preschool age and I was working at a job I enjoyed. More than ever we wanted to be debt free. As usual God's call was stronger than our plan. We realized that we both wanted to expand our family and to trust God with what that looked like for our financial future. We had one last bit of debt to clear.
Expecting our third child, we met a young girl, her parents and grandparents. We signed a few papers and walked out of the room, in our hand was a miniscule check. We had just sold the condo my husband purchased when he was 19; the place we called home when we first got married and where we brought our twins two days after they were born. We walked away with a pittance of a check, but we were officially debt free. It was April 2013. This was God-sized. We were debt free three years ahead of my schedule. Our third son was born in June 2013.
"May the Lord bless you from Zion; may you see the prosperity of Jerusalem all the days of your life. May you live to see your children's children-peace be on Israel" (Ps 128:5-6). My husband and I love God and strive to make Him the head of our home. We pray daily that our twins grow in wisdom and stature and favor with God and Man. We pray that the baby grows in spirit and love for God. Even as we enjoy God's continual provision, we continue to wrestle with new calls that God reveals in our life, striving to be obedient children.
Indebted to His Grace,
Rachael
Deep Breaths:
1. Reread Psalm 128. What verse stands out to you. Why?
2. Take a moment to thank God for covering your debt of sin with the blood of His Son and for His unending love for you. If you haven't accepted His free gift of salvation, won't you to today?
3. Read Ephesians 2:1-8 and journal your reflections/responses to these verses.