I have been avoiding this…this
#GoingThere.
Not because I don't want to go there, but because I fear I may not go there "right."
But doing nothing is not right either.

Clink, clink.
Two white pony beads drop deliberately into the plastic punch cup.
I size up the colorful beads that are in my neighbor's cup.
We sit at the same table while the presenter asks us more questions, "What bead best represents the race of your doctor?"
Clink goes another white bead. I look longingly at the pile of hardly-touched beads…rich chocolate brown beads, luscious black beads and calming tan beads. There are also vibrant red beads and cheery yellow beads.
Then she says, "Look at your cup. What do you see?"
I start to despise my cup. I have a few tan, yellow and black beads in there but mostly just white, white, white. I don't like how my cup looks or what it suggests.
The majority of your church? White.
Your closest friends? Mostly white, except one.
Your dentist? White.
I want a colorful cup. But I don't know how to get one, exactly.
"Now, look at your cup again. What will your adopted child see? You may say you value their heritage, but do they see that lived out tangibly?"
After this session of transracial adoption training I made a point to choose a black doctor for our son, and for our other children as well. It was a simple, yet genuine, attempt to put feet to what I learned at this training.
I have been known to go overboard when I meet another black person…cornering them, asking them to "spill it" on how to best raise my son. I long for their approval, or at least their best hair and skin advice. Just ask Lisha, or Charity or Carl or a stranger I met at a wedding.
When people stare at our family, I wonder…are they just curious, confused or criticizing?
I have a daughter and three sons. The youngest son is black.
Much to my dismay, this fact alone does not make me an expert on #GoingThere.
I fear I am doing it "wrong".
I worry that I am not doing enough.
I feel sick when I watch 42 or The Washingtons Go To Birmingham and I'm not sure I can watch 12 Years A Slave. It's not because I want to turn a blind eye on how black people were treated, it's because I am ashamed that they were treated like that, and I'm so afraid I would have been one of those treating them that way.
How will I tell my son about the sickness people still have?
Prejudice.
Racism.
Profiling.
When my son is making his way in the world, and our faces and embraces are not there with him, will he be equipped to face misunderstandings, doors locking and sideways looks…or worse?
Why?
Why is this so?
Why the craziness?
We have a long way to go. Me. You. This world. But a lively discussion is a start.
When the conversation makes me uncomfortable, I want to run. But I can't, not if I want to grow and see change.
One step forward. Keep going and don't stop. When we stop talking, stop listening, and stop learning then we lose ground.

I think we white folks need to understand and acknowledge that we don't really know what it feels like.
Placing check-marks by our conscience's "feel-better" list or diversifying our beads isn't the lasting fix.
We have come far, but we have so much further to go.
I want to do right by my son. I want the black community to give me their approval. Sometimes I feel insecure and inadequate, but I know that our family was God's doing, so I walk forward.
As Hubby wisely reminds me….we learn, we receive training, we do our best. We network with our friends, we try to provide godly mentors for our son, we educate ourselves. But, ultimately, we keep following Jesus and He will guide us in the ways that are best for each member of our family.

I am #GoingThere because it is the right thing to do and because I want to do right by my son and do right by The Son.
How about you? Will you go there too?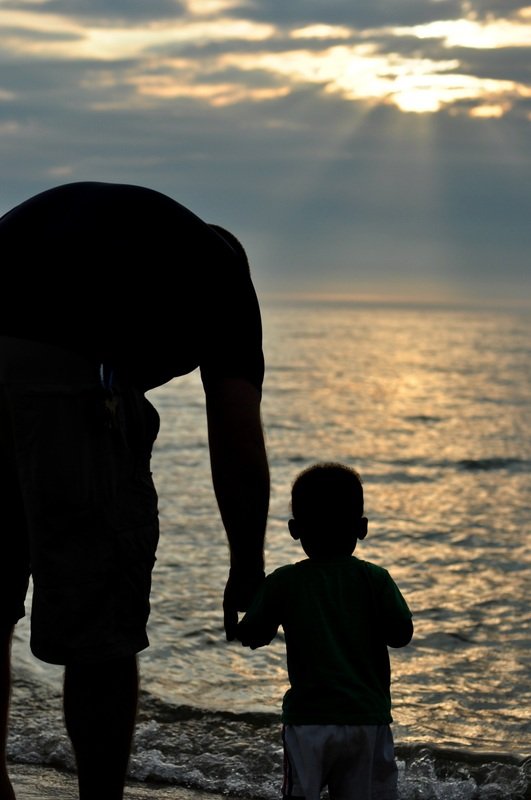 Let's navigate these waters together and follow His lead upon the waves.
Proverbs 3:5-8
"
Trust in the Lord with all your heart;
    do not depend on your own understanding.
Seek his will in all you do,
    and he will show you which path to take.
Don't be impressed with your own wisdom.
    Instead, fear the Lord and turn away from evil.
 Then you will have healing for your body
    and strength for your bones."