I wrote this post in March for Five Minute Friday, but it seemed fitting to share it again for my Show Hope assignment for this month. They posed this questions, "Why do you care for orphans?" My answer is found in the face of our son…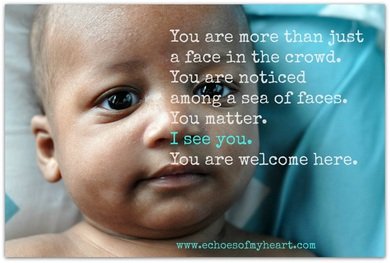 Tonight I sat among 1000 or so. A crowd of fans, followers, and faith-filled people. We gathered to remember, to let loose, to grow…and to dance a bit too. 
Steven Curtis Chapman has been a favorite of mine for a long time.  And as he kicked off the concert with the opening lyrics of The Great Adventure it took me back; in a wonderful way…"Saddle up your horses, we've got a trail to blaze- through the wild blue yonder of God's amazing grace.  Let's follow our Leader into the glorious unknown…this is a life like no other; this is the great adventure."

I think one of the first concerts I ever attended was a Steven Curtis Chapman one, back in the day, in the early 90's. Anyway, tonight, darling daughter, my sis-in-law and I volunteered at the concert with Show Hope.  As I looked at the crowded Show Hope table, filled with beautiful colorful faces on the sponsorship packets, there was one that stood out from the rest…there nestled in the sea of faces; our son. 

I was a proud mama tonight as we passed out sponsorship brochures before intermission. "That's my son", I exclaimed as I extended my hand to those who raised theirs- willing to be extended and give because of God's doing. Sheer gratitude and a desire for more children to come home to their forever families…what a privilege!  We are so grateful to Show Hope for helping us bring our son home. He is not just a face in the crowd, he is our son.  He belongs to our family…and we pray he becomes a part of God's family one day too. 

Do you ever feel alone in a crowd?  I know I often do.  BUT God, He sees us in the sea of faces and like Steven's song, Only One and Only You affirms, you are…

"Wonderfully, carefully woven together by God's own hand
And you're better than a Beethoven symphony
And Mona Lisa wishes she could be a masterpiece like you
More than any Michelangelo
When I look at you I know there's no other masterpiece like you
You are the only one and only you
You are the only one and only you."



You

may feel like you are just blending in tonight, but guess what? There is great news! God sees you and He knows you.  He formed your very heart.  Your life is like no other. You belong. 

YOU are w

elcome here…through Jesus, a life like no other, given, so that you can truly live and truly know love. His arms spread wide, are never too crowded for YOU.

With joy and thanksgiving,
Katie

For more information on orphan care or adoption, head on over to Show Hope or How to Adopt.

---