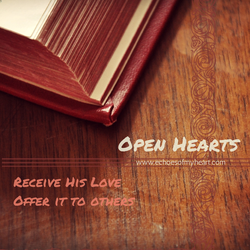 Next week we will conclude the Open Hearts series.

Get caught up here with some incredible reflections from some of my dear writing friends as they shared their hearts to bless you.

We'd love to hear how you've been encouraged through these posts.

The #OpenHearts series continues today with some thoughts I penned for a friend. Start reading below and then follow me over to Jolene's blog today as we discuss the subject of Messy Faith.
---
Pam Gillaspie (author and bible teacher) asked what our favorite hymn was the other day. I didn't have to think long, Be Still My Soul got my vote.

The first verse goes like this,

Be still, my soul: the Lord is on your side.
Bear patiently the cross of grief or pain;
leave to your God to order and provide;
in every change God faithful will remain.
Be still, my soul: your best, your heavenly friend
through thorny ways leads to a joyful end.

In changes, amidst chaos, and among the challenges that come our way, He remains faithful; unchanging and readily available to us.

What comfort His faithfulness brings!
As I stood in the hotel lobby, before my publisher's appointment, I breathed deep. I asked God to help me remain calm and stay confident in His abilities and plan.

Rewind to the night before my meeting and I was a teary mess. I felt scared and insecure. I was falling apart. Months of preparation had left me emotionally exhausted. There was so much of my heart on paper and in my book proposal and the pressure mounted to the point of combustion.

God lovingly and patiently reminded me that He is faithful.

I was unsure of the outcome of the meeting, but I could hold my head high because Jesus went before me, with me and behind me. The results were up to Him but with His help I could step forward in faith.

"He will cover you with his feathers, and under his wings you will find refuge; his faithfulness will be your shield and rampart" (Psalm 91:4).



No matter what happens, we can be confident because God is faithful. I am delighted to be guest posting over at Jolene's place today as part of her 31 days series on Messy Faith. Come join me as we further explore His faithfulness in the messy moments of life…

P.S. I am linking up with several of my blogging friends today. Won't you come over and hear from their hearts today?