We watched some of the Oscars the other night. Actors, writers and films that reflected current issues were esteemed and awarded. There was energy, sparkle and affluence as the stars shone on the screen.
About a month ago my husband and I sat in a theater for the pre-screening of a movie that should have won an award. It might not have won an Oscar but I think it deserves to receive accolades in the heavenlies. The movie was The Drop Box. A documentary on the life of Pastor Lee and his family who take care of unwanted babies in South Korea. The Lees didn't receive a golden statue into their palms, to reflect their accomplishments, but they do receive the vulnerable and valuable into their arms as they reflect Jesus' heart to serve the small.Watch the film's touching trailer below.
Many of the abandoned babies placed in the "drop box" have special needs. Many of them have Down Syndrome. You can imagine the quickening in my heart as these sweet children were captured on film.
Having a brother with Down Syndrome has messed with me in beautifully hard ways. It is not easy, but it is a gift.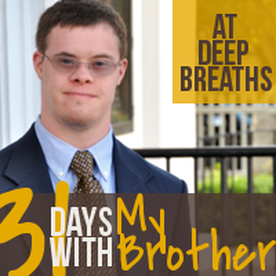 One of the Lee's adopted children was interviewed several times throughout the film. What he said stuck with me. It went something like this…
"I am worried about my father. Who will carry on his work when he can't, or when he is gone? I am going to take on his work and add what I can to it. I will continue what he started and not let it stop."
He loves his father. He values what his father does. He is a one-of-a-kind individual who can bring something special to the work of those who have gone before him. His father saved his life and raised him with love, giving him a hope and a future. Now the son will contribute what he can out of love and respect for his father and his work.
Is this our attitude? Are we carrying on the work of our Heavenly Father? Do we live with thankfulness that He saved us and gave us a hope and future? Are we committed to doing what we can to continue His important work? It is costly. But it is fulfilling.
The Drop Box is playing in select theaters on March 3rd, 4th and 5th. I strongly encourage you to go see this film. I would love to hear what you think of it.
If you go see the movie take an Instagram photo with you & your ticket and tag me @ImprintsKatie and #TheDropBox with the photo. Everyone who does this by Saturday, March 8th, will be entered to win a special prize from our family as our way of saying thank you for supporting this film.

We are showcasing the Global Orphan Care Fund for Extension 26 this month. Donations to this fund will help Pastor Lee continue his work to care for orphans and will also help support Focus on the Family's orphan outreach.Let's continue the work that our Father has laid out for us by caring for the needy and strengthening those with tired hands (see Proverbs 29:7 and Isaiah 35:3).
Sometimes it feels like there are so many heart-breaking issues out there, how can we make a difference? If we join together with our small we can make a big difference.
One example of this? My daughter and her friend set out to purchase a Jesus Well for a needy village through Gospel for Asia. The cost was $1400 for one well. It seemed like such a big number, but little by little, week by week, people collected their change and pooled it together.
The girls are ecstatic that they are less that $400 away from reaching their goal! They have prayed, sold crafts and spread the word. Would you consider donating a few dollars to help them complete this project?Click here to safely donate.
Together we can do more good around the globe.

P.S. I'm linking up with Holly for Testimony Tuesday and Kelly for the #RaRaLinkup. Join us as we join our voices to proclaim His greatness.
P.P.S There is still time to enter my Blog-A-Versary Party Pack. Head on over here to enter. Winners will be announced on Thursday!