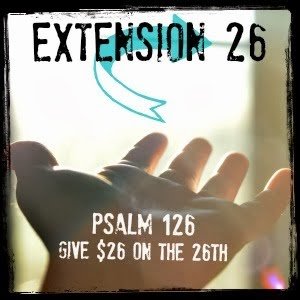 It's time again for Extension 26!
In case you need a refresher, Extension 26, is our giving initiative. We highlight a different ministry each month and encourage you to prayerfully consider supporting them through prayer, finances and encouragement. All donations are given directly through each particular ministry's site. You can view past recipients here (scroll down to the bottom of page link to view).
You are in for a real treat today as I interview my lovely friend, Gloria, from Taiwan. Gloria Hsu, her husband and their four adorable boys are making a difference as they follow the Lord's lead overseas.
I thought that you would enjoy meeting Gloria and hearing straight from her heart about the Pregnancy Support Center, in Taiwan, that she and her friend started. God is moving and opening doors to share His love with hurting women.
PSC is a non-profit organization in Taichung, Taiwan dedicated to providing support, counseling, and unconditional love to pregnant women. The Refuge is a free home where single pregnant women in crisis can safely live.
Email subscribers click here for PSC Introductory video.
For more information about the Pregnancy Support Center head on over to their website.
Click here to donate to the Pregnancy Support Center in Taichung, Taiwan.
Click here to order one of the lovely PSC necklaces. As you wear your necklace remember to pray for Gloria and her team as they wrap God's love and truth around these precious women.
After Gloria and I talked we realized we should do one more video to share the testimonies of what God is doing through PSC. Take five minutes to listen, I think you'll be very glad you did.
Email subscribers click here for PSC Testimony video.
The best way to stay updated about PSC is to connect via Facebook. Head on over to the Pregnancy Support Center Facebook Page to see all that God is doing and continues to do through this noble endeavor.
Thank you for taking the time to learn about this wonderful ministry. I hope that you will prayerfully considering how you can help encourage Gloria and PSC today.

P.S. For more information about the Fair Trade Friday Club (that I mentioned in the first video) click here. Be sure to come back here on Wednesday as I share more about FTF Club. It's a fun way to shop while making a difference around the globe (and did I mention there will be a giveaway?)!