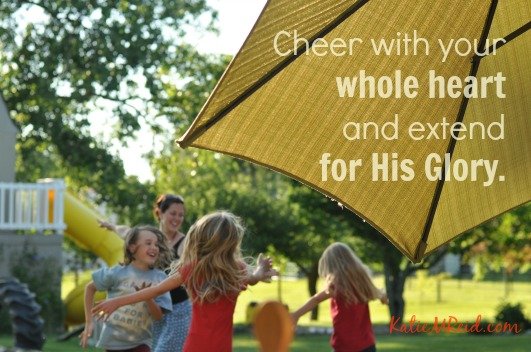 Maybe we have the most success and fulfillment when we are helping others instead of promoting ourselves."
I am an encourager by nature, but every once in awhile this cheerleader needs a heart-check.
I need to stop on the sidelines and evaluate my motivation for cheering:
Am I manipulating or trying to leverage myself by complementing others?
Am I genuinely happy for those on the field, or secretly resentful that I'm not out there with them?
Am I willing to give my best so that others can succeed?
Am I flattering people for the sake of gaining an advantage—like the ungodly in Jude 1:16?
These are hard questions that I'd rather avoid. But, I think they are important to ponder.
No, my motivation isn't always pure, but I don't think that means I stop cheering if it isn't.
As we stretch ourselves—out of our comfort zones—and cheer for those as they take the next steps, our hearts start to change.
I used to want to be an actual cheerleader. I wanted the popularity and attention that came from sparkling on the sidelines, but I played volleyball and sang on stage instead.
Several decades later I am cheering on writers, speakers and dear friends as they follow the path God has set before them. I long to see them pursue their God-given dreams and excel for His fame.
I seem to have the most success when I help others shine.
As I cheer others on towards their God-sized Dreams I am learning to extend myself in different ways.
This kind of cheering can be lonely. It doesn't always come back to you. But, it is a privilege as you treat others how you want to be treated and stand back and watch them soar. (<===Click To Tweet).
May we cheer with our whole heart and extend for His Glory!

I am over with the Captain of the Cheerleaders today, Kelly Balarie (Host of the #RaRaLinkup) as I talk about the mission God gave me on the sidelines…
P.S. Linking up with Holley Gerth for Coffee for Your Heart and Jennifer Dukes Lee for #TellHisStory:

Save