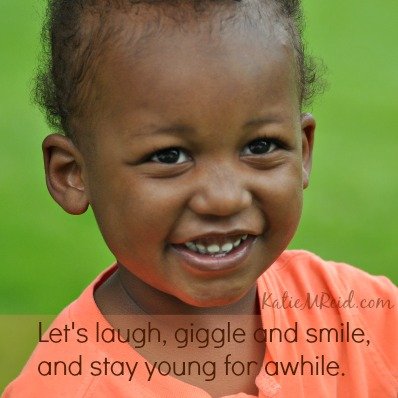 What a joy to review Courtney DeFeo's book, In This House We Will Giggle: Making Virtues, Love and Laughter a Daily Part of Your Family Life.
I love to laugh—like that rousing song from Mary Poppins implies. However, as a tightly wound woman I find it hard to let the giggles gush. I often take life so seriously and intensely that it stifles my smiles.
I want that to change.
Gathering Giggles
Hubby told me the other day how much he likes to see me laugh and just kick back and have a good time—relaxed and carefree.
My Dad is the king of puns and my Writing Sis keeps us in stitches with her witty words—the funny bone is in my DNA, it just doesn't surface often enough.
The other day Hubby was picking up some hamburger buns at Aldi before he came home from work. Darling Daughter was getting impatient and hungry, "How long does it take to get buns?!"
I started shaking what my mama gave me and declared, "Well, it's taken me 38 years to get these buns!"
Giggles and groans erupted from the offspring and the atmosphere changed from one of frustration to frivolity.
Intentional Mothering
Two years ago I hosted an Intentional Mothering Series with fourteen other mothers that I admire. The premise of the series was to encourage, inspire and support other moms in raising their children purposefully—like an instruction book, filled with personal stories, struggles, and triumphs with Biblical truths woven in. You can access that free series here.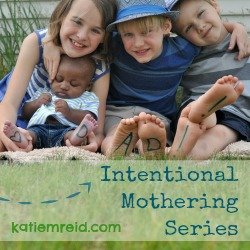 A Compass for Creating Character
Since intentional mothering is something I aspire to—yet often fall short in—it was refreshing to read Courtney's practical and grace-based handbook on the subject.
Each chapter focuses on a virtue (like Joy, Forgiveness and Respect) and gives simple ideas to incorporate it into hearts and home for the month. My favorite aspects are the definitions and catch phrases that Courtney provides to help children understand and remember each virtue.
For example, the definition for forgiveness is, "erasing a wrong with love." Some of the catch phrases are: "When we chose to restore a relationship instead of keeping track of wrongs, we show great love" or "Our choices affect others" or "Everyone makes mistakes. Should we hold on to anger or be quick to forgive?"
Courtney provides clear and encouraging guidance for building character into your children in fun, easy and lasting ways.
Some of my favorite quotes from the book:
I realize the idea of deliberately designing opportunities to teach virtues in a meaningful way can sound less like fun and more like yet another item for your never-ending to-do list. As a mom of two little girls, I understand where most parents are sitting today. We are wiped out yet yearning for more. The urgent is pushing out important things. What matters in the next ten minutes is pulling us away from what will matter in ten years." -Courtney DeFeo, We Will Giggle, pg. 9

"Things which matter most must never be at the mercy of things which matter least." -Goethe, We Will Giggle, page 9.
Pick up this practical, grace-filled toolkit and start changing the atmosphere of your home as you teach little hearts of His love.
Thank you Courtney for this valuable resource that is helping families giggle, grow and get serious about the things that will matter ten years from now.

P.S. I often rush through life and forget to slow down and savor the blessings found right in front of me. I wrote this poem to help us remember what's truly important in these child-raising years. You can purchase an audio version of this poem, "My Heart Took A Picture"—from my Echoes of My Heart album. It's only 99 cents! My prayer is that it will remind you to "capture sacred moments amidst the blur."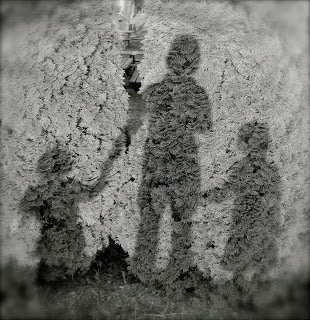 My Heart Took a Picture
I caught a glimpse of life at present-
tender, fleeting, and wonder-filled.
I let my soul drink a treasured dose,
of joy and peace brimming with promise.
I captured sacred moments amidst the blur;
passing glories hedging in this season.
I breathed in the fragrant delicate scent-
of fresh lives; free and trusting.
I allowed my eyes to see the divine,
as He lovingly drew my heart closer.
I received this gift; a reflective pause-
a taste of life in an awakened state.
I experienced what is commonly overlooked,
as my heart took a picture."
-KMR 11/23/10 (copyrighted, 
Echoes of My Heart
album)
*I received this book from Blogging for Books for this review.
P.S. Linking up with Kelly Balarie on Purposeful Faith for the #RaRaLinkup. Join us!